How to Make a Tropical Pineapple Freak-tail
Take your summer sips to the next level.
Over-the-top drinkables are having a moment right now (think freakshakes), and I'm not mad about it. I love this crazy trend so much, that I decided to turn my summer cocktail into a piled-high masterpiece reminiscent of the iconic fruit-wearing showgirl, Carmen Miranda. Equal parts pretty and delicious, this tropical freak-tail is so Instagram-worthy it hurts. Want to make your own? Get the method to the fabulousness below.
We're sorry, there seems to be an issue playing this video. Please refresh the page or try again in a moment. If you continue to have issues, please contact us here.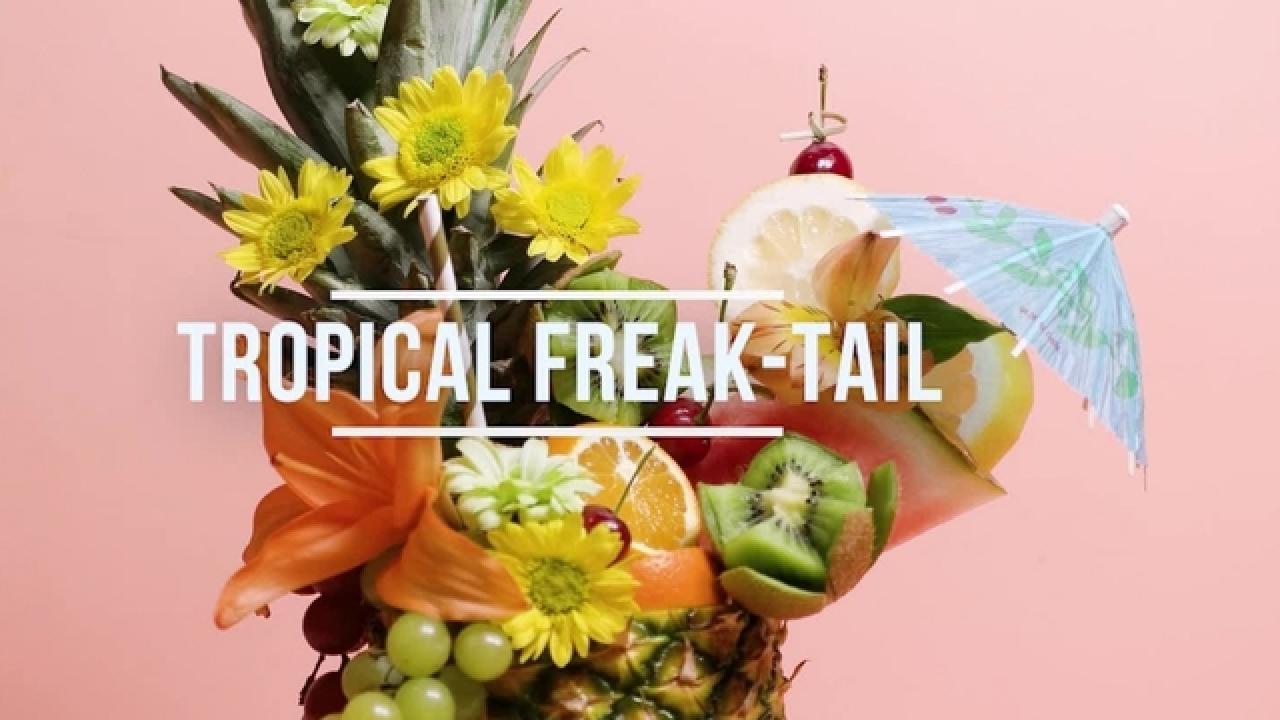 Sharp Utility Knife
Pineapple Corer
Wooden Kabob Skewers
1 Medium Whole Pineapple
1/2 cup Pineapple Juice
1/4 cup Grapefruit Juice
Juice of 1/2 a Lime
2 oz. Cream of Coconut
4 oz. White Rum
Frozen Pineapple Chunks
Various Colorful Fruits for Garnish
Turn Your Pineapple Into a Cup
Cut off the top of the pineapple and set aside the leafy 'hat' for later. Using a pineapple corer (these can be found at most grocery or big box stores), hollow out the pineapple. Using a small, sharp knife, cut out the stem left behind by the corer and discard. Be careful not to pierce the pineapple exterior. Chop the removed fruit into chunks and freeze.
Add frozen pineapple chunks to pineapple cup. Fill the bottom of a pitcher with ice and add 1/2 cup of pineapple juice, 1/4 cup grapefruit juice, the juice of half a lime, 2 oz. cream of coconut and 4 oz. white rum. Stir. Add a lid to the pitcher and strain the liquid into the pineapple cup.
Using a pairing knife, make a continuous zig-zag cut through the middle of a kiwi fruit, piercing about half an inch in as you cut. When the zig-zag line is complete, grasp the kiwi on both ends and separate to reveal two, flower-like halves. Create petals by gently separating the fuzzy skin from each of the points with the pairing knife, stopping just before the base.
Now for the fun part! Using wooden kabob skewers, pile as many colorful fruits and flowers on top of your pineapple cup as possible. I started by draping green and red grapes over the rim of the cup, then added a skewer of orange slices, cherries and a kiwi flower. Next, I added a skewered slice of watermelon topped with lemon slices, cherries and a tropical drink umbrella. To top it all off, I arranged the pineapple hat at the back for height and filled in any holes with bright-colored lilies and daisies. Pro tip: Be careful not to pierce the sides of the cup when arranging with skewers.
Kick off your summer celebrations with a 5-ingredient dessert that's low on effort, but big on flavor.
Looking for a winter cocktail that is high in vitamin C and garden goodness? This one has a complex and balanced range of flavors that give it a tasty kick.