How to Host Trivia Night at Home
The fun of trivia night + the comfort of your home = perfection.
Originating in the U.K., the idea of trivia night, also called pub quiz, was established in the 1970s. Today, the activity is increasingly popular, with bars, restaurants and pubs across the U.S. joining in on the fun. When you're a diehard introvert like me, heading out to a bar doesn't always sound appealing. If you're a fellow homebody or maybe an entertaining extraordinaire, read on for a step-by-step guide on hosting trivia night from the comfort of your own home.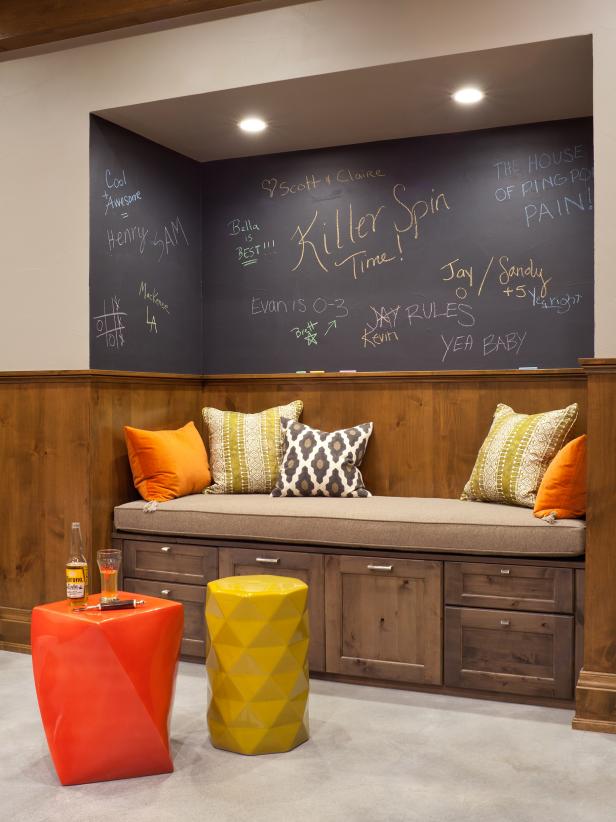 Cozy Reading Nook With Storage and Chalkboard Wall
Take a time-out from ping pong in this cozy reading nook with recessed lights and colorful pillows. Use the chalkboard to keep score, play tic-tac-toe or create your own art. Ample storage space under the bench keeps clutter out of sight.
When your guest list is finalized, break it down into even teams. Ask one friend (or designate yourself) to act as the MC for the night. Then, decide where you'll source the trivia questions. The options are endless — you can find questions on an app, a website, a smart TV, a video game console, a board game, a book — or even from your good, old noggin. Prepare a way to keep score, whether it's pen and paper or a score-keeping app. Establish the scoring system and basic ground rules ahead of time. If you really want to up the stakes, make a bottle stopper prize out of an old trophy for the winning team.
Arrange seating for each team in the largest room in your home. If possible, create space between each team to allow for private discussions. If you don't have enough seats, group cushions on the ground near coffee or side tables.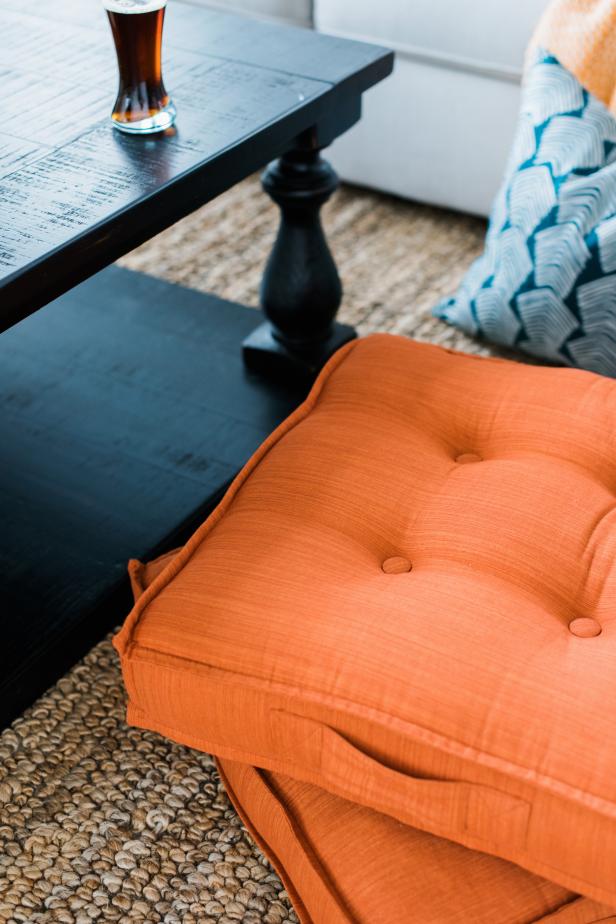 Indoor-Outdoor Floor Cushions in Living Room
Since games can last for several hours, make sure to keep guests seated comfortably by adding indoor-outdoor floor cushions around the perimeter of the table. Pick up more than you'll actually need so guests can stack them as needed for an extra boost of height.
Rustic White Photography, LLC
Make snacking easy by offering foods guests can munch on while participating. Think low-key party foods. Laid-back eats will help set the tone for a casual atmosphere.
Cater to your friends' preferences when prepping your drink menu. Any type of drink works for trivia night — just be sure to choose one your friends will enjoy.
Trivia can get super-competitive, but (I'm 99 percent sure) a delectable dessert will help everyone make amends at the end of the night.