Everything You Need for a TV Binge-Watching Party
Ready for a marathon? Put your running shoes away, we're talking about a TV binge-watching marathon.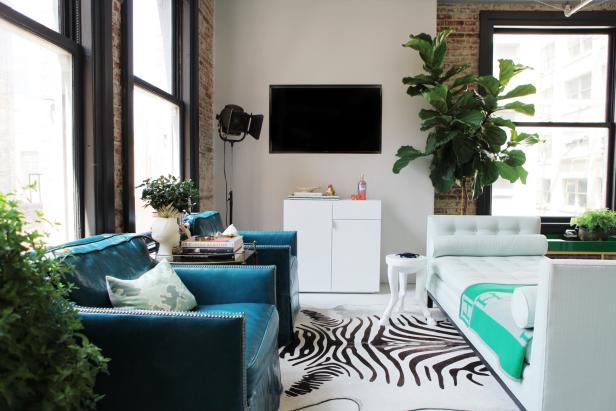 Stylish Loft Living Room With Exposed Brick and Deep Blue Armchairs
This bright, clean sitting area is just as perfect for visiting or lounging as it is for watching TV.
Do you prioritize your cable bill over your grocery bill? Is your DVR constantly full? Well, if all of your besties are just as TV-addicted as you are, it might be time to kick up your feet and throw a TV binge-watching party.
We've rounded up all of our best ideas on how you can pull together an unforgettable binge fest.
Netflix or Hulu Subscription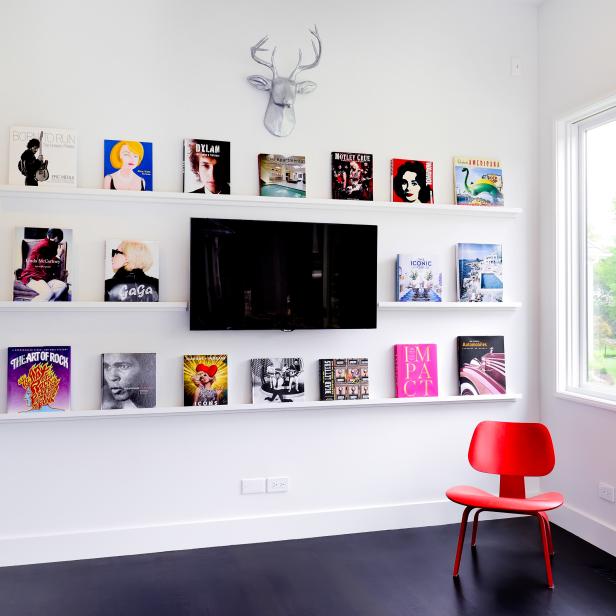 Linc-Thelen-Design_North-Shore-Pop-Art_Book-Art-2
This residence is an example of what happens when hiring an artist, designer and builder all in one. The project blends pop art flair and clean modern silhouettes. The client, decided to move from Chicago with her family to Deerfield. The family was not looking to build the typical traditional home in the suburbs but wanted a modern home with an urban vibe. The exterior was designed to fit within the neighborhood vernacular while the interior captures a modern pop art panache. Simple clean lines combined with bold accents make this home unique. What makes this home truly extraordinary is the creative use of wall treatments and art installations within the home. Linc incorporated the home owners collections and created art installations. Whether traditional wall art, painted wallcovering, floating bookshelves or Linc's bold use of color, each room gives you something to contemplate and inspires an energetic atmosphere.
James Tschetter/IC360 Images
If you're hooked on TV, you likely already have a subscription to a streaming service like Netflix or Hulu. This allows you to watch all the seasons of your favorite shows. If you want to give out party favors, Netflix gift cards would make a great thank you gift.
Speaking of shows, one of the most important decisions you'll need to make before the big day is what show you want to binge. Game of Thrones, Breaking Bad or 30 Rock are great shows to get you started. And, of course, you could always binge an HGTV show like Fixer Upper.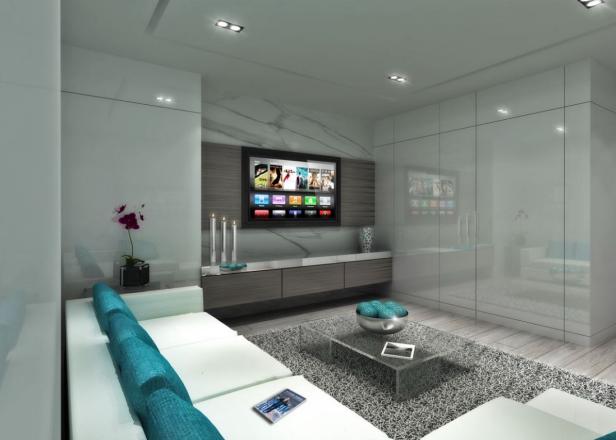 Contemporary Gray Media Room With Teal Accents
This contemporary media room features a futuristic vibe with its blend of lacquered and marble walls. Teal pillows decorate the white sofa, while a glass coffee table is positioned in front and on top of a textured gray area rug. A built-in television is just above a floating gray console table.
Make sure your place is set up for optimal TV watching for a crowd. If you're gathering in your living room, do you have enough spots for everyone to sit? People will be sitting for hours, so make sure each person has a comfortable place to sit. If you don't have a big sofa, add fluffy floor pillows or poufs.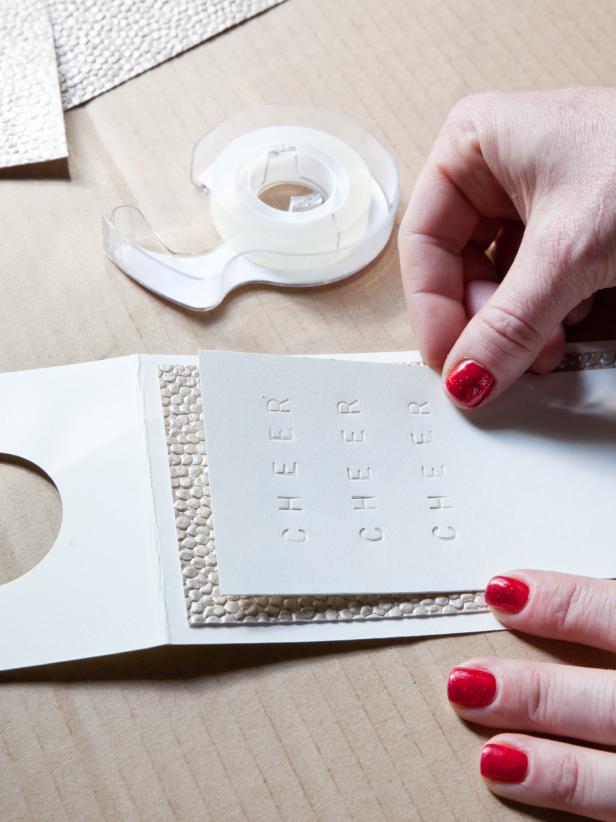 Embossed Wine Card
Step 6 - Secure Greeting Card Once card is complete, secure the greeting card on top of the textured card using the double sided tape.
Photographer: Christina Wedge
Send out a stylish invite to your friends to let them know about the binge-a-thon. Your invite is a great spot to include the show you'll be bingeing so everyone knows what they're getting in to before the party. If you want your friends to decide which show, offer a few options on the invite and let everyone vote.
Providing delicious snacks is a must, but you also want to keep things easy and stress-free. Everyone loves popcorn — try our favorite recipes here. If you don't want to make snacks, go to your local store that sells a variety of popcorn flavors.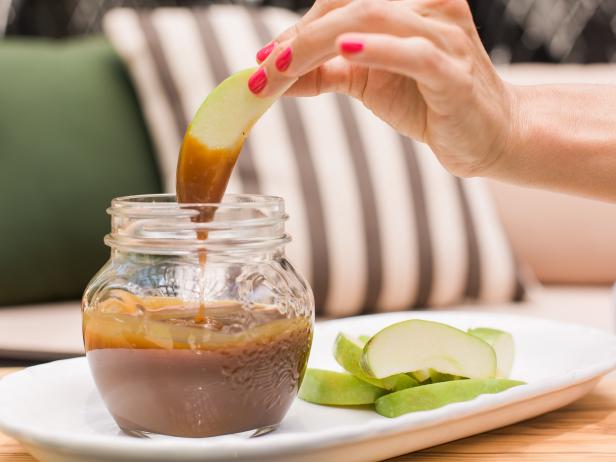 How to Make a Homemade Caramel Dip
It's so easy to whip up this decadent caramel dip made with just three simple ingredients. Your sweet tooth will thank you.
Flynnside Out Productions
Offer sweet snacks alongside salty ones. These little jars of caramel sauce are adorable and are delicious with sliced apples. Pass them out to your guests on little trays so everyone has their own dipping sauce. Add additional snacks such as pretzels to mix it up.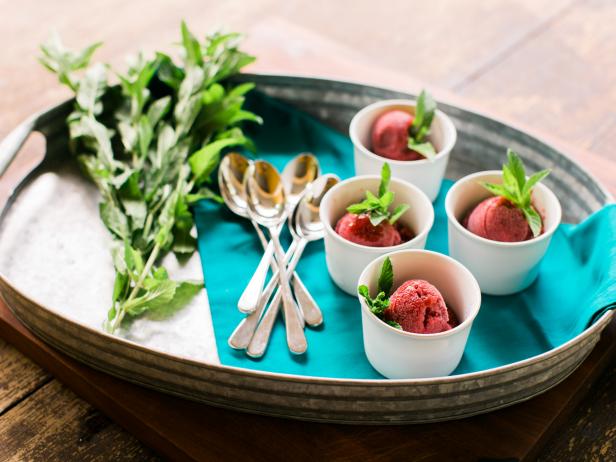 RECIPE: Red Wine Strawberry Sorbet
This refreshing Red Wine Strawberry Sorbet is as sophisticated, as it is sweet.
Flynnside Out Productions
Serve a signature drink or prepare a boozy dessert. Make party day easier by preparing this red wine sorbet ahead of time. Your guests will love this treat mid-marathon. Another fun idea is to serve champagne with pretty paper straws.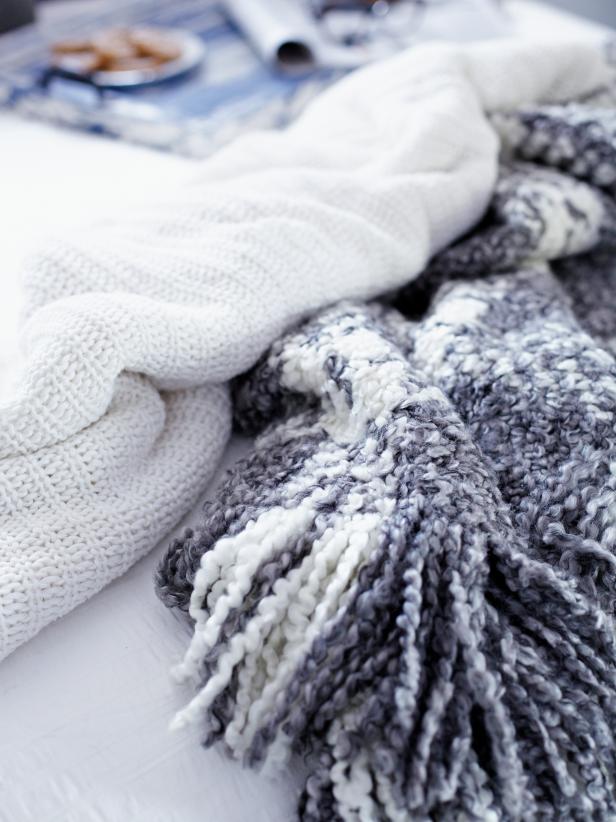 Cozy Cable-Knit Blanket
Similar to layering jackets with sweaters during the cold winter months, textiles cozy up this winter-inspired bedroom. Ensure guests stay warm by leaving them extra-warm covers at the foot of the bed, like this off-white cable-knit blanket and cashmere plaid throw.
With all of the TV watching, make sure your guests are relaxed throughout the night. Add extra throws and blankets around the room.
Can't make it to Windsor for Meghan and Harry's big day? We've got you covered.