HGTV Magazine wanted to know, if your kitchen sponge could talk, what hush-hush secrets would it dish out.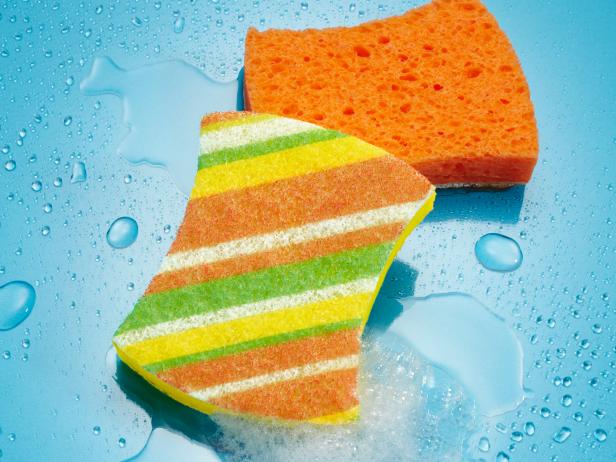 Wet Kitchen Sponges
Tips and tricks to keep your kitchen sponges in shape and good shape
Chris Coppola/Studio D (Styled by Miako Katoh)
"Always leave me high and dry"
With crevices designed to retain moisture, cellulose sponges are ideal breeding grounds for germs—especially when they're put away wet in a dark undersink cabinet. To prevent bacteria buildup, wring out excess water, and pop the sponge in a countertop holder with plenty of air circulation.
"My life span is really limited"
A sponge isn't meant to last forever. Most people eventually toss sponges when they notice mustiness or fraying, but the pros recommend discarding them every week—two weeks max—and starting fresh.
"Here's why I feel clammy"
Ever notice a just-opened cellulose sponge is already damp? That's because many are premoistened with sterile water. Without H20, the material shrivels and hardens—and looks unattractive on store shelves.
"I'm a hard-core clean freak"
Disinfect sponges every other day: To sanitize, microwave a damp sponge on high for two minutes, run it through the dishwasher (make sure it isn't fraying or pieces can break off and clog the filter), or soak it overnight in 1 quart of water mixed with 3 tablespoons of chlorine bleach.
"My party trick? Picking up pet hair"
If your upholstered furniture is covered in pet hair, swipe it with a dry sponge—the fur gets hoovered up like magic. Trash the hair, then wash the sponge with soap and hot water.
Our experts: Nancy Bock, senior vice president, meetings and education, at the American Cleaning Institute; Kirsi Dahl, communications manager at Scotch-Brite; Jolie Kerr, cleaning expert and author of My Boyfriend Barfed in My Handbag…and Other Things You Can't Ask Martha; Roxanne B. Sukol, M.D., medical director at Cleveland Clinic's Wellness Enterprise