Small Galley Kitchen Ideas
Solve your small kitchen quandaries with an efficient galley kitchen floor plan.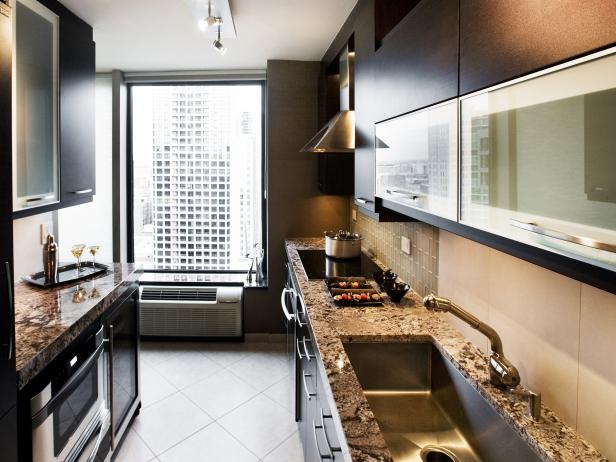 Galley Kitchen With Glass, Stone and Dark Wenge Wood
This galley styled kitchen has dark brown cabinetry and stainless steel appliances and fixtures.
Make like a ship's captain and use some small galley kitchen ideas to transform your small kitchen with a galley-style layout.
Though it makes for a narrow passage (pun intended) traditionally averaging between four to six feet wide, the compact floor plan is a smart solution to make small kitchens live up to their full potential of space, functionality and style.
Generally, galley kitchen layouts situate the sink and refrigerator on one wall opposite the stove and oven, leaving the cabinetry and floors to contend with. Think continuity when it comes to painting the cabinetry and walls. A monochromatic palette, for example, gives the illusion of spaciousness, while open shelving achieves the same goal and scores extra points for being an on-trend design practice. For the middle aisle of the kitchen, consider flooring that runs vertically—such as hardwood planks—or try tiles placed on a diagonal. Light-colored floors establish the same space-enhancing benefits of light-colored walls.
Another feature of this kitchen layout that enhances the galley style is a window or an interior pass-through window. Imagine how open the kitchen will appear when linked to the great outdoors or the adjoining room. A window above the sink can make your compact space appear larger thanks to streams of natural light flooding the room, while a pass-through window offers more depth to your kitchen and a link to the adjoining room.
With everything in arm's reach, a galley kitchen floor plan offers major functionality, improved upon by smart storage. Again, that's why water-going vessels favor this efficient model. Scale down on larger appliances and features, like the sink and refrigerator: Pass on the oversized farm sink and go for stock-size appliances. So that your tiny kitchen layout works double-duty, consider installing pull-out cutting boards and retractable tables, for example. Be mindful that counter space is limited in this model, compared with other kitchen layouts, so add to your countertop real estate with a portable kitchen island that offers work space, storage and easy concealment when you'd like to tuck it away.
Given that space is at a minimum, the advantage of this layout is an altogether tidier kitchen—or at least that's the idea! Eliminate space-hogging lighting and opt for task or recessed options instead of low-hanging pendant lamps. Raise the style factor further by choosing slender stools and built-in seating as opposed to bulky arm chairs. Finally, pare down decor and accessories for a clean, smart look.
Inspiration for a Small Kitchen