Trisha Yearwood's Iced Sugar Cookies Recipe
This holiday cookie classic is from singer Trisha Yearwood's collection of home-cooking recipes.
2 cups all-purpose flour
2 teaspoons baking powder
1/2 teaspoons salt
1/2 cup (1 stick) butter
1 large egg
1/2 teaspoon vanilla extract
11-pound box confectioners' sugar
3 tablespoons meringue powder
1/3 cup warm water
food coloring (optional)
assorted sprinkles, colored sugar and small candy pieces
1. Preheat oven to 400 degrees F.
2. Sift together the flour, baking powder and salt.
3. In a large mixing bowl, cream the butter and sugar until light and fluffy. Add the egg and mix until combined. Gradually add the sifted dry ingredients, one spoonful at a time, until thoroughly combined. Add the vanilla.
4. Chill the cookie dough in the refrigerator for at least 1 hour.
5. Roll out half of the dough at a time, keeping the remainder of the dough in the refrigerator.
6. On a lightly floured surface, roll out the dough to 1/4-inch thickness and cut it into desired shapes with a cookie cutter.
7. Place the cutout cookies 2 inches apart on an un-greased cookie sheet and put the cookie sheet in the refrigerator for a few minutes before baking. This will help the cookies retain their shape. (You can roll out the scraps to make a few more cookies.)
8. Bake for 8 to 10 minutes, or until just before the edges of the cookies start to brown.
9. Cool the cookies for 1 to 2 minutes on the cookie sheet before removing to wire racks to cool completely.
From: Home Cooking with Trisha Yearwood: Stories and Recipes to Share with Family and Friends by Trisha Yearwood, with Glen Yearwood and Beth Yearwood Bernard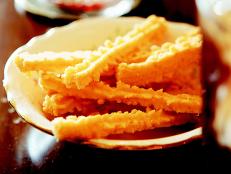 Satisfy your cheese craving with this easy appetizer — made by singer Trisha Yearwood — that's perfect for holiday entertaining.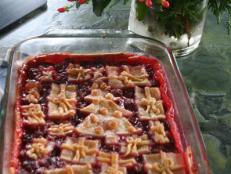 For a simple dessert to serve this season, try this cherry pie and share a tradition with a singing star.
This colorful and fizzy champagne drink will delight all your holiday guests.