How to Make a No-Sew Ruffled Christmas Tree Skirt
Put the finishing touch on your tree with an elegant and feminine linen skirt. The only tools you'll need are scissors and glue to make this easy no-sew ruffled tree skirt.
4-1/2' x 4-1/2' piece of canvas
measuring tape
4 yards cream linen
sharp scissors
fray-blocking glue
3 1/3 yards grosgrain ribbon
hot glue gun and hot glue sticks
Using a tape measure, mark and cut a square of canvas that is approximately 4-1/2' x 4-1/2' (Image 1). Fold the square into quarters, then over itself to form a triangle with the folded center at point. Cut base in a quarter circle (Image 2). Cut a small quarter circle out of the point (Image 3). Open the skirt until it's folded in half and cut along the radius on one side of the center hole only (Image 4). This will provide a hole for the tree trunk and a slit in the fabric so the skirt can be placed under the tree. Apply no-fray glue along all raw edges and allow to dry. Tip: A canvas painter's drop cloth is an inexpensive material perfect for this project.
Using sharp scissors, cut linen fabric lengthwise into 2-inch-wide strips.
Preheat hot glue gun. Apply a line of hot glue approximately 1 1/2 inches from outside edge of skirt. Create ruffles by pinching linen with fingers and pushing gathers down onto hot glue (Image 1). Work in small sections, no more than about 12 inches at a time. Continue this process around the entire skirt edge (Image 2). Start the next row approximately 1 1/2 inches above the previous row. Continue adding rows until entire canvas base is covered.
Cut 10 pieces of grosgrain ribbon into approximately 12-inch lengths. Use hot glue to attach ribbon to underside of tree skirt along slit created in canvas base (Image 1). Evenly space five on one side of slit and five directly opposite. Place skirt under tree and tie ribbons together in bows (Image 2). Note: Although this tree skirt is not machine washable, keep it looking its best by spot-cleaning stains and shaking off needles and loose debris.
Looking for a burst of color under the tree? Here's how to create an ombre tree skirt with a twist.
The Latest From Our Blogs
Catch up on the latest HGTV show and design news right here.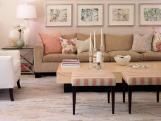 Found a living space you love in HGTV's Photo Library? Get the look in your own home with products from Wayfair.