Now Viewing
Gorgeous Kitchen Backsplash Options and Ideas
Explore dozens of beautiful kitchen backsplash ideas comprising all different materials, colors and designs.
Keep in mind: Price and stock could change after publish date, and we may make money from these affiliate links.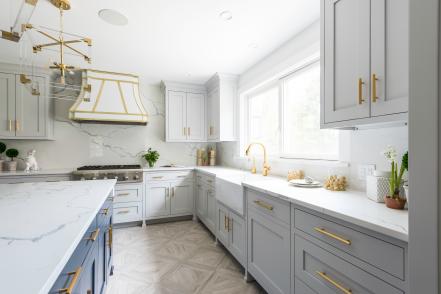 Daniel Contelmo Jr.
Luxe Carrara Marble
All our marble and gold dreams have come true in this gorgeous kitchen. The white perimeter of the marble-filled space is contrasted with gorgeous golden accents and the island's soft gray cabinets, making the space warm and welcoming.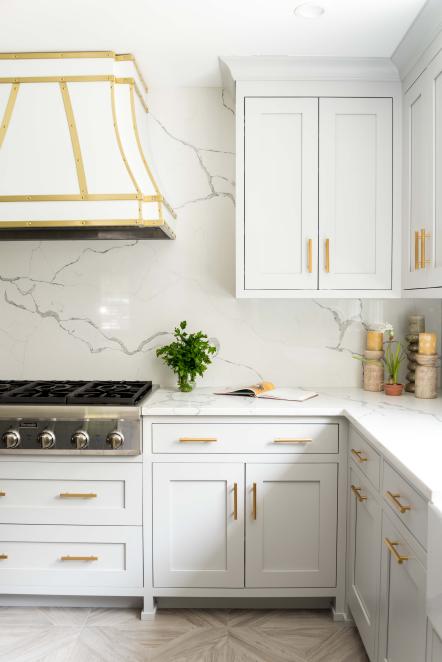 Daniel Contelmo Jr.
Visually Opens up the Space
A solid marble slab for the kitchen's backsplash helps brighten and visually open up the room — a luxurious way to make the walls disappear.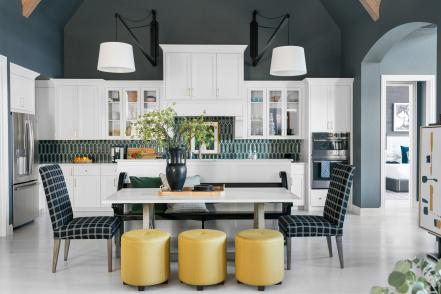 Elongated Hexagon Tiles
This open kitchen combines modern style with an Old World feel and features soft white custom cabinets, rich, warm tones and stylish furnishings.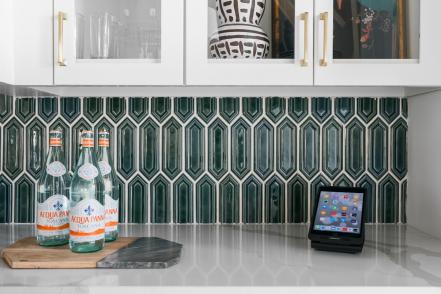 Add Rich Color and Texture
The kitchen's focal point backsplash includes deep emerald hexagon-shaped ceramic tiles with lots of movement. "They add texture and they're very, very three-dimensional," says designer Tiffany Brooks.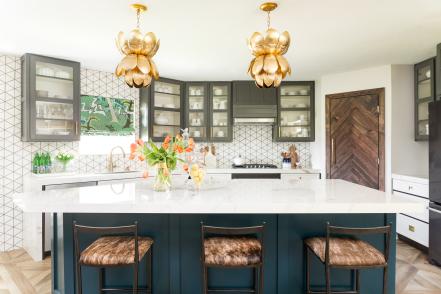 Colleen Scott
Countertop-to-Ceiling Triangular Tiles
Pull up a chair — or barstool — and take in the stunning details of this modern, geometric kitchen. The small space features grand designs, as seen from the countertop-to-ceiling patterned tile backsplash to the gray cabinetry and herringbone-patterned wooden pantry drawer.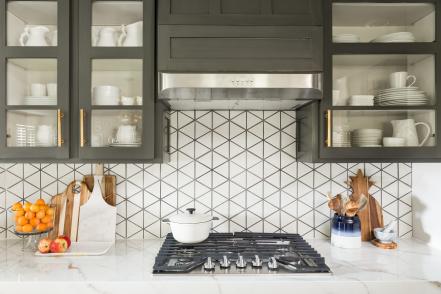 Colleen Scott
Make a Splash
The backsplash really shines in this modern chic kitchen, adding visual interest as well as contemporary style all the way to the ceiling.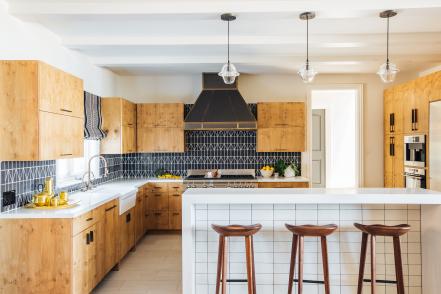 Laure Joliet
An Eye-Catching Backsplash
The design goal of this sophisticated kitchen? Infuse its Cape Cod architecture with midcentury modern style. The kitchen cabinetry took a year of searching for the perfect wood. The winner: a European Compressed Oak.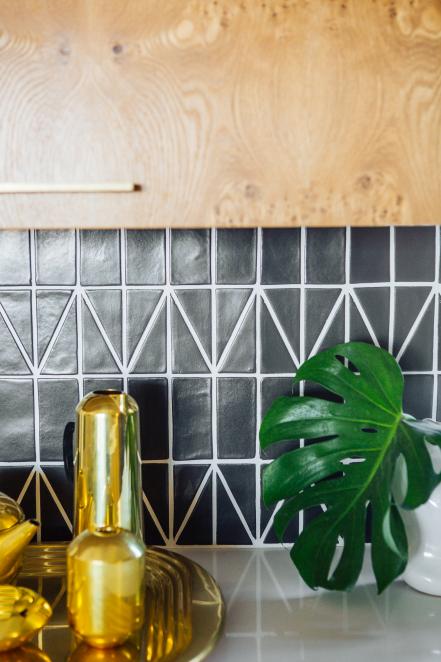 Laure Joliet
Features Different Shapes
Rectangular and triangular black tiles turn this kitchen's backsplash into an eye-catching graphic display.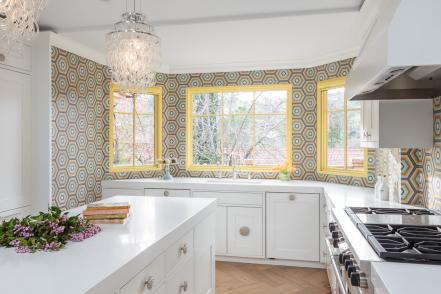 David Duncan Livingston
A Colorful Graphic Backsplash
It's time to kiss boring kitchen backsplashes goodbye. Yellow trim around the windows of this whimsical kitchen boosts the room's bright, sunny mood.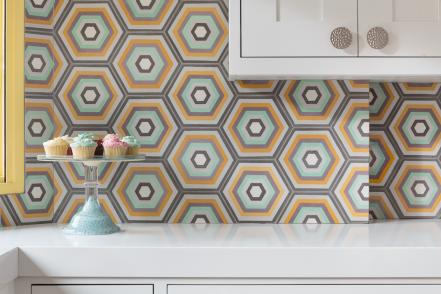 David Duncan Livingston
Creates a Cheery Atmosphere
The colorful encaustic tile backsplash was the starting point for the kitchen's out-of-the-box, cheery redesign.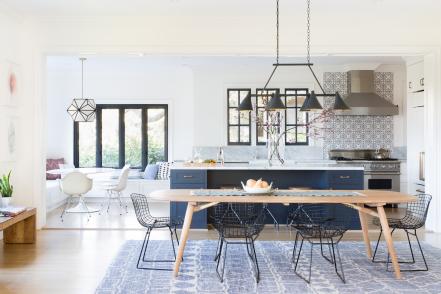 Suzanna Scott
Tiles in a Chic Pattern
This open-concept dining area, kitchen and living room feel a million miles wide with white walls and no upper cabinetry. The rug is a visual anchor under the dining table and picks up the island's handsome blue.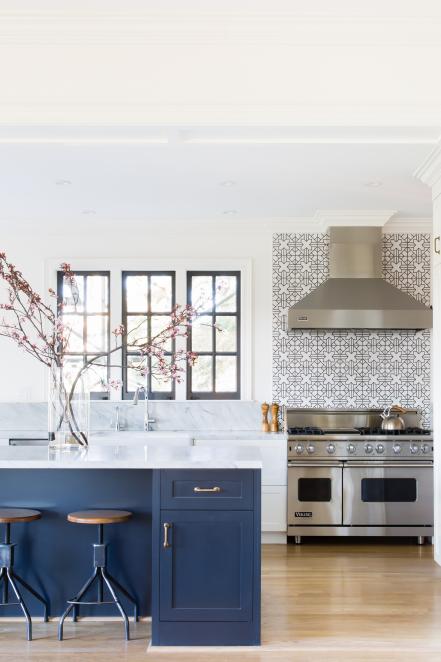 Suzanna Scott
Generate Graphic Appeal
Behind the range, a graphic pattern nods to the global influences used throughout the home.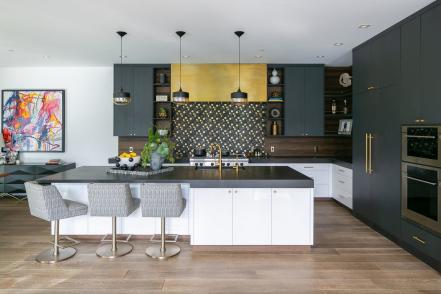 Ryan Garvin
Eye-Catching Black and Gold
Black and gold combine to create a sleek profile in this streamlined, modern kitchen.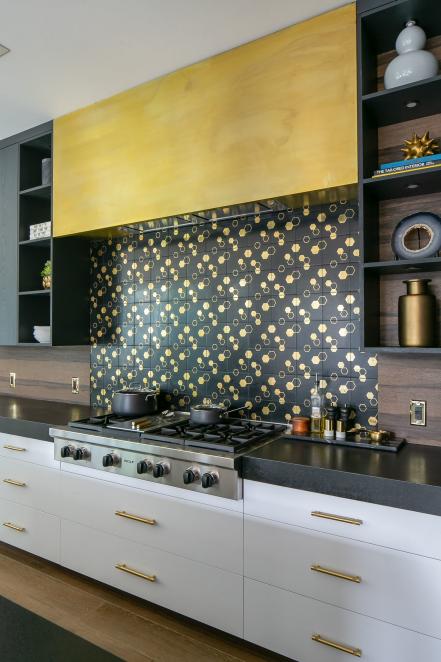 Ryan Garvin
Decorates the Patterned Tiles
A mix of dark and light cabinetry is unified by dark countertops and an eye-catching backsplash that brings the mix of hues together.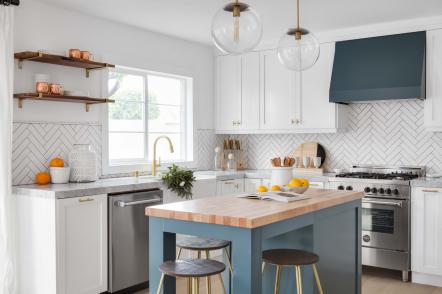 Chad Mellon Photography
Chic Herringbone Tiles
From traditional to contemporary, this kitchen has it all — including many trendy design elements.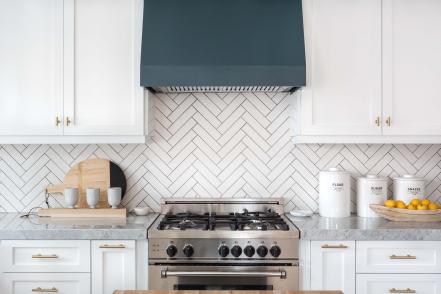 Chad Mellon Photography
Add Texture to the Walls
The mostly white kitchen features a popular herringbone pattern tile that makes up the backsplash, adding pretty texture to the room.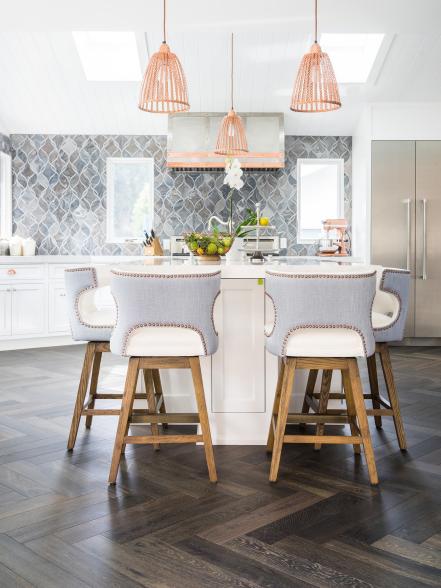 Anna-Marie Claassen; Builder: MCM Construction
Noteworthy Gray Tiles
When in design doubt, it's always safe to go with gray. Here, a mix of gray and white shades add major personality to the space, while eye-catching copper accents shine throughout.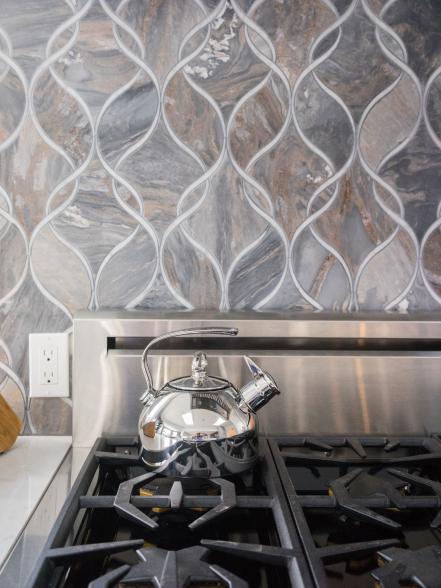 Anna-Marie Claassen; Builder: MCM Construction
Comprise the Statement Backsplash
An intricate design and noteworthy hues draw the eye to the magazine-worthy backsplash behind the gas range.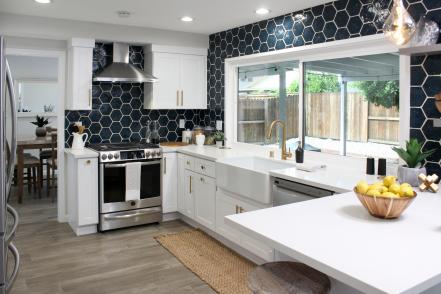 Deep Blue Hexagons
With updated cabinets, open shelves and a gorgeous blue backsplash, this California kitchen featured on HGTV's Christina on the Coast is spacious and glamorous.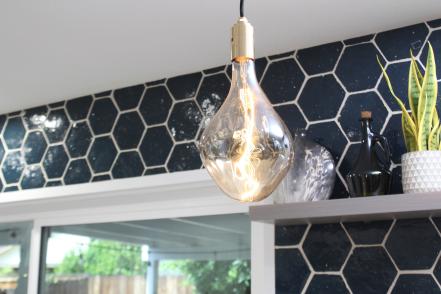 Create Instant Appeal
The sleek and modern backsplash lines the walls in the kitchen to add instant appeal and charm to the space.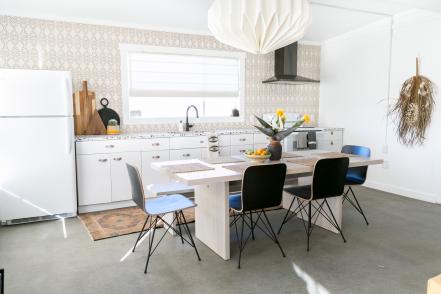 Ace Misiunas, Jessica Bodas
Southwestern-Inspired Backsplash
Scandi style is at its most chic in this polished kitchen. A bold graphic pattern livens up an accent wall, and an oversized pendant light is a star above the dining table.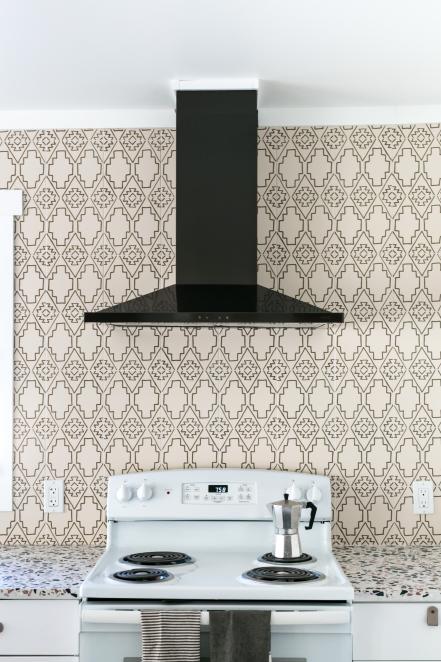 Ace Misiunas, Jessica Bodas
Features a Charming Pattern
The kitchen pairs simple white appliances with vibrant patterns and textures, like the Southwest-inspired backsplash and the terrazzo countertop.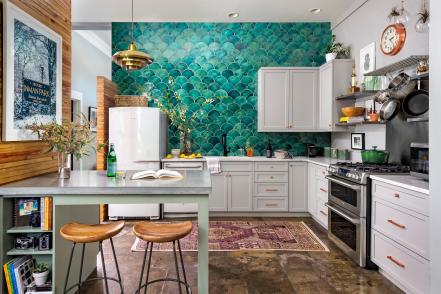 Cati Teague Photography
A Vibrant Teal Backsplash
Step into a tropical retreat each time you enter the kitchen with this mermaid-esque, handmade backsplash. Organic, playful and sophisticated come together perfectly in this bold kitchen design.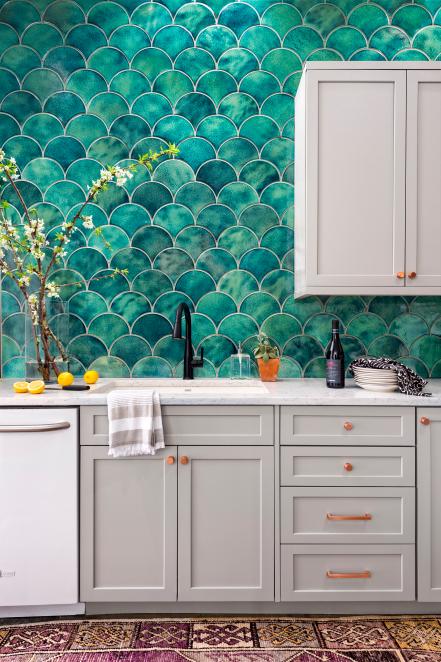 Cati Teague Photography
Steals the Show
The teal-green wall tile is clearly the star of the show, made even more vivid by the copper accents throughout.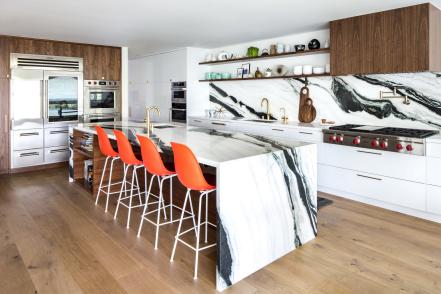 Marisa Vitale
Panda White Marble
In this open-concept kitchen, all focus is on the marble — and for good reason.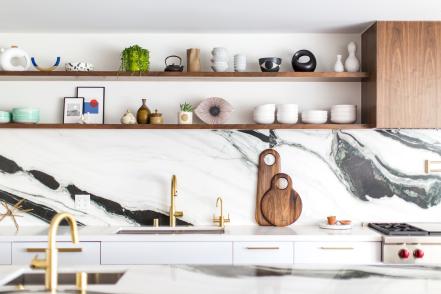 Marisa Vitale
Makes a Vivid Splash
Striking black-and-white, or panda white, marble adorns the kitchen's large island and back wall. The marble combines with gold-toned pulls and sleek, wooden shelves for a high-end look throughout the space.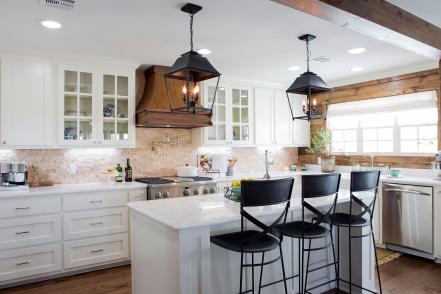 Jennifer Boomer/Getty Images
Travertine Stone Backsplash
This renovated kitchen, as seen on HGTV's Fixer Upper, features a neutral travertine stone backsplash, providing a visual tie-in with the living room with its natural stone fireplace.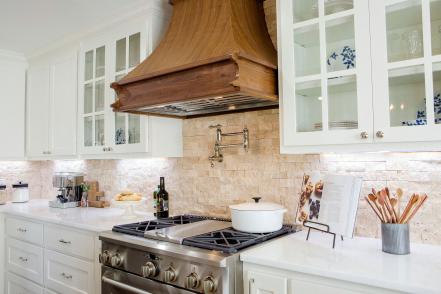 Jennifer Boomer/Getty Images
Brings Earthy Texture
The natural stone backsplash complements the wood range hood for unusual-yet-stunning texture and appeal.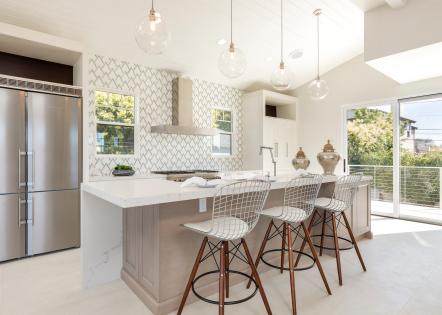 John Moery
Decorative Tile
This crisp, white kitchen with modern elegance features four globed pendant lights that hang from the beautifully vaulted ceilings. A marble kitchen island with three contemporary bar chairs face the decorative tile backsplash that runs from the marble countertop to the ceiling.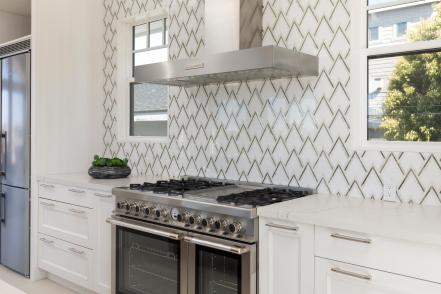 John Moery
Add Counter-To-Ceiling Interest
This elegant white and gray kitchen showcases modern design, from the decorative tile backsplash that runs from the marble countertops to the ceiling. A stainless steel range and oven is flanked by classic white cabinets with nickel hardware.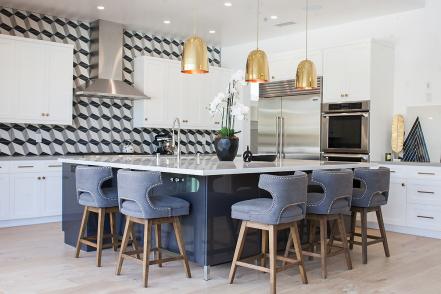 Lane Dittoe Photography
Striking Geometric Tiles
Deep neutrals steal the show in this cozy, modern farmhouse kitchen. A play on rich colors draws the eye to every corner of the space.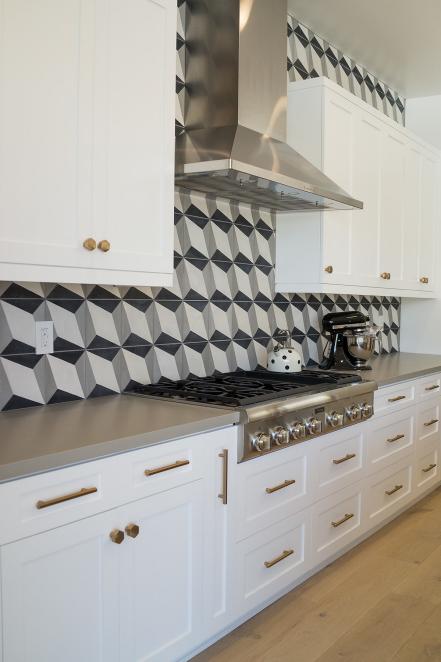 Lane Dittoe Photography
Balance Out the White Walls
Black and white: a classic color combo. This tried-and-true palette paired with a geometric pattern boldly contrasts with the stark white cabinets to create an envy-worthy focal wall.
Jennifer Boomer/Verbatim Photo A
Breezy Blue and White Tiles
Want to bring color into your renovation but not sure how? A backsplash is the perfect way to do so.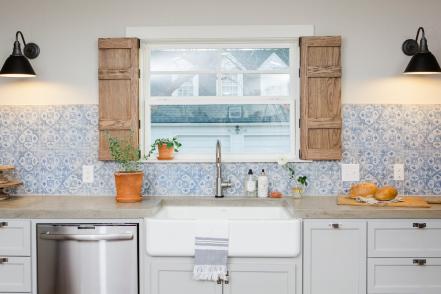 Jennifer Boomer/Verbatim Photo A
Channel the Seaside
As seen on HGTV's Fixer Upper, a modern tile backsplash in a soft palette of blue and white brings character and charm to this renovated kitchen.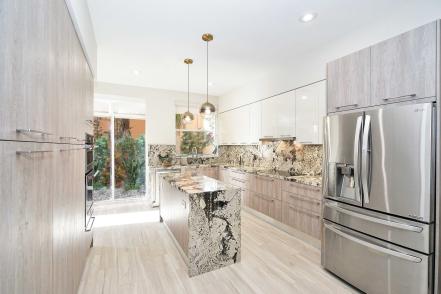 KAZA Interiors
A Black-and-White Speckled Backsplash
This kitchen has all the glamorous panache of the red carpet with gold pendants, a speckled black-and-white backsplash and stainless steel appliances.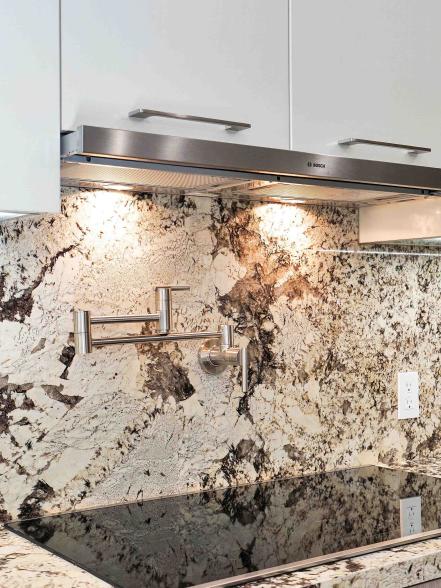 KAZA Interiors
Brings Drama to the Space
A glossy black cooktop reflects the dramatic black and white backsplash in this sleek, modern kitchen.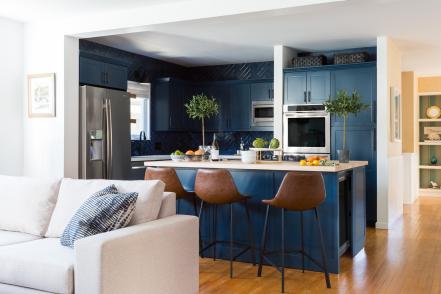 Jenn Feldman Designs
Navy Subway Tiles
Warm blue cabinets and a coordinating backsplash bring fabulous flair to this kitchen. The island was designed as a feature that would make the space more functional, offering plenty of space to prepare meals and entertain guests.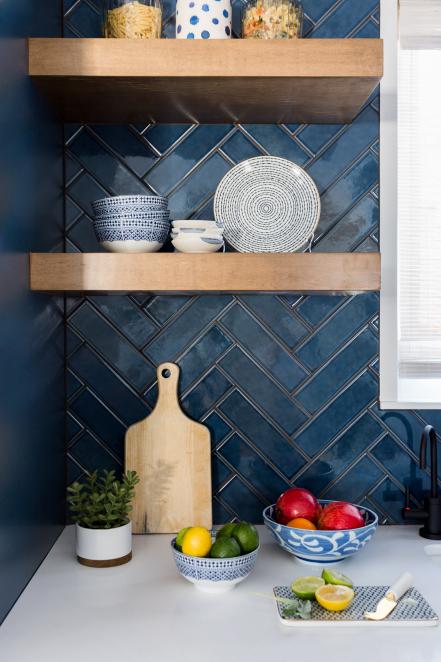 Jenn Feldman Designs
Create an Attractive Display
Open wood shelving is an attractive storage solution in this fun kitchen. Blue subway tile on the backsplash blends neatly with the white marble countertops while also creating contrast and richness.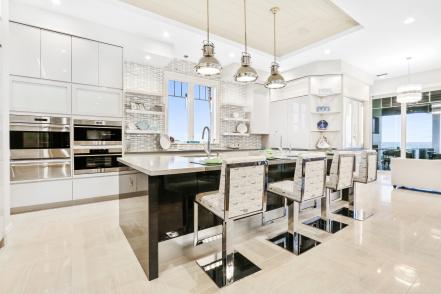 Illustrated Properties, a member of Luxury Portfolio International
Shimmery Metallic Tiles
Gleaming and glamorous, this open-plan kitchen aims to please. The large island accommodates four for casual meals, while Carrara marble floors shine below.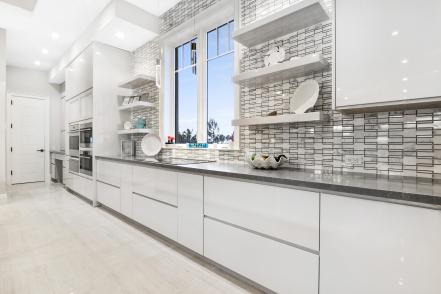 Illustrated Properties, a member of Luxury Portfolio International
Make a Glamorous Backsplash
Shimmery metallic tiles make a glamorous backsplash against the chef kitchen's white cabinetry and quartzite countertops.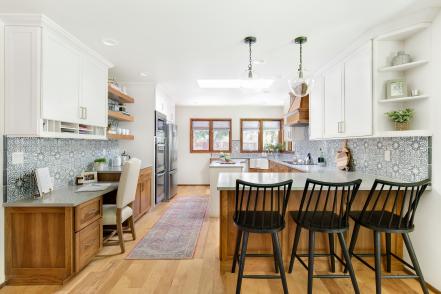 Meagan Larsen Photography
Hand-Painted Tile
The kitchen's welcoming feel draws on charming farmhouse details, including a farmhouse sink, blue patterned backsplash and black wood barstools. For light, there's a large bank of windows over the sink and a skylight, as well as two pretty glass pendants.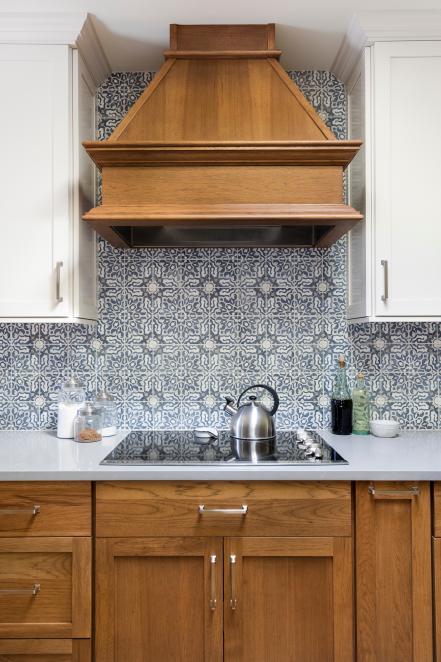 Meagan Larsen Photography
Compliment the Cabinetry
In this kitchen, the hand-painted tile backsplash's delicate pattern is a graceful companion to the white upper cabinets and a handsome foil to the honeyed tones of the range hood and lower cabinets.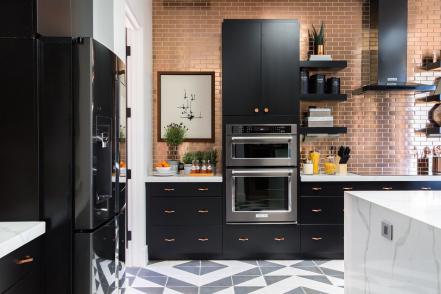 Brittany Ambridge
Copper Subway Tiles
From flat black cabinets to shiny copper subway tiles, this gorgeous kitchen is brimming with modern elements.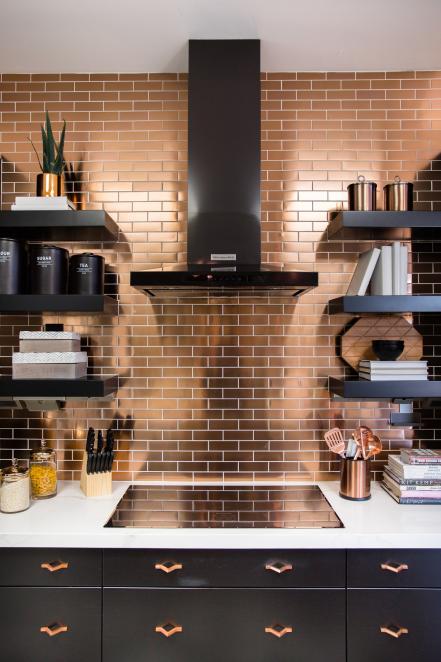 Brittany Ambridge
Shine Bright Against Black Cabinets
A cozy copper wall draws warmth into the space while serving as a trendy background for styled shelving and appliances.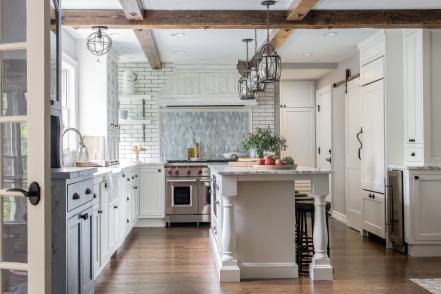 taryn emerson
A Gray Moroccan Backsplash
The farmhouse kitchen gets a grand upgrade in this home. Sweet details like exposed beams and lantern-like pendants are paired with chef-grade appliances, fun tile accents and an easy-to-get-around floor plan.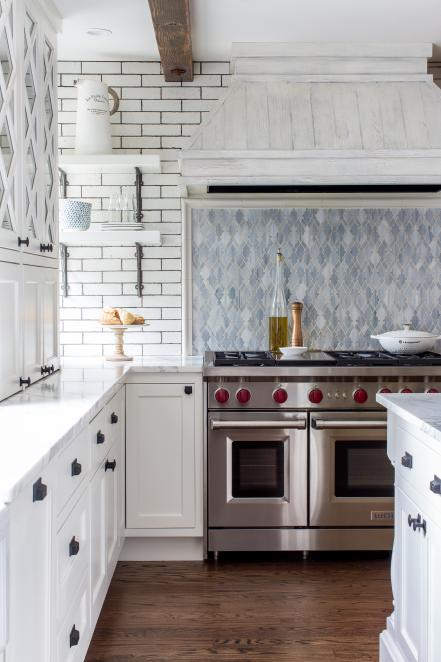 taryn emerson
Creates Instant Interest
Textures make all the difference in this sweet cottage kitchen. From subway tiles and latticework on the cabinets to exposed beams and gray Moroccan tiles, there's always somewhere interesting for the eye to rest.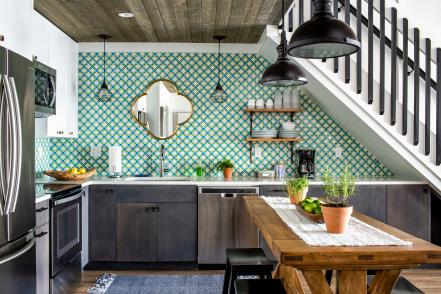 Jeff Herr
A Graphic Mosaic Backsplash
With its bright green-and-blue pattern, the backsplash brings the fun to this open-plan kitchen. On the ceiling, reclaimed wood is an ideal foil to the cheerful colors.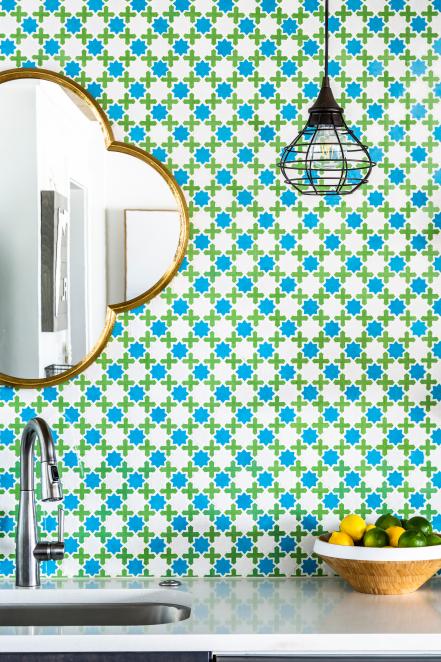 Jeff Herr
Is Filled With Bold Color and Design
This kitchen's mosaic backsplash dazzles in lime green and pool blue. And to complete the look, a gold trefoil mirror echoes the graphic pattern.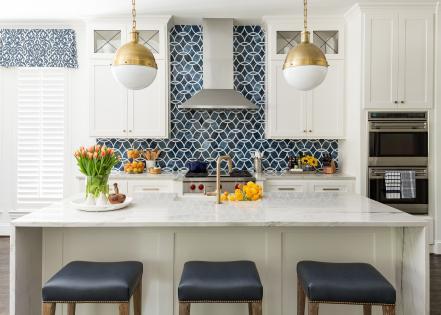 Colleen Scott
Dramatic Navy
Three studded barstools sit at the quartz waterfall island in this modern, bold kitchen. Two brass pendant lights add flair to the space paired with brass hardware on the white kitchen cabinets and a counter-to-ceiling navy backsplash.
Colleen Scott
Bold Blue Backsplash
The bold, blue and white backsplash is the focal point in this modern kitchen. A chef's oven with stainless steel hood range is flanked by white cabinets with brass hardware, complimented by a brass-toned faucet at the quartz kitchen island with a farmhouse sink.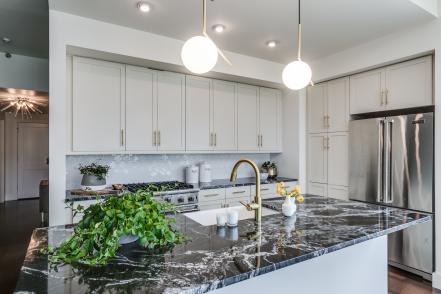 Studio Jaki Photography
White Cross-Shaped Tiles
You might not notice the cross-shaped backsplash at first glance because of the show-stopping black-and-white marble countertops that add a dramatic twist to this mostly white kitchen.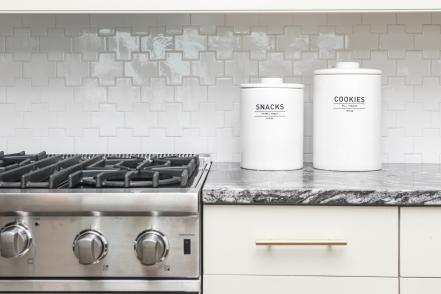 Studio Jaki Photography
Add Subtle Design and Texture
This kitchen livens up its backsplash with a twist on the classic subway tile: These tiles are in a fresh cross shape.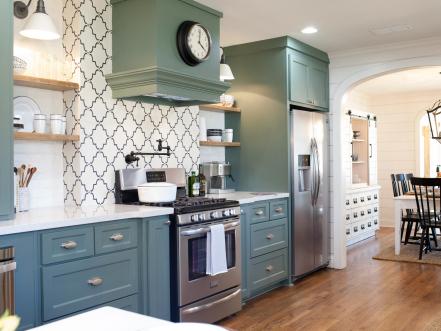 Chic Patterned Tiles
This home's kitchen received a complete transformation from head to toe. White granite countertops keep the country-style space looking bright, while stainless steel appliances add modern functionality to the cozy design, as seen on HGTV's Fixer Upper.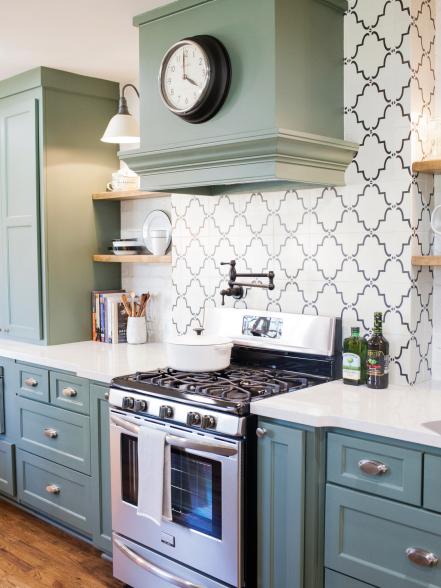 Create a Cozy Feel
A patterned tile backsplash in black and white decorates the kitchen around sage green cabinetry and a wood-framed vent hood.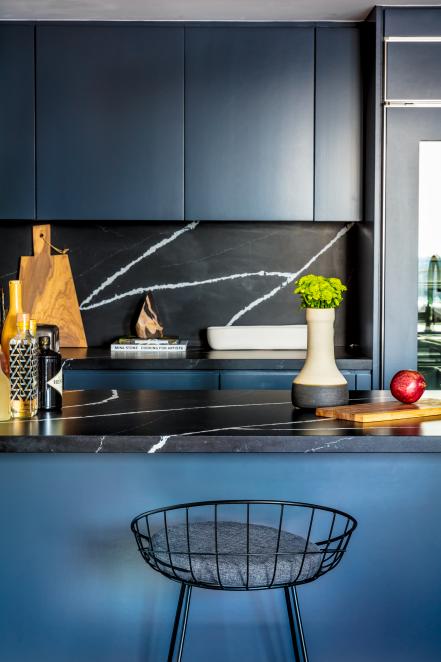 Eron Rauch
Bold Black Marble
To make the kitchen look cohesive, designer Caitlin Murray matched the bold, black marble backsplash to the island. The cabinets coordinate with the island's blue base as well, further tying the room together.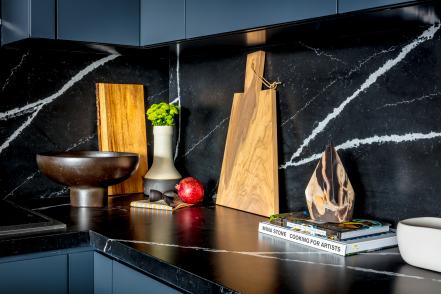 Eron Rauch
Complements the Deep Cabinets
Because the kitchen is so clean and modern, wood cutting boards and other natural accents are used to create a sense of balance. Notice how these pieces bring out the rich hue of the black marble backsplash, too.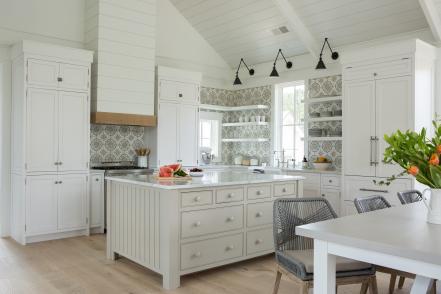 Lindsey Harris
Mosaic Tile Accent Wall
Within this modern cottage's open-concept kitchen and dining area, open shelving, white cabinets and a mosaic tile accent wall channel a farmhouse-inspired design style.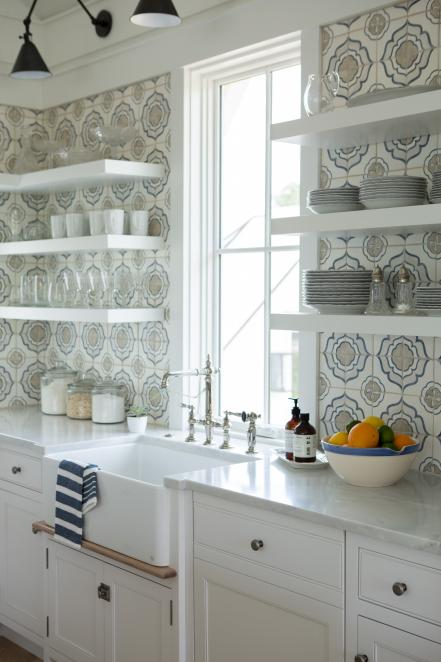 Lindsey Harris
Adds Farmhouse Charm
The tile is made up of white, beige and a splash of blue to add just the right amount of color to the otherwise neutral kitchen.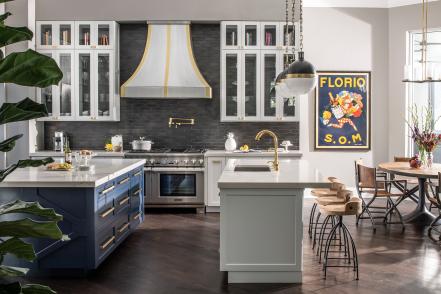 Stephen Allen Photography
A Charcoal Gray Backsplash
Touches of gold — like the range hood's trim and the drawer pulls — give a luxurious glow to this gourmet kitchen's navy blue and charcoal gray palette.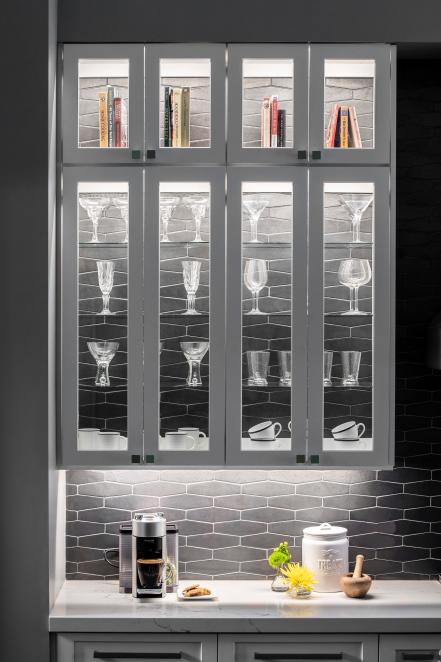 Stephen Allen Photography
Is Brimming With Depth
Against a dark gray backsplash, pretty glassware glitters like diamonds.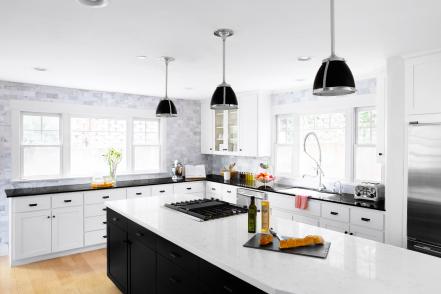 Photos by: The IT Factory
Marble Subway Tiles
Opposites attract in this gourmet kitchen that features perimeter cabinets in white with black countertops and a kitchen island with black cabinets and white countertops.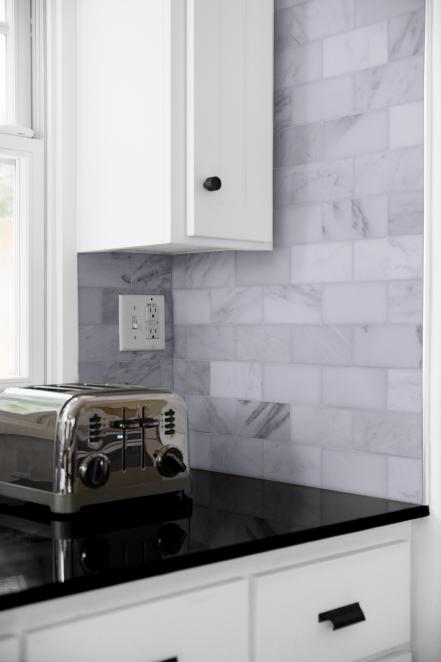 Photos by: The IT Factory
Make a Show-Stopping Display
Stunning marble subway tiles line both back walls from floor to ceiling to create a stunning, envy-worthy design.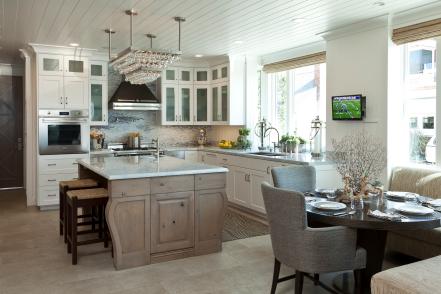 Mark Lohman
Small Mosaic Tiles
This spacious kitchen has plenty of room for entertaining. A wee wall-mounted TV even makes it possible to keep tabs on the game while cooking.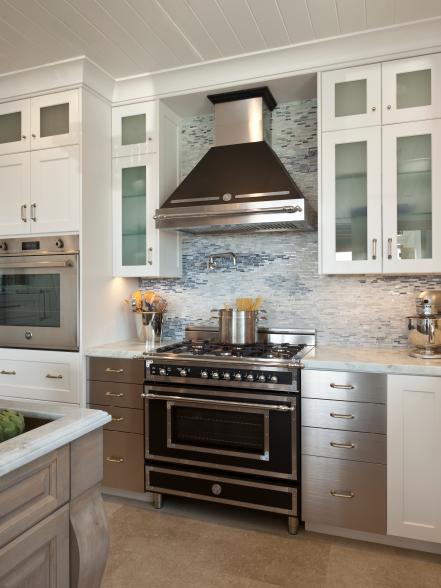 Mark Lohman
Liven Up the Rear Wall
Small mosaic tiles in varying shades of gray give a pretty, dappled look to the backsplash behind the range. Stainless steel appliances and drawer fronts pick up the shimmer.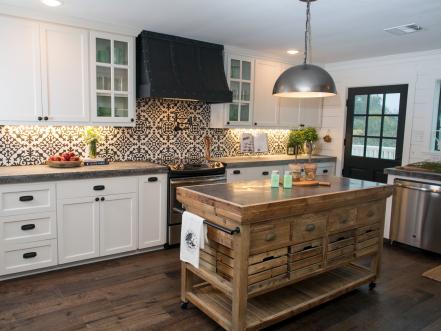 Rachel Whyte
Aztec Cement Tiles
As seen on HGTV's Fixer Upper, this home's custom kitchen features a black-and-white tile backsplash, stainless steel appliances and wooden details that give the space a perfect blend of contemporary and rustic styles.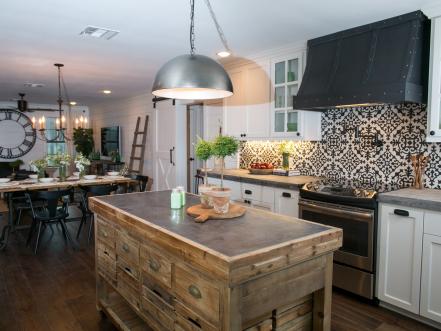 Rachel Whyte
Are Gorgeous in Black and White
The black-and-white, Aztec-inspired backsplash adds color, visual appeal and interest to the otherwise neutral kitchen area.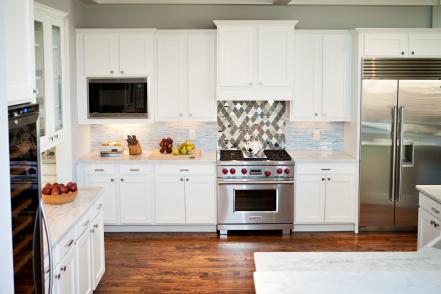 Melanie Johnson
Two Contrasting Backsplashes
Warm hardwood floors create a striking contrast against the bright white cabinets in this transitional kitchen. A Moroccan-inspired backsplash makes a bold statement behind the range, while glass tiles create an elegant backsplash throughout the rest of the space.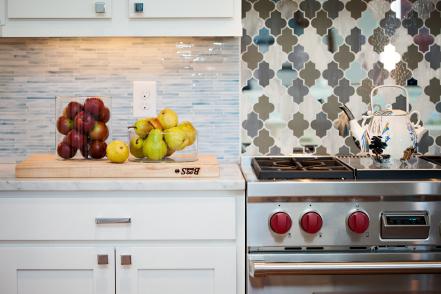 Melanie Johnson
Make a Bold Statement
Clean-lined white cabinets are paired with a glass tile backsplash and geometric hardware for an updated Craftsman look. Behind the range, chic Moroccan-inspired tiles shine bright on their own.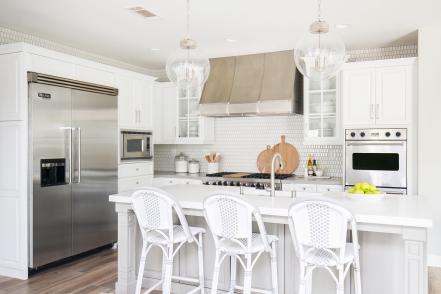 Tracy Lynn Studio
Bright White Tiles
Color not your thing? This contemporary kitchen features all-white cabinets and tile backsplash, a work island with barstool seating, stainless steel appliances and vent hood, and modern glass pendant lights all in coordinating neutral shades.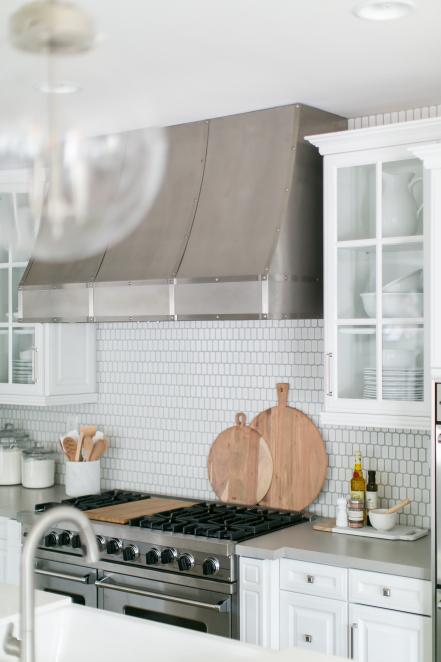 Ryan Garvin
Provide a Modern Touch
Graphic tiles line the back wall for added texture, dimension and style throughout.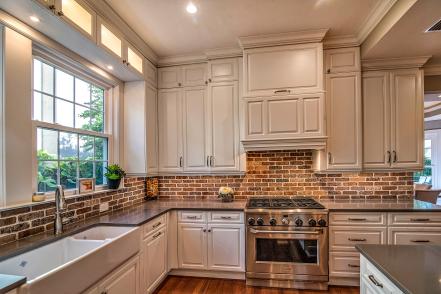 TriplePoint Design Build
A Rustic Brick Backsplash
Brick inside the home? So much yes! The texture-filled backsplash is continued on both walls for an added rustic element.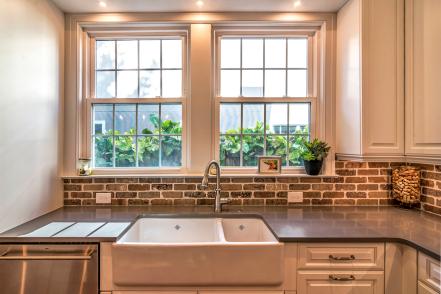 TriplePoint Design Build
Adds Cozy Warmth
The warm hues in the brick set a cozy mood within the contemporary space.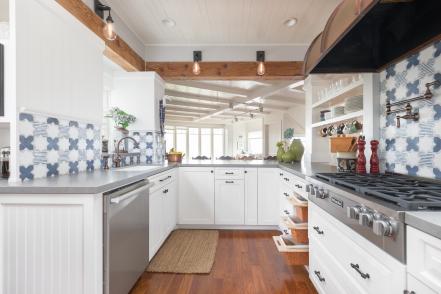 Payte Miller Interiors
A Sweet Country Backsplash
The pretty blue-and-white backsplash sets this white kitchen apart from the rest. The simple graphic pattern freshens up the room's sweet country details like the beadboard and natural wood trim.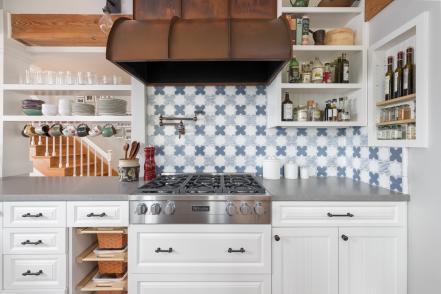 Payte Miller Interiors
Freshens Up the Room
The backsplash is the star attraction in this lovely kitchen — the graphic pattern bringing zip and color to the white cabinets and drawers.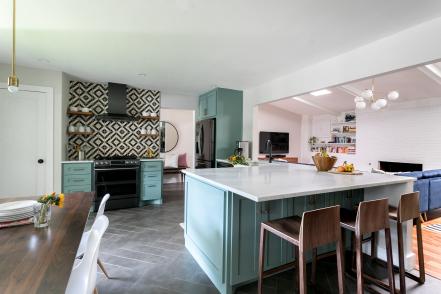 Sarah Moore
Bold Graphic Tiles
An unexpected color combination, teal, black and white marry in this newly renovated kitchen for a fun and stylish design.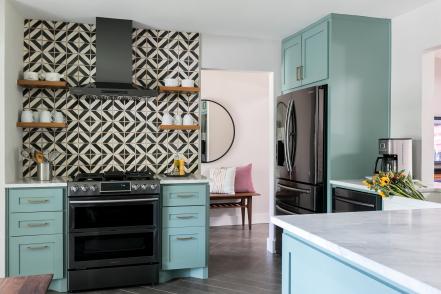 Sarah Moore
Pack a Visual Punch
Black appliances were a bold choice for this kitchen, as they add some edge to the teal cabinets. A graphic black-and-white backsplash complements the display and packs a visual punch of its own.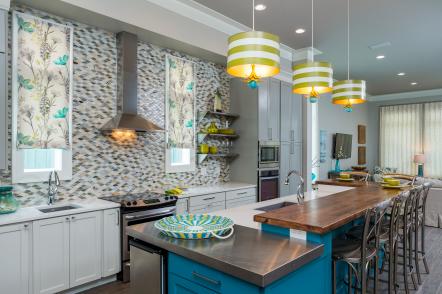 NKBA/Greg Riegler, Design by: Cheryl Kees Clendenon
A Showy Backsplash
Calling all color lovers! Designer Cheryl Kees Clendenon thoughtfully picked a color palette that went with the vibe she was creating for this coastal kitchen. With its unique tile, window shades and just a few accessories carefully chosen to complement the color scheme, this kitchen won a National Kitchen + Bath Association Design Competition award.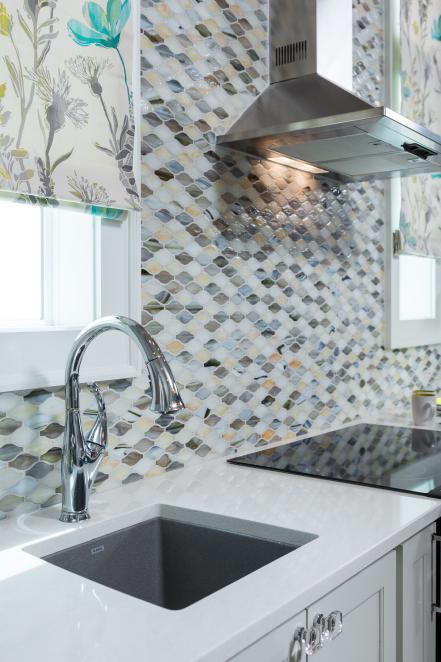 NKBA/Greg Riegler
Gives Kitchen an Instant Makeover
A new backsplash, especially one with a unique tile shape, gives the whole kitchen an instant makeover, such as this neutral-hued design.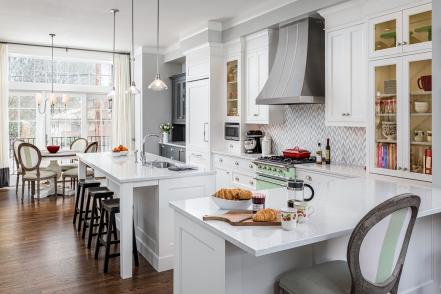 Caleb Vandermeer Photography
A White-and-Gray Tile Backsplash
This open concept kitchen features all the essentials for easy entertaining, from the island with seating to the simple layout.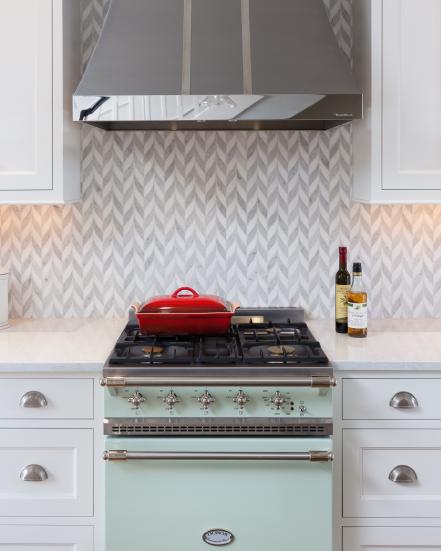 Caleb Vandermeer Photography
Brings Retro Flair
Behind the retro teal gas range, a gray-and-white tile backsplash continues the fun design to the walls.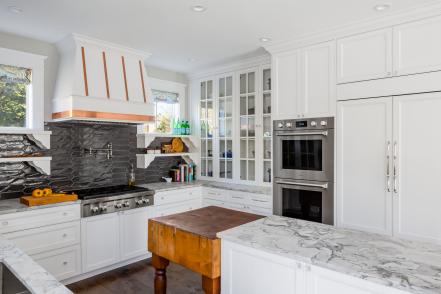 Photography: WE Studios; Design + Staging + Styling: Design Harmony
Shiny Black Tiles
Dare to be different when it comes to backsplash tiles. This bright and airy kitchen features elongated hexagon tiles in a shiny black for an out-of-the-box look.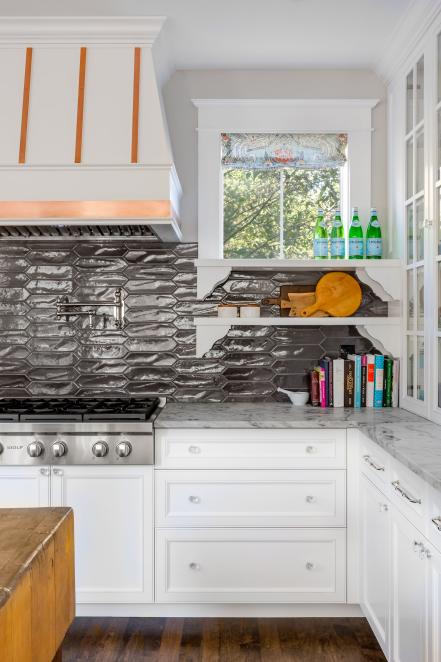 Photography: WE Studios; Design + Staging + Styling: Design Harmony
Create Contrast Within
The black backsplash tiles add depth and sophistication to this chef kitchen, contrasting snappily with the white cabinets.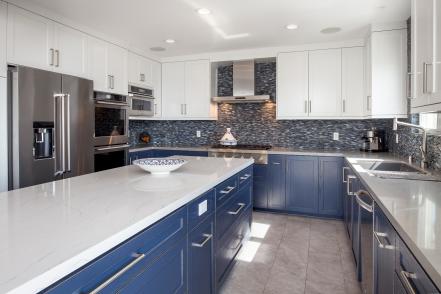 John Moery
Small Blue, White and Gray Tiles
The homeowners wanted a kitchen that felt modern yet comforting, so the designers mixed a soft blue color scheme with bright white countertops to create this elegant, transitional kitchen design. The striking backsplash helps to make the upper cabinets, countertop and stainless steel appliances pop.
John Moery
Serve as an Elegant Design
The black, white, gray and blue tile backsplash selected for the kitchen helps to create movement in the design, drawing the eye to the beauty, elegance and flow of it.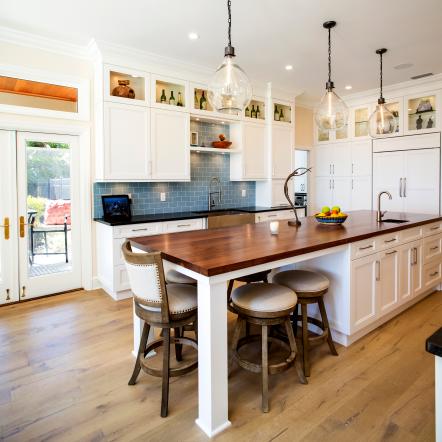 TriplePoint Design Build
A Light Blue Backsplash
Because this kitchen is defined by white walls and cabinets, the designers wanted to infuse the space with a little warmth. Luckily, a wood-topped island gets the job done.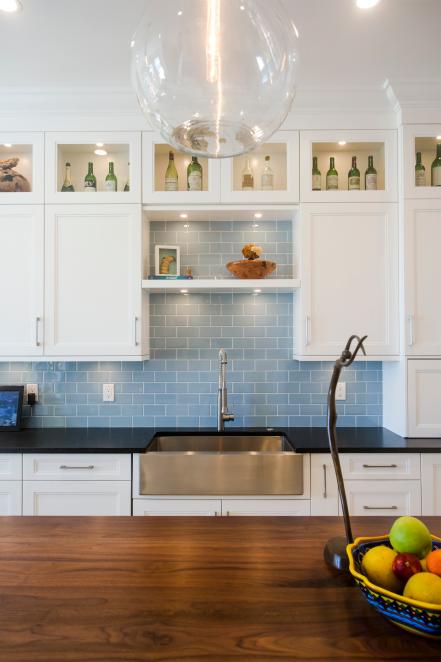 TriplePoint Design Build
Brings a Pop of Color
White and blue are a classic combination, and they work wonders in this transitional kitchen. The light blue backsplash not only brings out the white of the cabinets but also serves as a pleasant pop of color.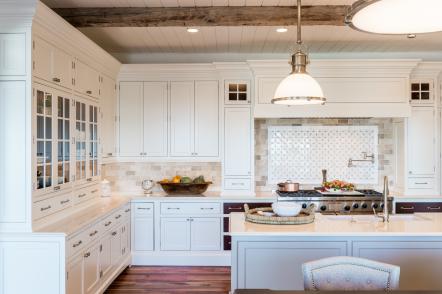 Jason Miller, Pixelate LTD
Simple Graphic Tiles
White paneling, exposed beams and reclaimed wood floors make this country house simple and charming. Two backsplashes line the walls for an abundance of texture.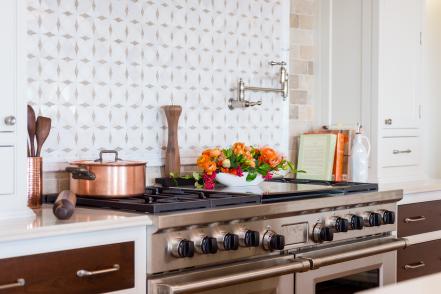 Jason Miller, Pixelate LTD
Accentuates Wooden Details
Tile with a simple, graphic pattern livens up the wall behind the stove and picks up the colors in the copper and wood details.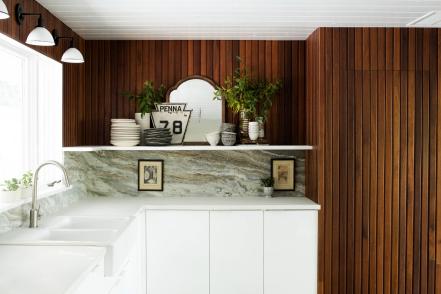 Alexandra Ribar
Gray-and-White Marble
The homeowners loved their home's midcentury modern design, but they wanted it to have an updated feel. Designers expertly blended the original mahogany paneling with new, sleek cabinets and splashes of marble to create a fun, elegant space.
Alexandra Ribar
Creates a Stunning Display
The gray-and-white marble backsplash helps to ease the transition between the dark, rich, mahogany paneling and the stark, white-gloss cabinets. The addition of the marble also provides additional warmth and texture to the design.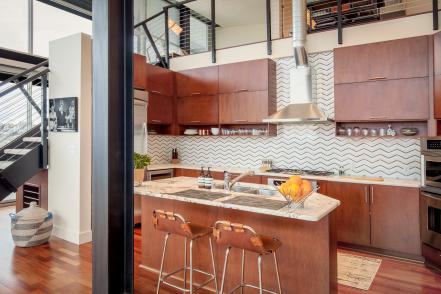 Lindsey Runyon Design
Custom Glass Tiles
With its wood cabinets, playful backsplash and stainless appliances, this kitchen looks warm yet modern — an aesthetic that totally fits a home in the Pacific Northwest.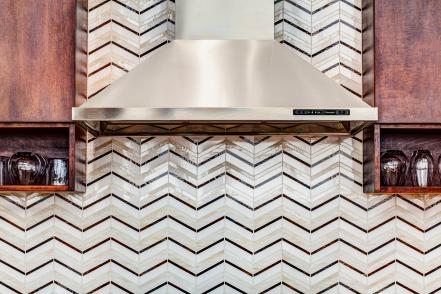 Lindsey Runyon Design
Bring Fun Pattern
The kitchen's backsplash, composed of custom-blend glass tile, is laid in a chic chevron pattern to play off the colors in the island.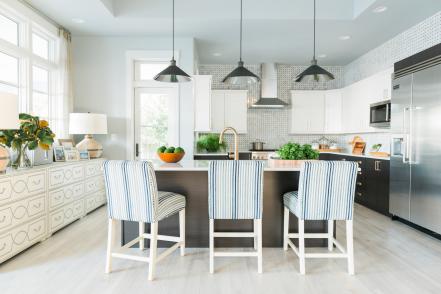 A Dove Gray-and-Black Backsplash
This relaxing kitchen is a study in elegant dark and light tones accented with shiny metal that adds an elegant touch.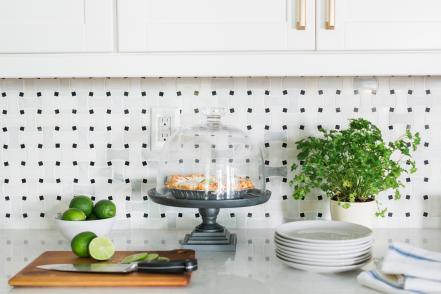 Creates Elegance Abounds
The backsplash is rendered in mini dove gray-and-black tiles. Its subtle design creates a big impact tying the white upper cabinets to the darker ones below.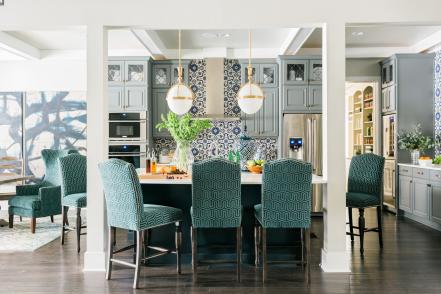 Robert Peterson/Rustic White Photography ©2016, HGTV/Scripps Networks, LLC. All Rights Reserved
Hand-Painted Spanish Tiles
Located off the living room and open to the dining room, this family-friendly kitchen combines both function and style and serves as the true center of the home.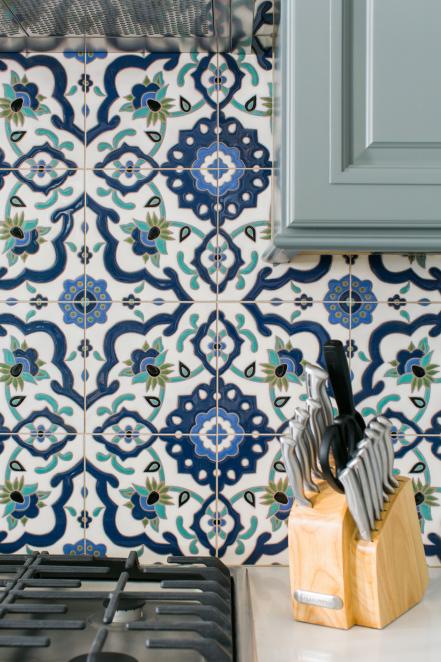 Robert Peterson/Rustic White Photography ©2016, HGTV/Scripps Networks, LLC. All Rights Reserved
Are Artful and Unique
An artful backsplash includes hand-painted blue, green and white tiles. "It gives somewhat of an updated Spanish feel to the kitchen," says interior designer Tiffany Brooks.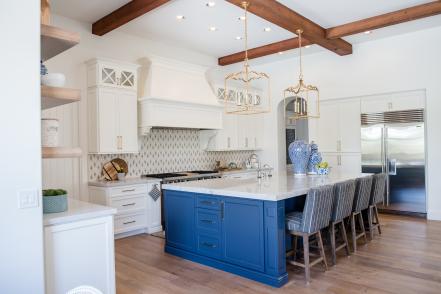 Courtney Lively Photography
A Charming Neutral Backsplash
This open-concept kitchen has it all: stainless appliances, a charming range hood, an eat-in island and a custom coffee bar. Recessed lights and gold pendants keep the space bright from morning to night.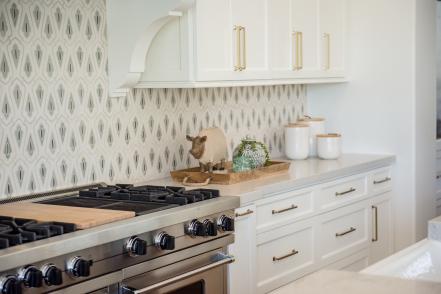 Courtney Lively Photography
Adds a Luxe Touch
Over the stove, white tile with a pretty blue pattern creates a charming backsplash. The gold pulls on the cabinets bring out the blue and add a luxe touch to the kitchen as well.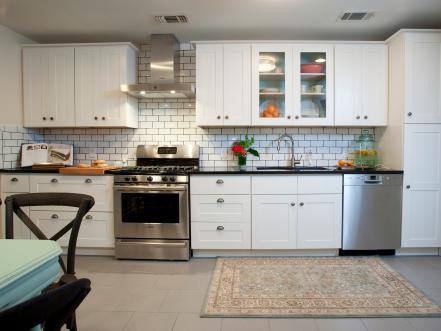 Subway Tile With Dark Grout
This contemporary kitchen is light and modern, with all new stainless steel appliances, black countertops and gray tile flooring. A white subway tile backsplash keeps the kitchen work area bright.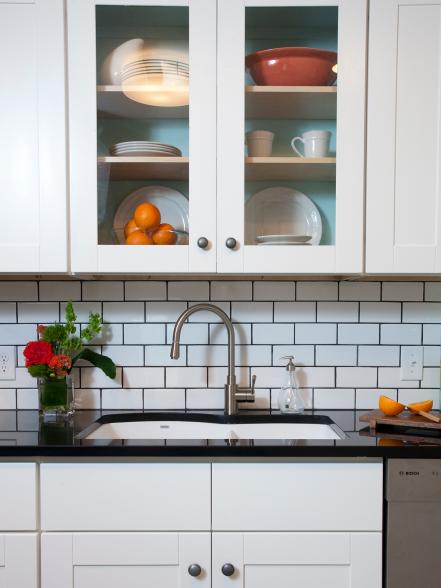 Keeps the Work Area Bright
White subway tile and white cabinets with glass doors make for a sleek, simple workspace around the sink of this contemporary kitchen.
Twist Tours Photography
Patterned Tiles Cover the Walls
This colorful modern kitchen is full of eye-catching details from the hand-painted columns to the copper-front bar to the black-and-white patterned tile that lines the walls.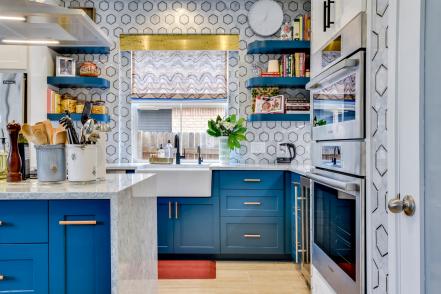 Twist Tours Photography
For a Showy Display
The patterned wall tile is continued to the far wall of the kitchen, complementing the bold color of the cabinets and shelves.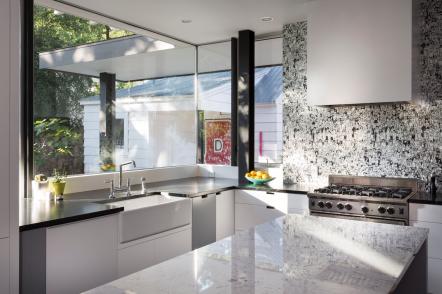 Hugh Jefferson Randolph Architects
Wallpaper Behind a Glass Backsplash
This modern kitchen features large corner windows, structural steel columns and a dynamic wallpaper behind a glass backsplash. Marble countertops and a farmhouse sink complete the look.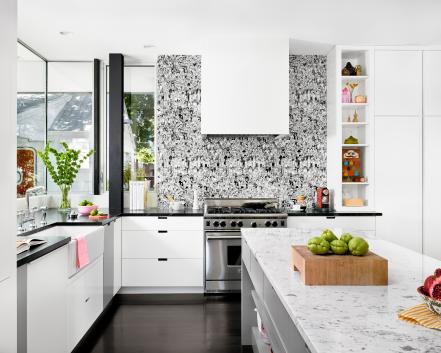 Hugh Jefferson Randolph Architects
Is Dynamic and Chic
If you can't find the exact pattern or look in a tile, consider using wallpaper for a backsplash. Here, the wallpaper is covered with clear glass tiles, making spills and splashes from the stove a breeze to clean off.
Wynne H Earle Photography
A Cheerful Blue Backsplash
A streamlined white island leads the eye down the length of this stylish kitchen to its cheerful blue backsplash. A striped rug picks up the fun color.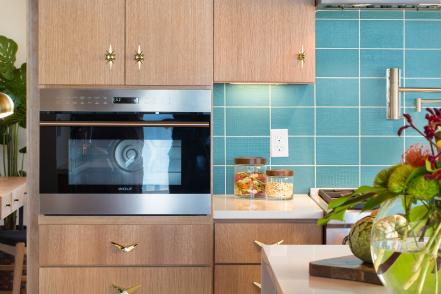 Wynne H Earle Photography
Gives a Fresh New Look
The calming blue hue not only adds a splash of color in the space but also brings a breath of fresh air.