Modern Maritime Design Ideas
Set your sights on the open sea with decorating ideas that'll leave your home feeling like a coastal cottage.
Keep in mind: Price and stock could change after publish date, and we may make money from these affiliate links.
Located on the coast of Portland, Maine, the HGTV Urban Oasis 2020 embraces its setting with inspiration from the waterfront and fishing wharves — bringing sea-worthy decorating to life.
From nautical flags to lighthouses, we've found stylish and sophisticated (no kitsch here) ways to incorporate maritime ideas into your home.
Signal With Nautical Flags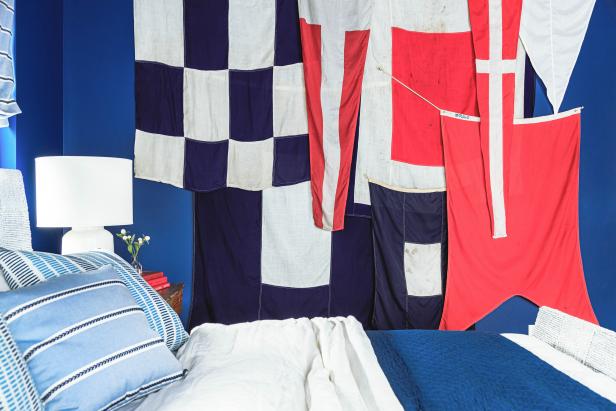 Similar Color Palette
The different shapes and sizes help the flags pop off the bedroom wall. "Some are conical and triangular, some are perfectly square," says designer Brian Patrick Flynn. "But they all have a similar palette."
Overlapping nautical flags make for a stunning display in the master bedroom. Take a cue from maritime communication and infuse your space with bold colors and geometric design. Since each flag corresponds to a specific letter and number, try spelling out your family name or an inspiring word, such as "love," "hope" or "joy," to truly personalize your space.
Small spaces, like powder rooms, are the ideal spots to play with unexpected materials. Here, wallpaper featuring navy-and-white sailboat diagrams flows with the overall nautical theme of the HGTV Urban Oasis 2020. Deck your own walls with a taste of the ocean, whether opting for classic boats or whimsical jellyfish.
Shop Nautical Wallpaper Ideas
Robert Peterson, Rustic White
Every nautical home needs an aquatic friend or two. Artist Karen Musgraves created this canvas giclee of a rainbow trout, which picks up the deep green shade of the guest bedroom. Add a fishing touch to your home with framed artwork, sculptures or even, a rug.
Robert Peterson, Rustic White
Vintage pieces, from fishing nets and lobster cages to fishing baskets, dot the walls of the home, bringing in a timeless maritime quality. If you want the real deal in your home, try local antique and thrift shops or scour through eBay and Etsy. Replicas give you the look as well, without a pricey investment.
Illuminate the Way With Lighthouses
Maine is commonly known as "The Lighthouse State," so, of course, the HGTV Urban Oasis 2020 had to showcase some of the state's most prominent landmarks. This piece, designed by Adam Keafer, mixes colorful wood blocks to create eye-catching art.