What to Expect When Expecting to Remodel
Go behind the scenes at HGTV Dream Home 2016 and see how the design team rolls with the punches.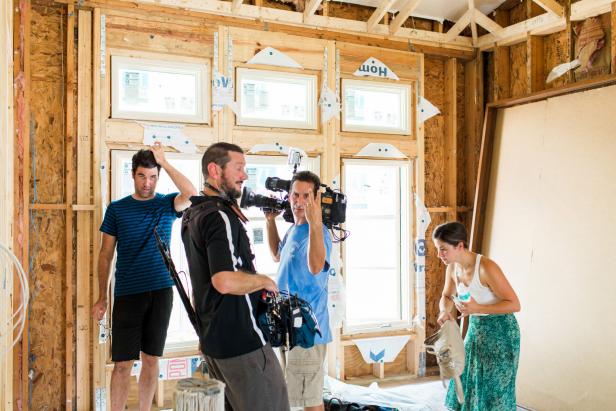 Change of Plans
To account for a change of height in window treatment plans due to transoms placed above each window, Brian and installer Kenny decided to make the panels just two inches shorter than the total height of the wall. This allows the drapery rod to be moved up or down as much as needed for a perfect fit.
Flynnside Out Productions
I have a rule for remodeling and interior design projects, which suggests only 70 percent of the overall plans will be solid while the remaining 30 percent are considered "wiggle room" that are subject to constant change. I cannot tell you how much peace of mind this rule has brought me over the years.
There are certain things that can easily be locked in from the get-go, such as appliances, flooring, and door hardware. There are other things best left loose, like furniture placement and which art pieces should go where.
Each time I'm checking in on a project, I start troubleshooting and making on-the-fly decisions once the project has gotten underway.
For HGTV Dream Home 2016, I decided to leave a lot of decisions loose until I could visualize the home after it was gutted and framing was in place.
For an insider's look at how to navigate a design project, follow along as I reveal how my project manager AJ Lyle and I remained patient to roll with the punches that were thrown our way.
During my second check-in at the house after the demolition was complete and most of the framing was up, I had to alter some of my window treatment plans to account for a change in height due to the transoms above each window.
To ensure a finished length that wouldn't be too short, my installer and I made the panels two inches shorter than the total height of the wall. This allows us to move the drapery rod up or down for a perfect fit.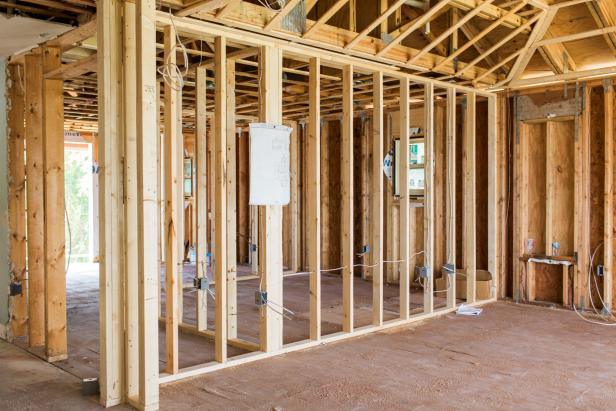 Complete Framing
Once framing is up, bring painter's tape to map out intended furniture and ensure it will all fit as designated on paper.
Flynnside Out Productions
Hands down, the most fulfilling part of a remodel is when interior framing is complete and new windows are installed. This is when you start to get a true sense for scale and proportion as well as the overall lighting scheme of the space.
Once framing is up, I usually bring painter's tape with me to ensure my intended furniture will fit as it played out on paper. This is an excellent time to check how paint colors and fabrics read. I always do a final color check once walls have been insulated and sheetrock is installed.
Although I was thrilled seeing the house framed out, it was hard to get too excited since there was still no air conditioning and it was the dead of summer in coastal Florida where the humidity is similar to the Amazonian rainforest.
When it comes to millwork, it's likely that creative details will slightly change once it's time to install things like railings or trim due to how things need to be finished. I usually plan to meet my contractors during the installation day to make creative changes together and ensure a perfect end product without extra costs or headache.
Flynnside Out Productions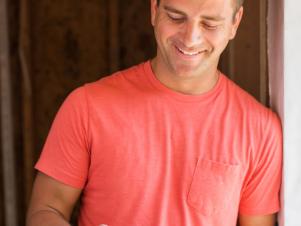 Flynnside Out Productions
Anytime you're replacing stairwell railing, it's best to leave the numbers up to your contractor since millwork is precise and is configured down to the one-sixteenth of an inch measurement.
To track any creative changes, it's smart to mark up your plans with a pencil and use as a checklist when it comes time to tackle your final punch list.
One of the most irritating parts of renovations or simple decorating jobs is keeping a contractor waiting if materials have not shown up. For example, twice in the past month plumbers have shown up to my house to install faucets only to find out they came with missing parts.
Flynnside Out Productions
In response, I'm running out of the house to the nearest place to find extra parts while the pro is at the house prepping the install. While I'm out, I have an important question and my smart phone dies. To avoid this, I have a fully charged external battery with me before I start any project-related runs.
A massive part of remodeling, which you'll never see but makes a huge impact, is insulation. After the interior walls were reframed for new windows and doors, several days were devoted to adding new energy-efficient insulation. This is an exciting time because once the insulation is done, it's time for drywall.
Once drywall is up, do you know what's next? Instant gratification! Yep, that's the point when the property actually starts to look like a home with walls. So if you can keep your patience up to the point of insulation, it's smooth sailing from there on out, folks.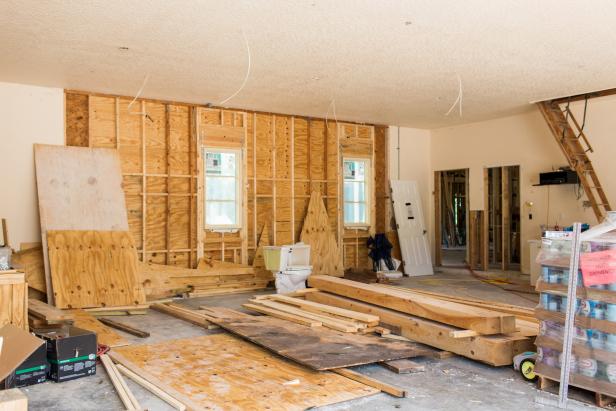 Re-Insulation
Homeowners frustrated with the ongoing mess and inconvenience of remodeling should know that once the insulation of their interior and exterior walls begin, the rest of the project will move forward quickly. Drywall is hung after the walls are insulated and of all tasks, drywall hanging, taping and mudding is one of the speediest.
Flynnside Out Productions
As the day came to a close, it was exciting to think that my next trip back to Merritt Island from Atlanta would involve an actual house with actual walls, actual working plumbing and functioning indoor lighting. It's the simple things, folks.
Whether you're swapping doors for efficiency or adding new windows to expose scenic views, get expert tips for finding the perfect fit.