Window + Door Design at HGTV Dream Home 2016
Whether you're swapping doors for efficiency or adding new windows to expose scenic views, get expert tips for finding the perfect fit.
Two years ago I embarked on my first large scale remodel, the overhaul of my rustic country house in the North Georgia mountains. Although my renovation-savvy friends told me time and again about how drastic a change the doors and windows would be, I wasn't prepared for the amount of meticulous detail associated with tearing out the old and bringing in the new. I don't only mean in regards to remodeling, but also from a decorating and interior design point-of-view.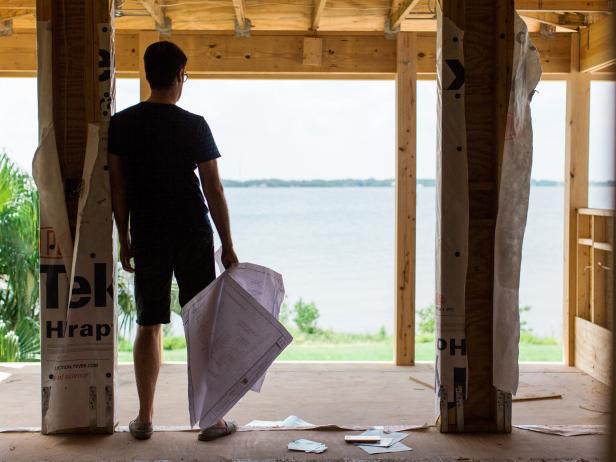 Framing a View
During the HGTV Dream Home 2016 remodel, every door and window was extracted to make way for amazing new doors and windows in a variety of shapes and sizes. Whether swapping out old windows and doors for more efficient styles or looking to open up a solid wall to expose a killer view, it's important to consider a few important details from not only a remodeling standpoint but a decorating and interior design standpoint as well.
Flynnside Out Productions
As far as the remodeling of HGTV Dream Home 2016 in Merritt Island, Florida was concerned, every window and door in the house was toast, saying bye-bye to make way for amazing new doors in a variety of shapes and sizes. To check in on the project, I flew in from Atlanta to meet with our window installer, Kenny, and get a feel for how the interiors would look with natural light flowing inside.
Here's a rundown on things to think about if you're in the market for new doors and windows, whether you're swapping out old ones for efficient styles or looking to open up a solid wall to expose a killer view and let the sunshine in.
House planner, Jack Thomasson, worked alongside general contractor, Steve Price, to select every window and door in the Merritt Island house. I showed up a few months later and along with Kenny, ensured the proper height and width of windows, transoms and French doors. The biggest transformation of all would be the rear exterior of the master bedroom, which would have a set of French doors and two generously sized fixed windows flanking it.
One of the most extensive elements of the two-story remodel was reframing almost every exterior wall along the rear of the house to capitalize on the breathtaking view. Labor costs associated with door and window replacements are often extensive, due to the amount of skill and precision it takes. Not to mention the detail involved with hanging the doors on the hinges for a level swing, then trimming them out to the exact one-sixteenth of an inch.
Anytime you're using paned windows along walls with spectacular views, try and keep the panes to a minimum and open for wide placement. In doing so, the pane detail won't detract from the view.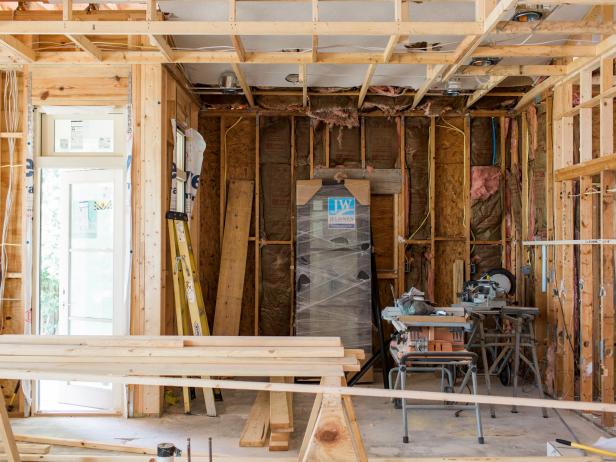 Cover Up Eye Sores
An excellent way to rid a room of a prominent eye sore is to remove its window and add drywall in its place. To counterbalance any needed natural light, consider adding a highly placed transom as its substitute.
Flynnside Out Productions
Most manufacturers of windows offer two types of finishes: pre-finished or primed. If you choose primed, you'll sometimes have the options for the primer to be black or white. Homeowners planning to paint their doors with light colors should opt for white primer, while those interested in dark colors will find the black primer to drastically cut down on the number of coats needed for an even dark finish.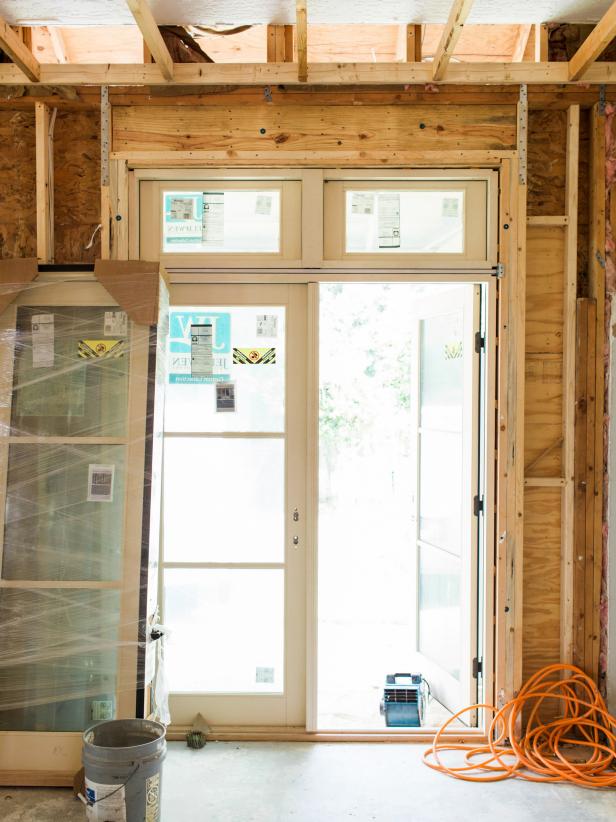 Outward Swinging Doors
If you're short on space inside of the room, an outward swinging door is ideal; however, inward swinging doors are ideal for any small patios or porches connected to interior spaces with generous square footage.
Flynnside Out Productions
Another major decision to make when choosing new doors, is the direction of the door's swing. If you're short on space in a room, an outward swinging door is ideal. However, inward swinging doors are ideal for any small patios or porches connected to interior spaces with generous square footage.
If you're interested in a stained look for the interior of your doors, you'll want to request unfinished wooden doors. As I looked over the unstained wooden French doors of the media room, I couldn't escape the intense Florida humidity from fogging up my glasses every time I walked from one end of the house to the other. This was actually helpful because it let the painters know how the stain and paint dry times would be affected.
There are excellent tricks to maximizing the amount of natural light your interiors get when updating doors and windows. Anytime I have the height, I add a transom above each window or set of French doors. While the extra two to three feet of window may not seem like much, it actually makes a difference on the ammount of light that filters in, especially when transoms are mounted higher than drapery rods.
Another trick for hallways and bedroom entrances is to opt for tall interior doors. This gives the illusion that the spaces are bigger and can instantly make cramped areas feel open and expansive. Be sure to stay consistent with tall doors in rooms which open onto one another or that are grouped together in the same area of the home.
On the flip side, if you're letting in more natural light, you want to go with double paned windows and French doors to control the amount of heat which light may produce.
Here's a helpful tip that can save you a ton of headache. When you're choosing doors and windows, it's important to know that pre-hung and custom options come in different thicknesses to fit different types of architecture and insulation needs.
If you cannot find a set of pre-hung doors or windows in your exact thickness, it's always better to order items that are slightly thinner because the extra space can be created with proper framing and trimming tricks. Conversely, if you order doors that are too thick for the exterior walls, they'll be useless since there is no simple, effective way to fit them to the wall without replacing it.
Behind the Design
Interior designer Brian Patrick Flynn takes us through the creative process for the ultimate Floridian escape, from picking fabrics to creating a vision.
As you start to make fabric selections for your window coverings, it's best to invest in having a local installer take proper measurements after the doors, windows, and their corresponding trim have all been installed. There are many factors to take into consideration for the construction of shades and drapery panels. Think about inside or outside mounting, proper height above trim to install brackets and rods and getting the measurements down to the one sixteenth of an inch to ensure a tailored fit.
Juliet balconies are created by adding French doors to a space that sits at least one story above ground level. These are an excellent way for making a room seem grand and allows the feeling of an indoor/outdoor lifestyle during the cooler months when doors and windows can remain open. If the balcony is deep, it's best to choose outward swinging doors. However, if there's simply a railing outside of the French doors, inward swinging doors are a must.
Garage doors can drastically change a home's curb appeal. If you're choosing budget-friendly styles, try to keep the doors simple and perhaps customize them with a contrasting color. If you're splurging on garage doors, it's smart to think of how stained wood can instantly add a custom, high-end look to the house.
Although covering up existing windows seems like a bad idea, it can help with curb appeal and privacy. A side window in the kitchen, which looked directly into the neighbors' utility area, was walled over to redirect the view out to the water.
One of the biggest impacts changing doors and windows can make is curb appeal. Prior to this remodel, basic doors and windows made of vinyl were installed. With new wooden styles generously sized to maximize light, the home seems much larger and brighter.
Discover the colorful design details for this year's HGTV Dream Home and get expert tips for choosing neutral, bold and pink hues.