Sneak Peek: Drew and Linda's Honeymoon House
The Brothers are taking on one of their biggest projects yet, and this time it's personal — with a very special family addition.
We've dropped hints on the HGTV blog earlier this year, and given you some romantic history, and we provided evidence a love supreme. Now you'll get to see the story unfold in HGTV's special five-part series, Property Brothers at Home: Drew's Honeymoon House. It all gets underway on Wednesday, November 22 at 9p|8c.
Here's the deal. Drew and his fiancée Linda Phan, newly engaged, are moving to LA and embarking on a particularly massive renovation, creating a dream home of their own. You'll get to watch the progress, along with plenty of drop-ins by family members.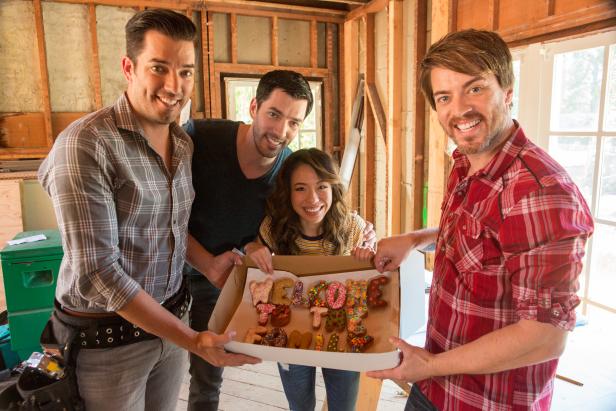 Hosts Jonathan and Drew Scott, Drew's fiancee Linda, and JD Scott show off a box of donughts that spells "Welcome to the the family" brought by JD during construction in Drew's honeymoon house, which is undergoing an extensive remodel ahead of Drew and Linda's upcoming wedding, as seen on Property Brothers at Home: Drew's Honeymoon House.
Gilles Mingasson / Verbatim Phot
In a challenging twist, the whole-home reno must be finished in a matter of twelve weeks with a looming deadline of a pre-wedding party set to take place at the house. And, since this marks Linda's official welcome to the family, Drew and Jonathan's parents, Jim and Joanne, and older brother JD, will be there to make this project a true Scott family affair.
Each episode features renovation of a different section of the house, and the house in question is a '20s-era 3400-square-foot home in a historic LA neighborhood. "We're restoring elements of the English-inspired architecture and adding modern updates," said Drew. "Linda and I are going for an old Hollywood glam, Art Deco design style."
Linda is far more than a bystander in all this and pitches in full-force in the demo and construction process. She works alongside Drew and Jonathan during each step of the renovation, and her creative touches will be seen throughout the series.
We've shared our relationship with fans for a few years now. We can't wait to share our new home with them, too.
Linda Phan
The premiere episode focuses on the foyer, living room, office and powder room. Highlights include the vintage handrail on the foyer stairs, meticulously preserved though the stairs themselves were beyond saving, an amazing first-floor powder room that's art-deco ispired and an amazing office with a bay window and wood paneled walls painted in deep blue.
The centerpiece of the episode, the living room, is a blend of old and new as well as the perfect melding of Drew and Linda's individual styles.
The Property Brothers at Home episode titled "Living Room Luxury" premieres Wednesday, November 22 at 9p|8c.
And at HGTV.com, Drew and Linda will be sharing some creative DIY and crafting tips via an exclusive video series. Here are some to get you started.
We're sorry, there seems to be an issue playing this video. Please refresh the page or try again in a moment. If you continue to have issues, please contact us here.