Spare Bedroom Becomes Glam Feminine Retreat
When a wife wanted her own retreat, she asked designer Lynne Lawson to transform a spare bedroom into a super-feminine retreat with fresh white overtones and snappy green accents. The result is a luxurious getaway right in her very own home.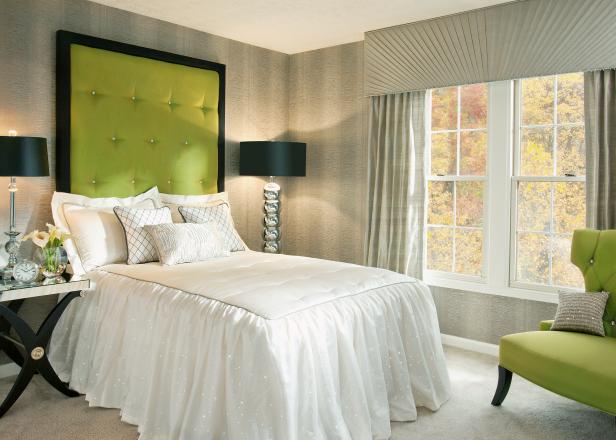 Neutral Hollywood-Glam Guest Bedroom With Green Accents
A formerly drab guest room was turned into a glamorous and inspired feminine retreat. Bright green accents add vibrancy to the room's neutral palette, while natural light fills the space. Custom bedding combines a comforter with a built-in dust ruffle, while tall lamps and a high, tufted custom headboard add height to the small space.
What were the main items on the owner's wish list for remodeling this bedroom?
My client needed a room to escape to when her husband was watching basketball and other sports on their master bedroom TV. She had this spare bedroom and wanted to make it her own special, feminine space. It has become her in-home getaway when she needs relief from the NBA. She loves glamour and drama, so we had to make it especially wonderful for our client, who is amazing.
Sometimes a homeowner might not realize what the true issues are in a space. What was the single-biggest issue you wanted to address for the owner and why?
The room was entirely underwhelming. This very small space had no inherent architectural focal point — the window wall was the most exciting element in the room. My client loves drama (of the good kind), so we created it through decor and color. Bling, glam and Hollywood chic became the operative descriptors.
Every project presents a unique set of challenges. What was your biggest obstacle in this space and how did you overcome it?
My client originally wanted a bed with a headboard, side rails and a low footboard. She also wanted the headboard and footboard to be fabric-covered but framed out in wood. But the room could only accommodate a full-size bed, and this configuration was difficult to find in a full size. After researching countless beds and finding very little that interested her, she agreed to our idea of a tall custom headboard and custom-designed bedding.
Everything doesn't always go according to plan. How does the end result match up with your original vision for the space? What changed and why?
The client originally wanted a Hollywood-glam room in red and gold with an Asian influence. We had a difficult time getting our heads around those three elements. We created one design according to her vision, and another according to what we hoped she would adopt as her vision. She ended up loving the latter vision. We ramped up the color in the final design, incorporating more green than our original version called for, which had more of a cream palette.
What surprised you the most about the project and what are the lessons you learned? How does that impact the way you'd approach a similar project going forward?
We love doing custom upholstered headboards. On this one we designed the button tufting originally with faux-crystal buttons (to save money). Once the headboard shipped to our furniture vendor, the plastic faux-crystal buttons that we purchased online began breaking due to the pressure of the tufting. During installation, more broke. So we had to purchase furniture buttons made for tufting and have a cornice-maker replace all the buttons, which delayed our project.
Our readers love the small details. What are the "hidden gems" in your plan that really made a big difference in the overall success of your design?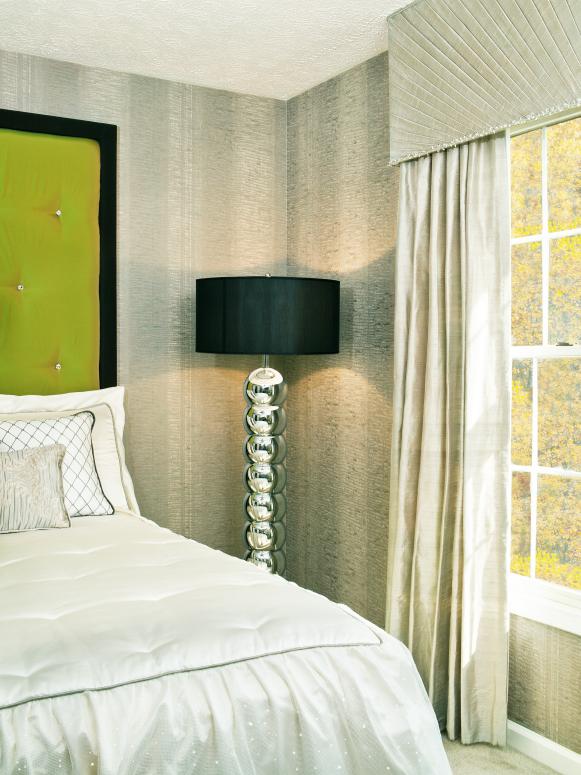 Neutral Art Deco-Inspired Guest Bedroom
Subtly striped wallpaper and a tall metallic floor lamp add visual depth to this art deco-inspired guest bedroom. Custom touches including a green tufted upholstered headboard and combination comforter/dust ruffle help make the neutral space an ideal feminine retreat for the homeowner.
That tall-looking headboard is really only 60" high (5' tall). It's wall-mounted, so it looks like it's 84" or 7' tall. The comforter is a special design that combines a comforter and dust ruffle into one. The skirt is two layers of fabric: one solid and one glitzy mesh. The trick here was to get perfectly accurate measurements so it wasn't too long or too short. We used wallpaper instead of paint because we wanted visual depth. The wallpaper actually makes the room look larger. We custom-designed the window treatment and worked with our expert cornice-maker to add some faux-crystal holiday trim at the edge for a bit of sparkle.