Patio and Deck Designed for Entertaining
Designer Steve Chepurny worked closely with homeowners to create a backyard idyll perfect for entertaining, complete with outdoor dining areas, a cooking station, a fire pit and multiple sitting areas.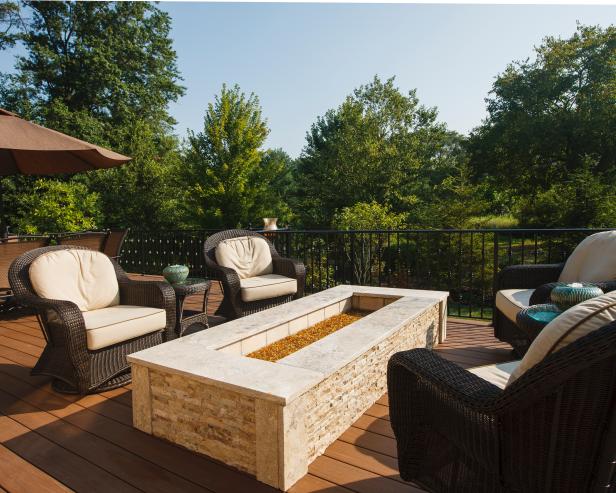 Patio Chairs Flank Rectangular Fire Pit
A pair of wicker chairs make for an inviting spot to relax by this patio's long rectangular fire pit. The fire pit acts as a focal point while offering warm ambiance on chilly evenings spent outside.
What were the main items on the family's wish list for remodeling this patio?
The owner was looking to create an expansive space for entertainment, including a built-in fire pit and cook station, and a water feature for tranquil reflection.
What was the single-largest issue you wanted to address for the owner, and why?
The biggest issue was developing the space as one large entertainment area while incorporating two materials: travertine and composite deck. Too much of one material would be overwhelming.
What was your biggest obstacle in this space and how did you overcome it?
The property backs up to wetlands. A happy marriage of the entertainment area to the lawn/yard was critical. The owner has two dogs that needed ample green space.
Everything doesn't always go according to plan. How does the end result match up with your original vision for the space, and what changed and why?
I originally was looking to take advantage of the natural wetlands buffer. The homeowner was determined to buffer this view. I was concerned with massing too much native vegetation, which would make the property feel smaller. The end result was a happy compromise.
What surprised you the most about the project or what lessons did you learn that taught you something? How does that impact the way you'd approach a similar project going forward?
Integration of materials is critical in a design. Blending not only colors, but also texture and tones. This has really changed how I view materials and blending. Sometimes, going out of the box is critical. It's all in the details.
Our readers love the small details. What are the hidden gems in your plan that really made a big difference in the overall success of your design?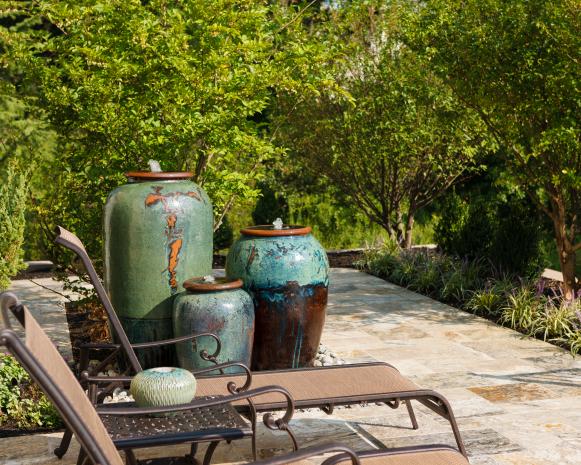 Trio of Patio Water Urns
A trio of water urns are an eye-catching focal point on this patio. The sound of the burbling water provides relaxing ambient noise when lounging in a patio chair.
The trio of water urns with the three underwater lights. The reflection of the light off the moving water created a dazzling effect of shadows within the space. It is one of those elements similar to fire that is entrancing.