Modern Home Connects with Nature
Felicia Foster creates the perfect escape from the city in an Austin, Texas, home that mixes modern design with natural elements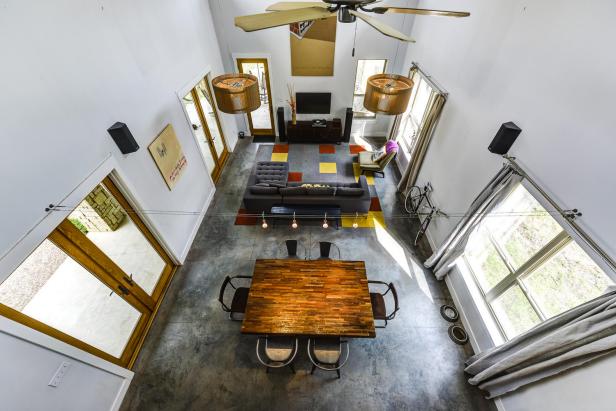 Modern Bachelor's Living & Dining Room With High Ceilings
While designing this modern bachelor's country home, designer Felicia Foster wanted the elements themselves to be the focal point. "We minimized on the design side so the materials could speak for themselves."
Looking for an escape from the tight living space of the city, Austin, Texas, bachelor Matt Short asked Felicia Foster to create him a roomy getaway in the country. Foster, the principle building designer at Barron Custom Design, shepherded him through the process of transforming five acres of empty land into the modern retreat Short craved.
Both designer and client had their own interpretation of what this house would be, with Short's ideas centering on modern design and Foster's focusing on inspiration from the nature surrounding it. Their visions came together in a minimalist style house inspired by the vast amount of land and breathtaking views of the Austin countryside.
It was about being re-connected with nature – suburbia is so inwardly designed that you miss everything that's on the outside.
Certified Professional Building Designer Felicia Foster
Short had a tight budget to fit, so Foster made sure to "make every inch count" – from floor to ceiling. The concrete floors she selected offer a modern industrial look while helping to keep the house cool, meaning utility savings for Short. Foster left ductwork exposed, which eliminated the need for an attic and encouraged better airflow throughout the home.
"Everything played on the next thing. There was nothing that we did in the house that was only for the look," Foster says.
Limiting visual clutter throughout the house allows the furniture to shine. Various colors, textures and materials clothe the furnishings to add visual interest. The kitchen includes display space for decorative dishes, books, magazines and wine. The look remains clean by using exposed shelving to display Short's personal items and travel souvenirs.
The kitchen island, crowned with quartz countertops and packed with storage space, was built to look like a cube rising out of the concrete. Short wanted it to become the hub of the house where people could gather together.
The walls feature very little art to keep with the simple style and make the room seem even more open. Bare windows allow the outdoors to flow into the house with lots of natural light, limiting the need for overhead lighting and creating a connection to the outdoor living spaces.
The landscaping for the home was designed to blend seamlessly with the surroundings. The exterior paint color is inspired by the leaves from surrounding oak trees. The Texas limestone provides an earthy tone to the palette, incorporating more smoothly with the surrounding grounds than more common white limestone would.
The backyard quickly became Foster's favorite part of the house. Foster located the firebox in the custom Texas limestone fireplace higher than normal in order to better heat the patio area on chilly country nights.
"We would sit out there and catch the southern breezes coming across," Foster says. "And the view out to the live oaks and across the property was just awesome."