Hollywood Hills Bachelor Pad Draws Inspiration from Fifty Shades of Grey
Designers Payton Addison and Andrea Bruley turn to sexy silver screen inspiration when designing a luxurious home for a bachelor who loves to entertain.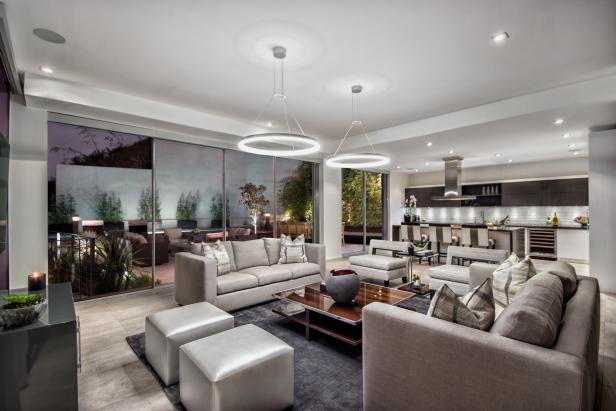 Crazy for Color Bachelor Pad Great Room
This Hollywood Hills property is stunning from the large living area that is completely open, to the dramatic dining room and contemporary kitchen. This property allows for great indoor/outdoor entertaining that seamlessly flows together.
When working with a young bachelor client who loves entertaining in his Hollywood Hills home, designers Payton Addison and Andrea Bruley found easy inspiration from the silver screen.
"Once we started collecting all the fabric we kind of conveyed the philosophy that this house was going to allude to Fifty Shades of Grey," Bruley says. "We wanted a design that was incredibly sexy, sleek, sophisticated, lavishly modern."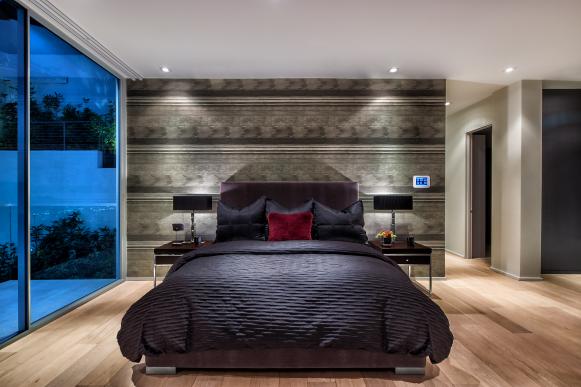 Open Contemporary Bedroom
Deep pops of color are meant to be inviting and bold and also help to soften the hard edges of the contemporary architecture.
The pair's Addison Bruley design firm is popular for its lavish style that fit well with the 2015 erotic film based on E.L. James's best-selling novel. The duo includes custom furniture and works with the most minute of details to create balance between the client's desires and their own modern style.
"Andrea and I work literally with all the details and the finishes of the furniture as well that people don't normally notice but we take pride in that," Addison says.
At the core of this home's design is a neutral palette with durable fabrics that will withstand their client's entertaining lifestyle. Addison and Bruley used rugs, pillows and even coffee table books to layer the look.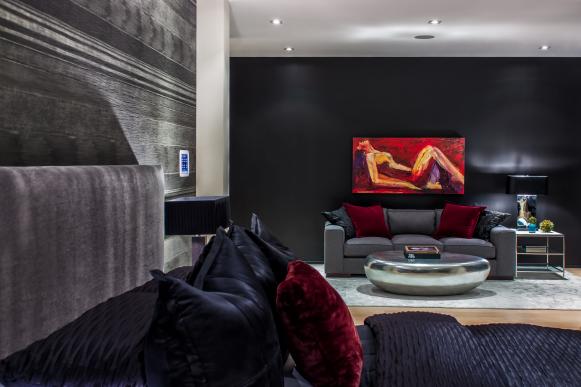 Crazy for Color Bachelor Pad
Deep pops of color are meant to be inviting and bold and also help to soften the hard edges of the contemporary architecture in this Hollywood Hills bachelor pad.
Deep reds and brilliant golds crank up the color in the home's sex-inspired art pieces. "The art really added a lot," Bruley says. "The stunning gold color in your face really brightened up the grays."
What is even more impressive is that the design and custom furnishings were completed in a short four weeks.
"We utilized our resources, and we really pulled everything that we had so we could get this house completed in time, because four weeks is nothing when you're dealing with custom furnishings," Bruley says.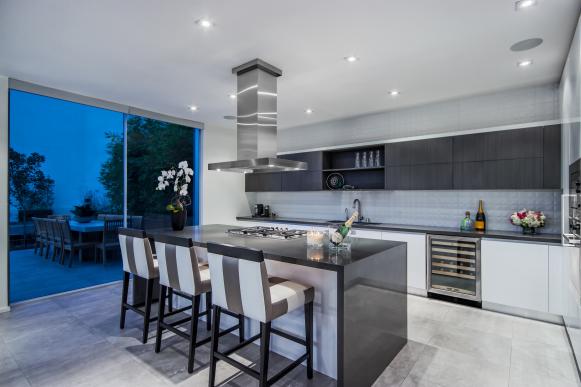 Steel Inspired Contemporary Kitchen
Custom furnishings were designed to compliment this contemporary Bachelor pad in Hollywood Hills. All the products stand out and are something unique as well as functional. Upholstered dining and counter stools and bold pops of color help soften the house.
But in the end it was their nitpicky nature that the house came together in time. "We're obsessive with details and innovation, and I think that's something we try to bring to every project. It was absolutely a necessity on this project because of the time crunch" Addison says.
For homeowners putting together their own design scheme, Addison suggests looking at the home as an outfit.
"If you think about a home as an outfit the rugs and the flooring are your shoes, the sofa or the main piece of furniture is like the main outfit or the dress, and the books and accessories are like the earrings and the necklace," she says.
Design firm DKOR delivered for a family that loves to entertain family and friends. A new, open floor plan created better flow throughout, unique lighting emphasizes the high ceilings, while the homeowners' art collection adds color and personality to the home.
A Houston estate has a minimalist, unique aesthetic highlighted by architectural details. Designer Marie Flanigan embraced Old World, rustic and contemporary furnishings, accessories and artwork to create a truly singular -- and beautiful -- home.
Design 4 Corners transformed this cookie cutter home into anything but ordinary, with custom finishes and a soothing blue color palette, the interior design is one to remember.