5 Foolproof Ways to Improve Your Curb Appeal in a Single Weekend
 No-hassle home projects are just the way we like it.
So, it's been a minute since you last freshened up the front of your home, and even the neighbors are starting to notice. No worries! With a few pro-approved tips and a weekend wide open, you can easily upgrade your exterior and have it turning heads for all the right reasons.
1. Start With a Quick Trim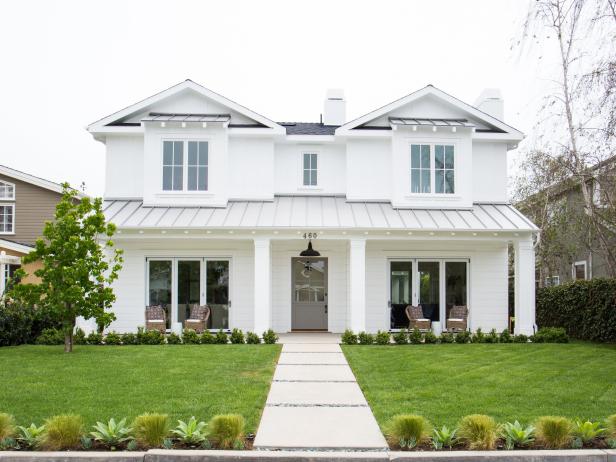 Modern White Farmhouse in Newport Beach
This home is located in Newport Heights,and has a coastal design but with a Modern Farmhouse twist. Keeping the walls white keeps things bright, clean and coastal and lets the furnishings do the talking.
By now, you know that curb appeal is about making a great first impression. To ensure that your home is putting its best face forward, give the yard a quick once-over, taking care to trim the grass, remove wayward weeds and lay fresh fertilizer. With a well-tended lawn of its own, this farmhouse by Blackband Design radiates natural beauty.
Landscaping Tips and Tricks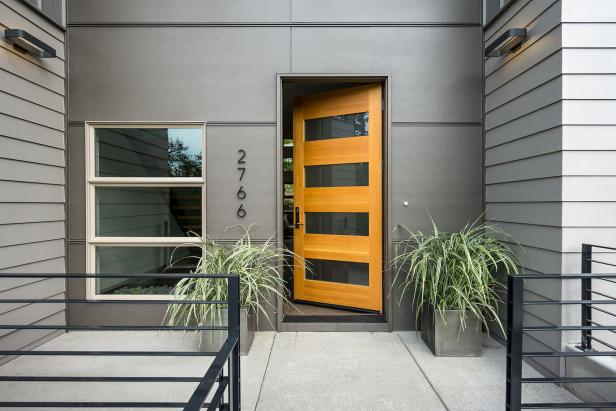 Entrance to Contemporary Home
A pair of planters flank the concrete walkway leading to the home's front door. The light wood door with horizontal windows adds warmth to the cool gray exterior.
If guests have to strain and squint to determine where you live, then it's probably time to update those house numbers. Replace the brass plates of the past with new dazzling digits that can be read from the driveway. And if you really want to draw visual interest? Select a set that speaks to your home's architecture and display them in a vertical manner, like designer Jordan Iverson did here.
DIY or Buy New: It's Up to You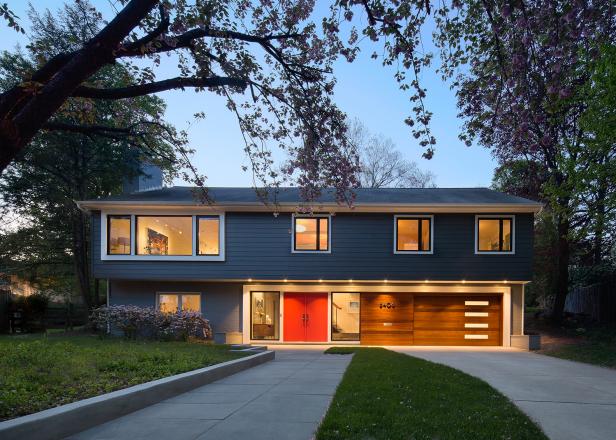 Renovated, Midcentury Modern Home
The home's curb appeal was updated by installing a new entry door and sidelights; new windows, including an enlarged opening for the second-floor living room; new fiber cement siding for the upper level; and a new garage door. The designers focused on increasing transparency and accentuating the horizontal character of the simple form.
Anice Hoachlander/ Hoachlander Davis Photography
Truth be told, the most eye-catching homes in the neighborhood usually have something in common: a vibrant front door. To upgrade your own entry, choose a paint color that complements and enlivens the exterior, like a pop of red, a splash of blue or a jolt of yellow in a semi-gloss or high-gloss finish. With a bold door of its own, this midcentury home from Louis Balodemas makes a fantastic first impression.

Now Choose the Right Color for You
4. Increase Your Greenery
Much like a fresh coat of paint, potted plants and flowers can truly revive your outdoor space. For a flawless entrance, use topiaries to frame your front door, or follow designer Brian Patrick Flynn's lead and mix planters in different shapes and sizes to pretty-up your porch.
5. Polish With Pleasantries
And when you're really in a time crunch? Simply pull out all the personal touches, from cheeky welcome mats to seasonal wreaths, textured throw pillows and other chic porch accessories. Neighbors and visitors will get a better sense of who you are, which will instantly enhance your home's character and charm.