Maximum Value Technology Projects: Sound
Discover sound system updates and other technology projects that increase your home's value.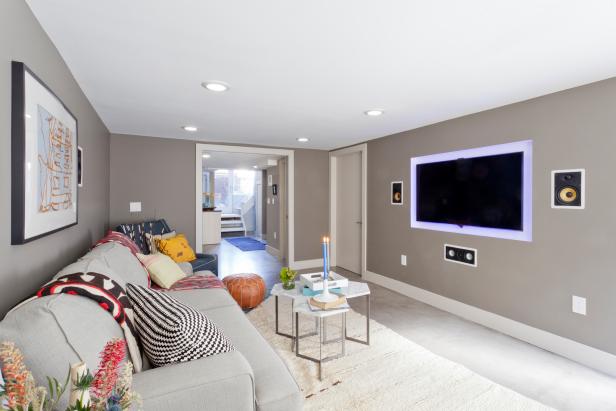 Modern Furniture and Built-In TV in Living Room
The new living room in the Sarlo home is bright and spacious. It is located down the hall from the kitchen and next to the wine bar. With a new built in flat screen tv, and new sound system and new modern furniture, this room is perfect for late night movies or parties. As seen on HGTV's "Cousins on Call".
When you think about what makes your home most enjoyable, chances are you'll think of activities such as relaxing after a hectic day, spending time with family and entertaining company. Whether it's listening to music as you cook or unwind, watching a movie with a loved one or enjoying a ball game as you cook out with friends, all these activities are made even better with a quality sound system.
Upgrade outdoor living. As outdoor living has increased in popularity with the addition of outdoor kitchens, dining and lounge areas, so has the idea that everything found inside can now be enjoyed outside. Sound is no exception, as homeowners are now incorporating entertainment systems with backyard activities. Television, radio, CD and MP3 players are given clarity and depth thanks to exterior sound features that take outdoor living to the next level.
According to appraisal expert, Leslie Sellers, president of the Appraisal Institute, doing your homework on sound systems is extremely important. Since a sound system is used for personal enjoyment, be smart and make a purchase based on your need for the home and not what is the newest and biggest feature on the market. You will be surprised how much you can save by talking to a professional and then investing in a system that is tailored to your specific needs.
On a Budget: You don't have to invest in the largest speakers to get the best effect. Get big sound from small -- and affordable -- speakers. There are plenty of speaker brands -- sold in your local electronics store -- that sell bookshelf or mini-speakers with a subwoofer that provides great sound while taking up little space. Perfect for certain areas of the home where you want better sound for music or TV, these speakers can go anywhere, whether it's a family room, kitchen or multi-purpose media room.
Mid-Range: Getting technical when it comes to a mid-range purchase can help you save some cash and get the best system for your money. Consult a sound system professional at your local electronics store to discuss dimensions of the space you want to add better sound and the specific ways you plan on using your system.
High-End: Technology is king at the high-end price range. By integrating home automation technology, sound systems can be wired through the entire home, but monitored from a single port with ease. From indoor to outdoor, living room to bedroom, sound for any entertainment purpose can be enjoyed with the best in quality and design.