3 Don'ts for Living Stylishly With a Pet
Don't let your house go to the dogs and the cats. Follow these tips and you can have a beautiful home that's pet-friendly.
Pet-friendly decorating is about putting easy-to-clean ceramic tile on your floor, upholstering your furniture with hairball-resistant fabric and matching wall colors to your parrot's feathers so he'll feel more at home. Considering U.S. pet owners spent $36 billion last year on their animals, it's no surprise they're adapting their homes to better suit their beloved creatures.
Our two experts, Julia Szabo, pet columnist for the New York Post and author of Animal House Style: Designing A Home To Share With Your Pets (www.animalhousestyle.com), and Chicago interior designer Nan Ruvel, who designs pet-friendly interiors for her clients, have these three tips to share:
1. Don't decorate with breakable tchotchkes.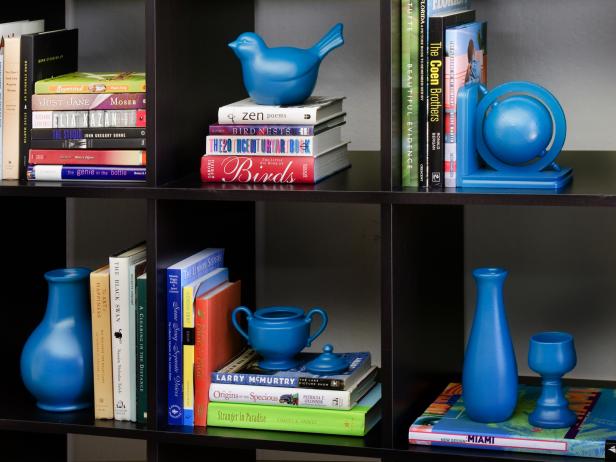 Blue Painted Accessories Featured on Bookshelf
To get high-end style on a dime, unify mismatched knickknacks with a coat of spray paint. A white bowl, green bird, and gold box are just tchotchkes, but turn them all teal and they become designer touches. Distribute them throughout a bookcase to bring it all together.
Jennifer and Kitty O'Neil
Fragile items and animals don't mix. One bat of a dog's tail or swat of a cat's paw will send your collection of Will-George flamingo figurines skittering across the room like bowling pins. "If you must collect something, collect cast iron doorstops," Julia Szabo says. "Put them where your dog won't trip over them. They look great in a room, and your pets can't hurt them."
Nan Ruvel suggests displaying fragile valuables in a china cabinet with glass-panel doors. "That way, you can see them, but your pet can't break them," she says.
Instead, spend your decorating dollars on framed prints, photos and paintings, Julia says. "Art hangs on the walls, out of reach of your pets."
2. Don't buy expensive rugs.
Contemporary Living Room is Sophisticated, Comfortable
A simple refined living space is designed for a family of four. The furniture selection and placement is kept clean and crisp with custom-designed mohair sofas, linen armchairs and a Cathare coffee table by Christian Liaigre.
Yes, you can use rugs. The trick is to buy inexpensive ones. Unlike carpet, rugs can be picked up and cleaned, or picked up and thrown out. Sisal or seagrass mats are a good choice, says author Julia Szabo, because they provide an elegant, neutral backdrop that will go with any decor. They're durable enough to withstand months of pet traffic, and they're cheap enough to toss when they get grungy. If disposable rugs strike you as an expensive way to keep your house chic, consider that it's cheaper to toss that $99 sisal rug than it is to pay for the skin problems your Newfoundland mix will develop when you put her in the yard in July.
Got an incredible, heirloom Persian rug you absolutely cannot live without? Treat it as art and hang it on the wall, where your dog or cat can't reach it.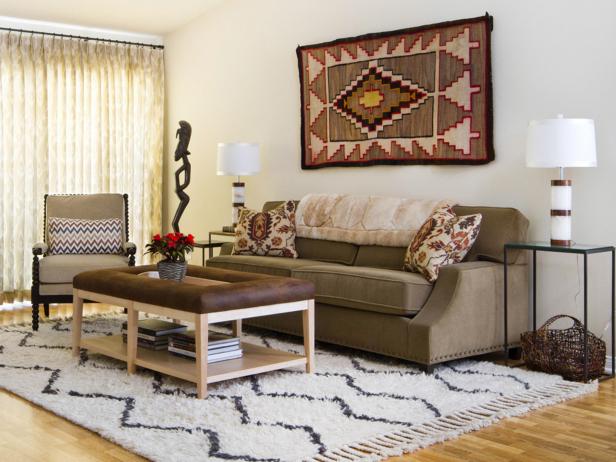 Rug Doubles as Wall Hanging in Eclectic Living Room
A striped area rug, tapestry print throw pillows and a Navajo rug on the wall bring an eclectic mix of patterns and cultures into this electic living room. A handwoven basket and a contemporary lamp add a collected feel to the room.
If you like the look of carpet, try modular carpet tiles made by companies like InterfaceFLOR. The carpet squares stick to the floor with an adhesive, so they're easy to install, and they're available in an array of colors, patterns and textures. "They're great," says Julia. "If a dog pees or a cat vomits, you can pull up the dirty tile and replace it with a new one. It's much cheaper than replacing an entire rug."
3. Don't use flat finish paint.
Even if your little pet goes to the groomer regularly, he or she will still leave smudges on walls and door jambs. A basset hound can sling drool across a room and onto a wall with a shake of his head, and a parrot can fling all sorts of goo out of his cage and onto the wall.
Flat finish paint is nearly impossible to clean; try to wipe off a dirty spot and some of the paint comes off as well, leaving an unsightly mark that must be repainted. Semigloss is the easiest to wipe down, but its sheen will call attention to every ding and irregularity in your walls. Satin or eggshell finishes are more elegant, and as easy to clean as glossier paint.
Julia Szabo and Nan Ruvel both recommend Benjamin Moore Regal Matte finish (www.benjaminmoore.com), a new line that combines the rich, deep look of a flat paint with washability of a gloss. "It's the best. I use it all the time in houses with animals," Nan says.