Small Outdoor Kitchen Ideas
Cozy outdoor kitchens create large impact with choice materials and quality appliances.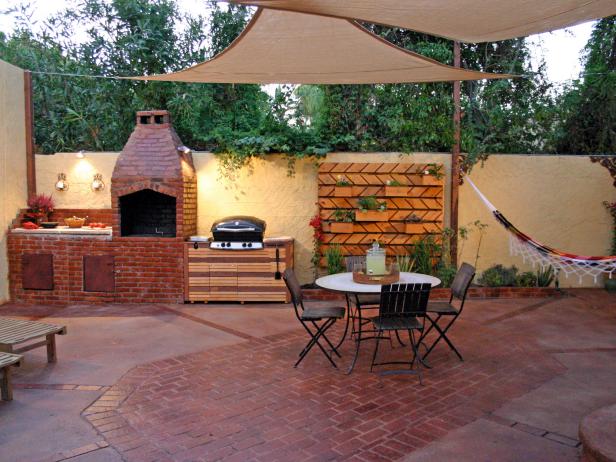 Rustic Brick Patio With Built-In Grill
For the homeowners, the built-in brick grill was a selling point of this Spanish-style home. And after a serious outdoor remodel, their courtyard is now a comfortable place for both relaxing and entertaining. It's equipped with two grills, a living wall, hammock, shade panels and lush greenery.
Even the coziest outdoor kitchen can create big impact outside—just keep your mind (and your budget) focused on the essentials as well as the features and functions you'll use the most.
Outdoor Kitchens: Gas Grills, Cook Centers, Islands and More
See All Photos
Beyond a gas-burning or charcoal-burning grill, simple amenities such as additional countertop space, a storage cabinet and under-counter refrigeration can go a long way in improving your backyard's sizzle (and style) quotient.
Another bonus of working with a smaller outdoor kitchen space: high-end materials, when used in small quantities, aren't as much of a budget-buster. Use this opportunity to make surfaces like the countertop and base stand out with materials like flagstone, bluestone, round stone, concrete or even granite.
Similarly, the outdoor chef may prefer to invest in top-of-the-line products (even if it's just the grill), rather than spending a fortune on smaller appliances like warming drawers, ice machines or even a side burner.
Other small outdoor kitchen ideas worth exploring: a countertop overhang to provide room for breakfast bar-style seating, or perhaps a small sink and under-counter space for a trash can. Sometimes sticking with the basics can be the most satisfying strategy.
More Outdoor Kitchen Ideas
Other Outdoor Kitchen Inspiration