Kitchen Cabinet Design Ideas
Get all the info you'll need on kitchen cabinet design ideas, plus check out helpful pictures for inspiration.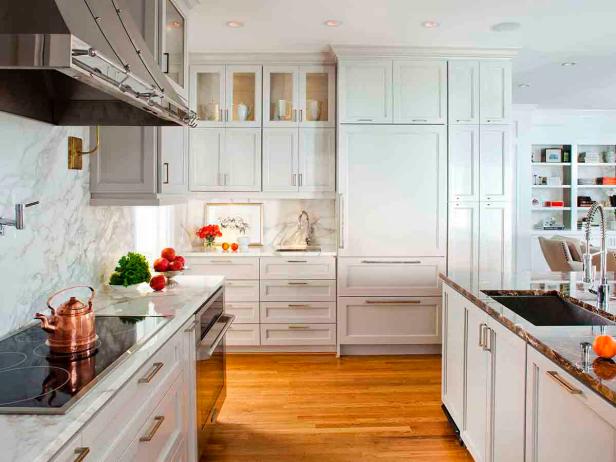 Modern White Kitchen with Marble Countertops & Backsplash
This white transitional kitchen mixes the use of luxury materials, like stainless steel and marble, with traditional furnishings, like inset cabinetry, to create a transitionally modern style.
Kitchen Cabinets in Depth
Great-looking kitchen cabinets can help you organze a cooking space.

The range of kitchen cabinet design ideas can seem almost endless, but the truth is that kitchen cabinet styles generally fall into a few main categories, one of which is sure to suit your design tastes. By browsing design ideas and helpful kitchen cabinet pictures, you should have no trouble settling on the style that's right for your home.
A few main factors will likely help guide your kitchen cabinet design choices. The first is whether or not you wish to reflect the overall design of your home in the kitchen design. Most kitchens do adhere to the prevailing design aesthetic of the home, but it's not entirely uncommon to find a kitchen that's its own space, reflecting a design departure in whole or in part. Once you've decided whether to stick to the overall home design, discard it, or create something that rests comfortably in the middle, it's time to think about the scope of your kitchen cabinet project.
The space you have to work with—and your overall budget—may go a long way toward determining the final product when it comes to your kitchen cabinet design. Large, open areas tend to tolerate elegant, sweeping, traditional designs better than smaller spaces, which are often better suited for the clean, compact lines of modern design. That said, there are "transitional" styles that can work for any size space—for example, Shaker-style cabinetry can be made to feel modern, traditional or style-neutral simply by choosing cabinet hardware, paint or stain that reflects one of those styles. Similarly, accents like backsplashes and furniture—chairs, stools or tables—can either complement or contrast with cabinetry to create an impactful design combination.
Other Kitchen Cabinet Design Ideas
More Kitchen Cabinet Ideas