5 Things Every 'Fixer Upper'-Inspired Farmhouse Bathroom Needs
Love Joanna's farmhouse-style baths? Here's how to bring 'Fixer Upper' style to your home.
We all covet Chip and Joanna's farmhouse-chic style and have even contemplated buying a fixer upper in Waco in hopes the couple will renovate it someday. Although that may seem far fetched, incorporating this rustic style into your own home isn't. Giving your entire home a complete farmhouse overhaul can take time though, so start with a small room like a guest bath or powder room. Keep reading to see our top five features to add in your bathroom for a complete Fixer Upper look.
It wouldn't be Fixer Upper-inspired without shiplap, right? Joanna often finds it under the drywall in old homes, or adds repurposed shiplap for vintage farmhouse style. If you aren't sold on wall-to-wall shiplap, go for a more subtle approach with an accent wall or beadboard.
Farmhouse style is often associated with giving an old, unused piece of furniture a new purpose. Here, a large antique dresser is transformed into a double-sink vanity. Visit local antique shops and flea markets to find a piece that will work for your space.
This rustic style is about making a space feel open and airy, so keep the color palette neutral and bright. Add interest through texture and nature-inspired accents, instead.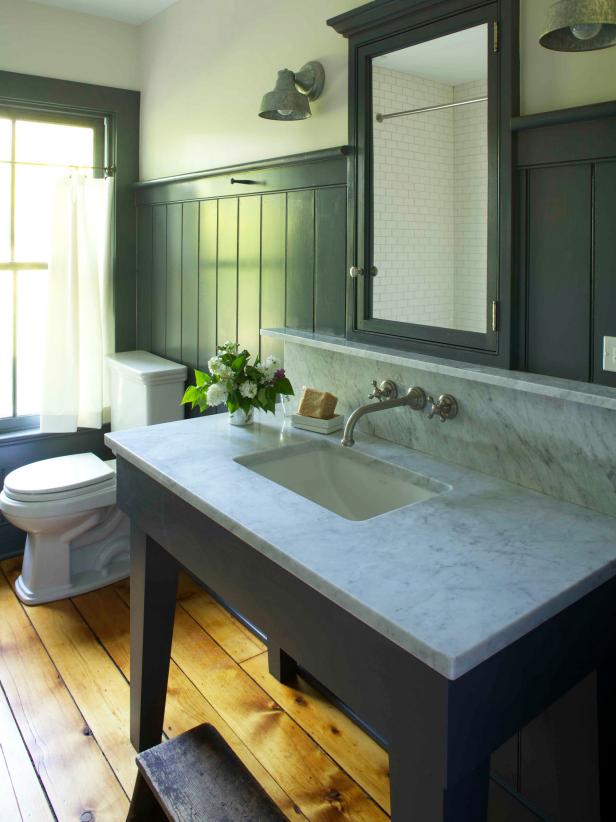 Sensitive Restoration
Updating an old house takes a certain finesse. The trick is to respect the architecture without making the spaces look like period rooms in a museum. In the design of the bathroom of a restored 19th century farmhouse, architect Kate Johns hit the perfect balance between yesterday and today, using new materials to create a period-appropriate — yet fresh and modern — look. "We used a custom vanity designed to look like a farm work table with a marble top. Painted wide beadboard paneling and a recessed wood-framed medicine cabinet with industrial galvanized steel lights complete the aesthetic," she says. The team also restored the original wide-plank wood floors.
Add details like a barn door or aluminum pendant lighting. (You can leave the hay and farm animals behind.)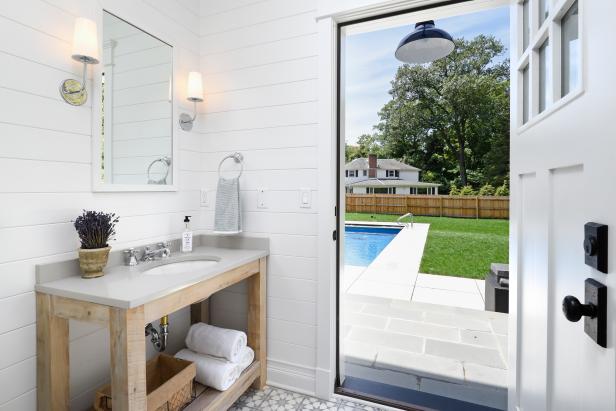 Modern Farmhouse Guest Bath
Designed with outdoor access to the pool and outdoor shower in mind, the ship lap walls and reclaimed wood whitewash vanity are perfect for this accessible bathroom.
Weathered wood is a staple in rustic design. Showcase this textured beauty with a large piece like a vanity or something small and simple like a framed wood mirror.