Treating Your Mom to Brunch? Suprise Her With a Centerpiece She Can Keep
Show your mom how much you care with a centerpiece that doubles as a thoughtful present.
The only thing sweeter than a Sunday brunch is sharing the meal with your mom, of course. If you're planning to celebrate Mother's Day with a beautiful spread, you'll definitely want to take your table to the next level with the right centerpiece. We recommend one that your mom can keep as a gift!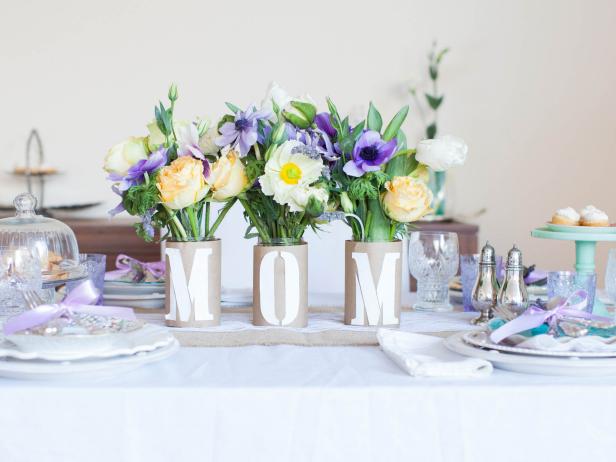 DIY Mother's Day Lunch
Vibrant spring flowers become the star of the show when displayed in handmade vases for Mom. Pick up a ready-made bouquet from the local flower market, or form your own arrangement to add a splash of color to the table.
Cheyenne Mojica Photography
If your mom keeps fresh flowers around the house, chances are that she'd enjoy a personalized vase. Use a stencil to create a custom design, or try your hand at making a beautiful gold-leaf vase via this easy DIY project.
Simple but sweet, candles make great centerpieces. Select some of your mom's favorite scents and use a hot glue gun to decorate the candle holders' edges. Branches, moss and cinnamon sticks are just a few ways to get creative.
DIY Ceramic Tile Centerpiece
01:00
Make this custom tile centerpiece that doubles as a party favor.
After watching this quick video, we're hooked on the idea of gifting ceramic tile centerpieces. Who knew something so stylish and thoughtful could be so easy to replicate?
If your mom has her eye on a porcelain tea set, now's the time to treat her to it! She'll love your sweet display and enjoy using the cups and plates long after Mother's Day. An extra tip? Pair an antique teapot with a new package of her favorite refreshment.
Your mom will grin ear to ear when she sees cherished family photos decorating the table. For a more personal touch, choose a frame with special significance. I can think of a teacher or two who would love this ruler-edged look.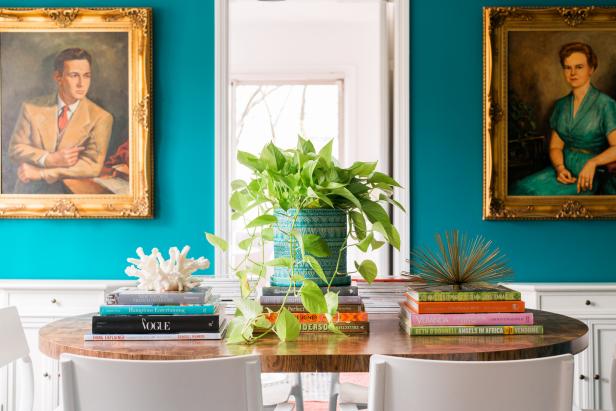 Decorating With Books: Small Groupings
A grouping of design, art, architecture and pop culture books turn this multipurpose workspace and dining room into a cozy spot packed with personality and plenty of things to read.
Photo By: Flynnside Out Productions
Does your mom like to keep up with the latest styles and trends? Surprise her with a colorful arrangement of her favorite magazines. Better yet, visit your local bookstore and hunt down a vintage copy or two of her favorite book; she'll get a kick out of your creativity and enjoy the centerpiece more than once.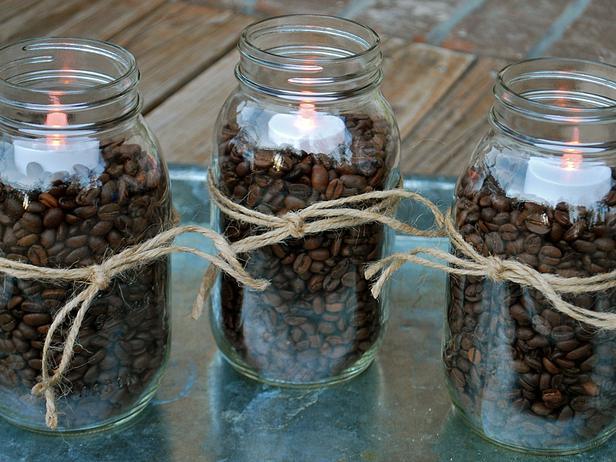 Coffee Bean Candle Centerpiece
These simple fall decorations will create a warm glow and amazing aromas for your home.
Mason jars filled with your mom's preferred roast are perfect for adding a rustic touch (and pleasant aroma) to your table.
If you're feeling bold, try learning a new skill like paper folding. A unique centerpiece comprised of delicate paper cranes will both brighten your table and remind your mom of handmade gifts from your childhood.