The Best Home Offices for Small Spaces
These tiny workspaces don't skimp on style.
When all's said and done, offices and desks tend to be last on the list when it comes to decorating. But a functional workspace is a worthwhile addition to any home, whether you work from home or just need a designated area to keep your computer and files. Sitting on the couch or in your bed while online shopping or answering emails is fine, but those cozy areas don't quite cut it when it comes to getting important tasks done.
Being tight on space is never fun, but luckily there are countless creative ways for you to go about making sure your abode meets all of your personal demands. From shelving options to using unexpected nooks in your home, these efficient workspaces are ideal for any small space.
Floor space is always important and even more so if your home is lacking in square footage. So if most of yours is already taken up with essential furniture, floating shelves are the perfect option. They're not only a fraction of the price of a standard desk, but they also take up barely any room. Skip the bulky desk and opt for a sleek shelf with a chair and some standard office decor to tie the look together.
If you have a full house with no spare room for a workspace, why not transform an unused closet into your very own office? If you happen to have an extra moderately-sized closet, you can easily squeeze in some small-scale furniture. If you opt for this approach, make the space as bright and inviting as possible to avoid making it feel like, well, a closet. Paint the walls an eye-popping color, add sufficient lighting and it's sure to feel like a legitimate extra room in your home.
3: Multi-Purpose Furniture
A desk doesn't have to technically be a desk in order for it to function as you need it to. Have a console? That's the perfect surface area to double as a place for you to work from home. Keep everything you normally would on the shelves, just leave some room for your computer. Furniture with more than one function is a must when it comes to small spaces, and something you will learn to love in no time.
When you're not working with a ton of space, you'll quickly realize that it's essential to utilize every corner of your home. This literally includes the corners of your home. There are desks that you can purchase — or if you're feeling ambitious you can try to DIY your own — that will fit perfectly into a corner slot. These angled desks are the ideal choice when you have minimal unused space in your home. Since most furniture and decor won't fit in tight corners, go custom and you'll be satisfied in the long run.
5: Space Behind the Couch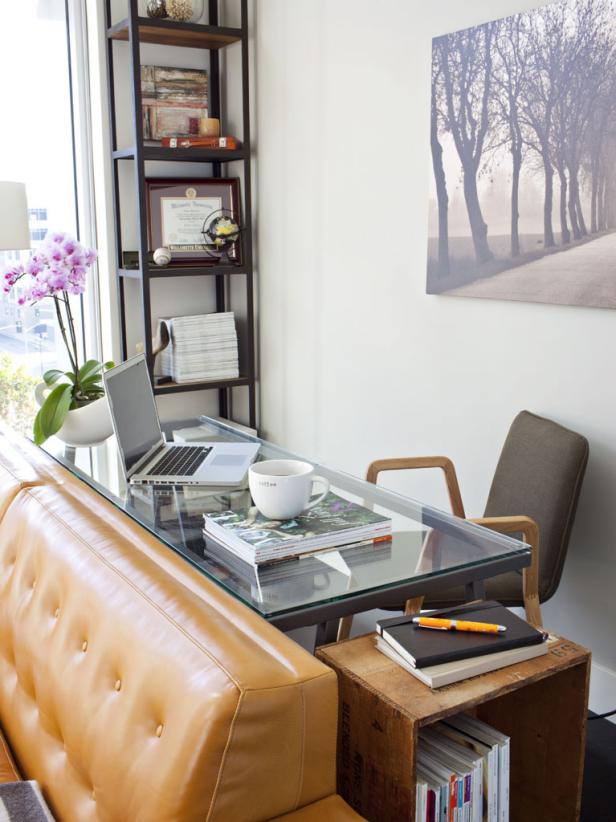 Clear Console Desk in Small Home Office Area
Design by Brian Patrick Flynn
Design by Brian Patrick Flynn
One of our biggest pet peeves is seeing perfectly good spaces go to waste, the most common of which is the area behind couches. Those awkward few feet don't leave enough room for much, but you can definitely find a slim desk to place in this unused spot. Choose a desk that fits your general design aesthetic so it blends in with your existing furniture without clashing. This is an ideal option for people who aren't able to get work done in tight quarters, as the entire living room will still be in view.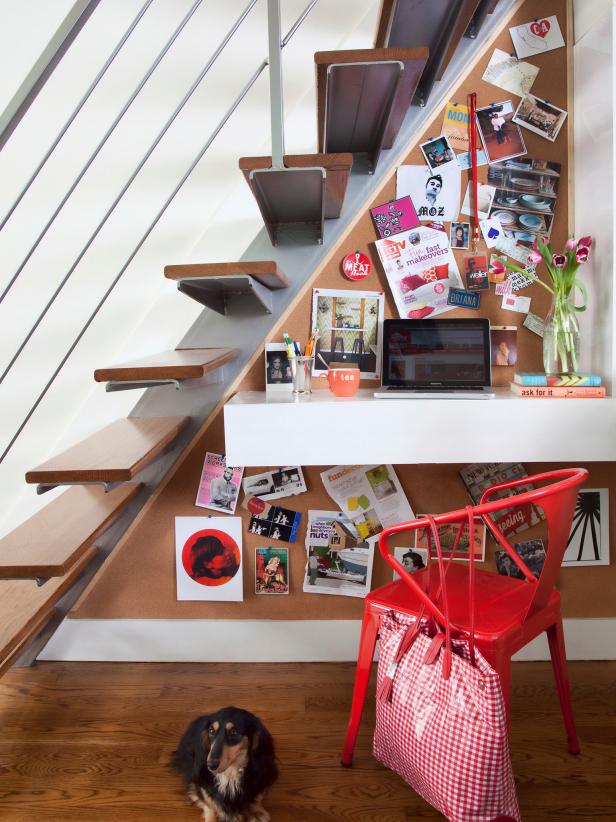 Original_Brian-Patrick-Flynn-Small-Space-Workspace-Under-Stairs_s3x4
Design by Brian Patrick Flynn
Design by Brian Patrick Flynn
Much like the space behind your couch, the area underneath or to the side of a staircase often goes untouched, but it's the perfect spot to set up an office. This area will most likely be a bit secluded from other living spaces, yet still exposed, so it won't feel completely separate from the rest of your home. Don't be afraid to get a little playful in this space, as it's an unexpected office locale that is sure to make a statement.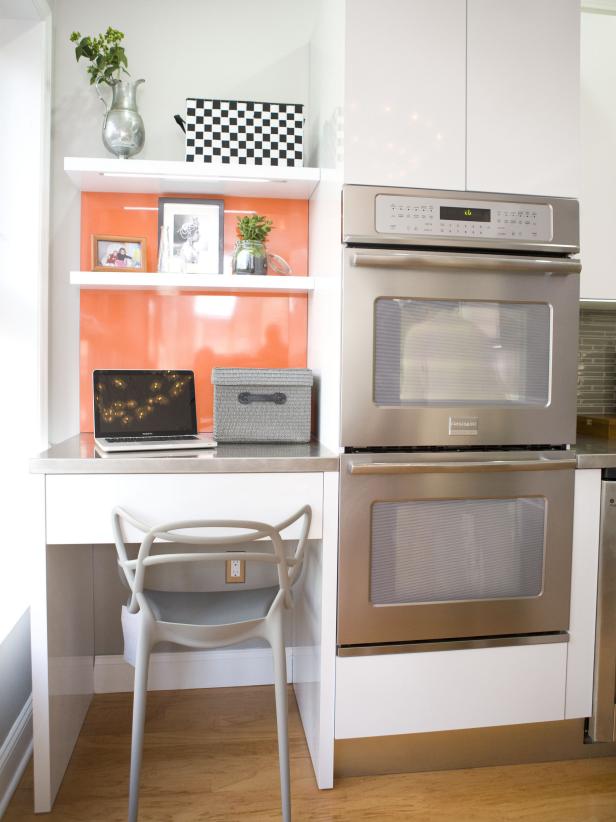 Contemporary Kitchen Office Nook with Orange Wall
This updated kitchen offers a contemporary office nook with a glossy orange accent wall and convenient built-in shelving. A simple gray desk chair and plant decor offer the finishing touches to the space.
People already tend to congregate in kitchens, so why not use yours as a miniature workspace, too? When kitchen counters aren't being used for slicing and dicing, they can serve double-duty as your workspace. Find a chair that fits well with the style of your kitchen (and isn't too bulky), and situate it wherever you have some extra room. You'll now have a structured place to sit, plus easy access to your favorite snacks while you work.
If you have an awkward home space — say, three feet of wall space next to a window that you just don't know what to do with — you actually have the perfect spot to set up a tiny home office. While floating shelves look sleek on their own, this floor-to-ceiling setup gives you tons of storage space and has the feel of a complete office. Hang a corkboard over the desk so you have room to pin inspirational images, tack up notes and decorate to make the space more personal.
codyulrich.com
via Paige Morse
If you don't have anywhere in your home to put a barely-there desk — don't worry. You can still put a desk in your bedroom without it turning your sacred space into a full-on office. Choose a desk with a design you actually like, then decorate it and the surrounding area as you would a dresser or a vanity. Flowers, frames, books and other trinkets can and should be displayed here. This will turn your workspace into a place to display your favorite things while meeting those deadlines.
If you have a limited amount of space, it's vital that you keep all of your belongings organized. With little to no storage room, things can easily become messy, especially in a workspace. Since you want your makeshift office to blend in with the rest of your home, make sure it doesn't stand out like a sore thumb thanks to piles of papers and office supplies strewn about. Set aside a bit of your office shopping budget to pick up some sleek wall organizers and a good-looking drawer system. This will do wonders when your desk is on full display.

Even the smallest rooms in small homes can be reinvented to suit your needs. Check out these smart closet transformations that inspire function and form while providing key small space solutions.