Now Viewing
75 Dreamy, Spa-Inspired Bathrooms
Dreaming of a luxury bathroom with amenities on par with those at your favorite spa? These bathing beauties boast fabulous features such as steam showers, luxury fixtures, freestanding soaking tubs and more (not to mention style to spare).
Keep in mind: Price and stock could change after publish date, and we may make money from these affiliate links.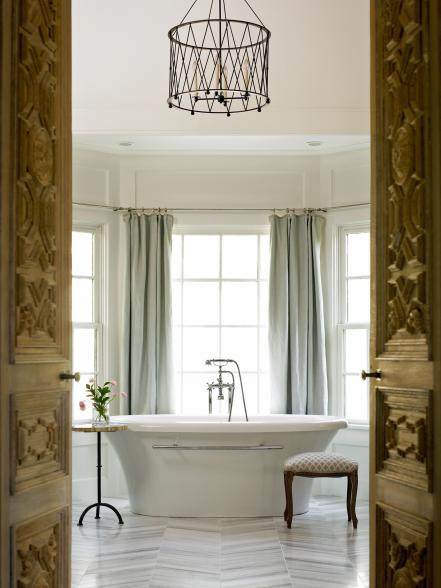 Emily Jenkins Followill Photography, emilyfollowill.com
Elegant Symmetry
Centered in a bay window, the freestanding tub in this beautiful main bath is as sculptural as it is inviting. The designer chose this symmetrical arrangement to play up the innate architecture of the space and to create a focal point in the large room.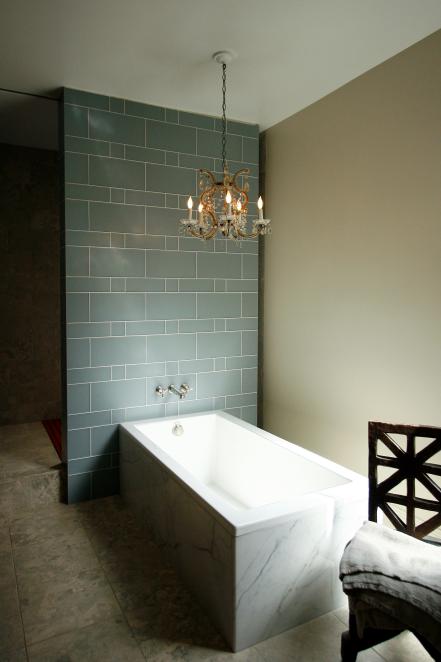 KIMBERLY NIGRO
Dazzling Chandelier
A sleek, rectangular bathtub is encased in marble in this gorgeous, spa-like bathroom. A pale blue-green tile wall serves as a backdrop for the tub while a chandelier dazzles overhead, creating a luxe space.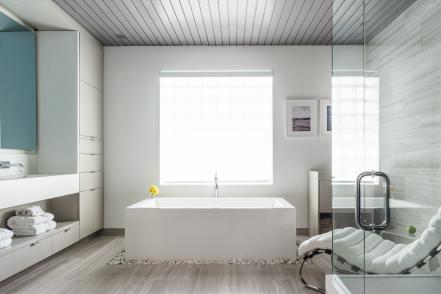 Michael Stavaridis
Soothing Soaking Tub
Feeling fresh and spa-like, this main retreat is the perfect place to relax and unwind after a long day's work. The Ashe marble on the floors and walls creates a smooth, clean design. Hi-tech features include custom height water jets for stress and muscular therapy and LED soft white lighting.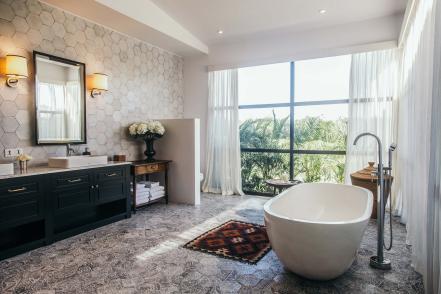 Design 4 Corners
Contemporary Comfort
As elegant as it is spa-like, this space has all the ameneties of a modern bathroom while still possessing the cozy accents typical to a living room.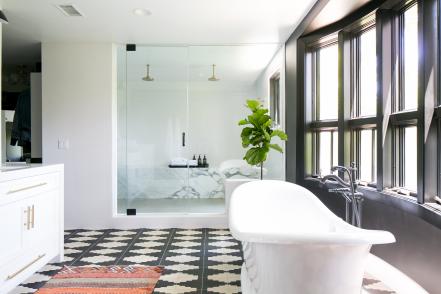 Ryan Garvin
Geometric Floor
This beautiful bathroom juxtaposes strong black-and-white patterns with splashes of color for a look that's sophisticated but not sterile. The open feel and luxurious soaking spots create the perfect space to relax in.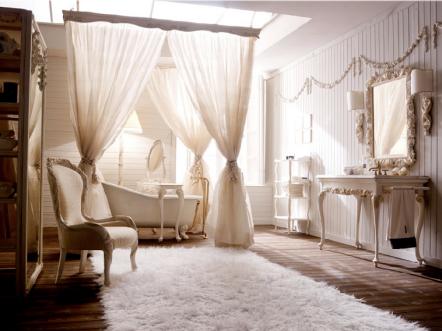 Ethereal Draperies
This bathroom is replete with romantic touches. From the freestanding tub to the open and airy atmosphere, this bathroom feels like an exotic retreat. Attention to detail and the use of non-traditional materials (not a single tile in the room!) make the space feel warm, even in an all-white palette.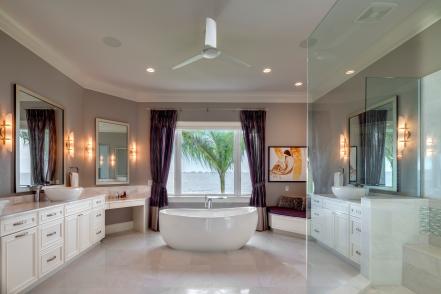 Greg Wilson
Ocean View With a Side of Relaxation
Double vanities rest opposite each other in this luxurious main bath with a spacious walk-in shower and freestanding soaking tub that overlook the ocean. An adjoining makeup vanity and cushioned seating area add to the elegant design.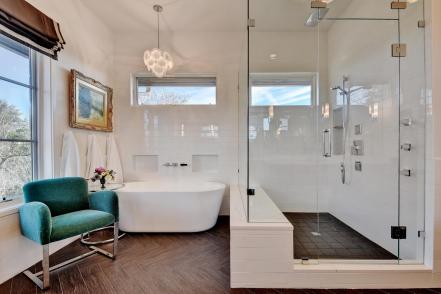 Amy Lutz
Eclectic Details
This main bathroom combines sleek, modern finishes with traditional accessories, giving the space an eclectic and slightly enigmatic vibe. Frameless glass surrounds the shower, visually expanding the space, while faux bois tile is laid in a herringbone pattern, a unique twist on parquet flooring.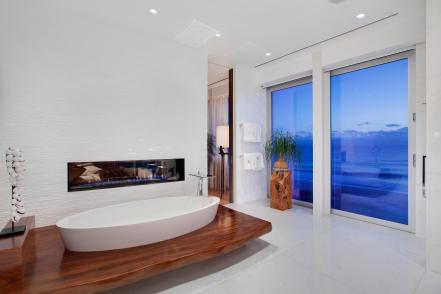 Premier Estate Properties, Inc., a member of Luxury Portfolio International; IBI Designs Photography
Oceanfront Modern
A sleek soaking tub, grounded by a gorgeous wood platform, brings a spa-like experience to this bathroom. Ocean views are put on full display through the sliding glass door.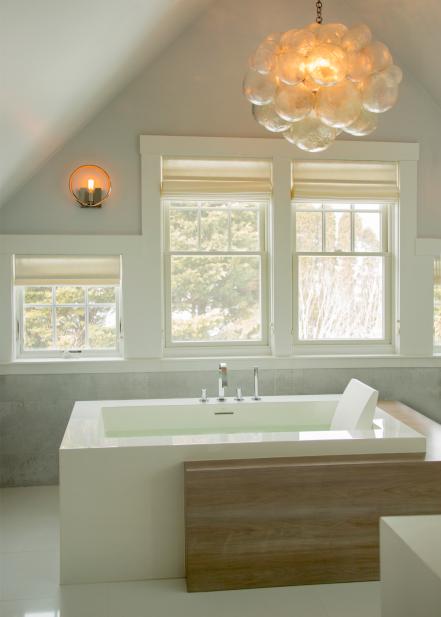 Eric Roth Photography
Lounge + Soak
This all-white modern spa bathroom is already stunning. Add a sparkling chandelier above the lounge tub and the space gets an extra dose of glam!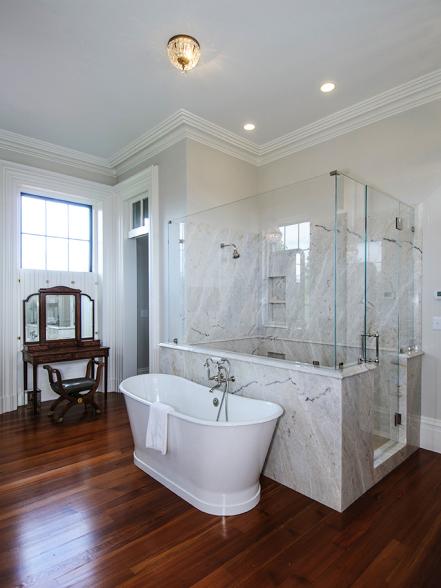 Contemporary Lines
The freestanding tub is the focal point of this bathroom. Cherry wood floors and an antique makeup table add warmth to this contemporary space while the marble and gray details add interest and a feeling of serenity.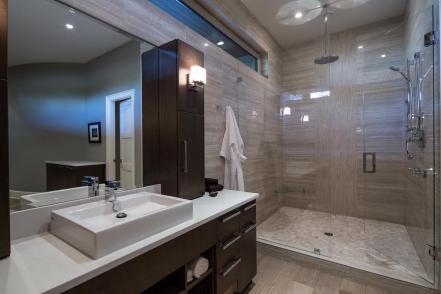 Teresa Ryback
Soothing Spa Shower
Porcelain tile encases the bathroom walls and flooring while a stunning shower backsplash steals the style show. The walk-in shower showcases a soothing rain showerhead with room for two or just enough space to enjoy alone.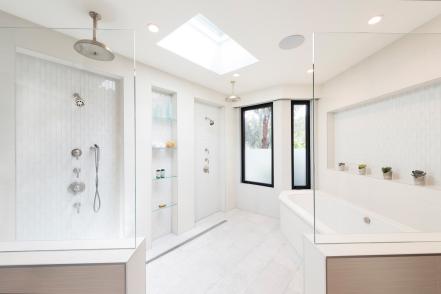 Matthew Meier
Spa-Worthy Retreat
An open, double rainfall shower creates a spa-like environment in this crisp, white bathroom. Tiled half-walls are topped with glass to create a divider from the rest of the bathroom, while still maintaining the light, airy feel. A shallow nook between the two showerheads provides much-needed storage, while on the opposite side, a large soaker bathtub is the perfect spot to relax.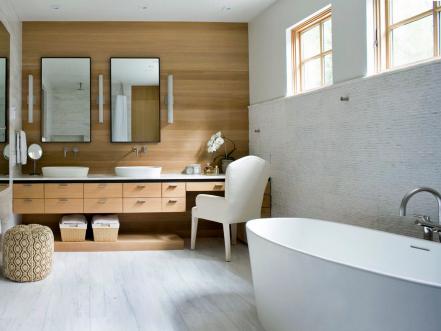 Emily Minton Redfield; emrphotography.com
Serenity Now
A simple palette of rift-sawn white oak, striped marble slabs and textured white marble tiles accent this spacious bathroom. The open concept and organic features make this space seem like it's one with nature.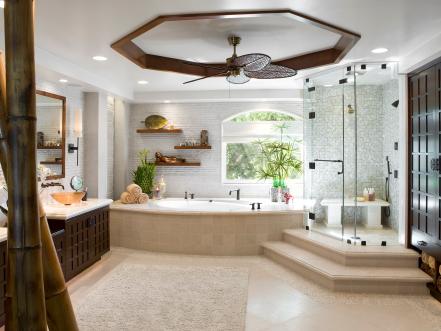 Scott Mayoral
Naturally Beautiful
The neutral tones of this bathroom give it a truly tranquil, spa feel. The window over the tub not only provides plenty of natural light but it also shows off beautiful views from every spot in the bathroom.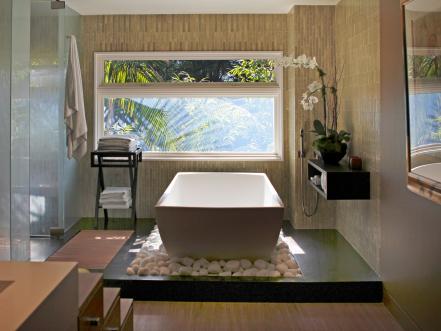 One With Nature
This serene main bathroom is made for relaxation. The wall-mounted shelf next to the tub frees up floor space and maintains the room's open, airy feel. Natural light streams in through a large window creating a bright and soothing space.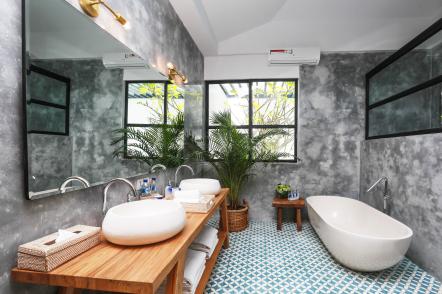 Design 4 Corners
Tons of Texture
Textured concrete adds a fun flair to this double vanity bathroom, while a teal tile floor brings color to the space. A wood vanity adds the finishing touch to this tropical-inspired retreat.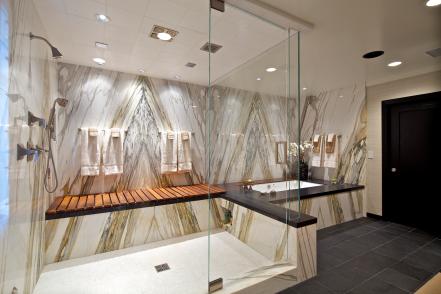 Charco Design & Build Inc.
Stunning Stone Accent Wall
Who needs a spa when you've got this luxe bathroom at home? A glass-enclosed shower allows seamless views of the bathroom's gorgeous stone accent wall. A wooden bench provides the perfect resting place in the shower while one enjoys the multiple showerhead options.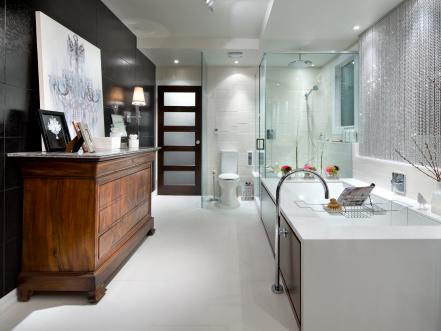 BBP
Spa-Like Conveniences
This glitzy bathroom is filled with amenities like a heated floor, a deep soaking tub and a two-person rain showerhead. Faceted chains hang behind the tub for a bit of sparkle to contrast the antique wood dresser sitting on the opposite side of the room.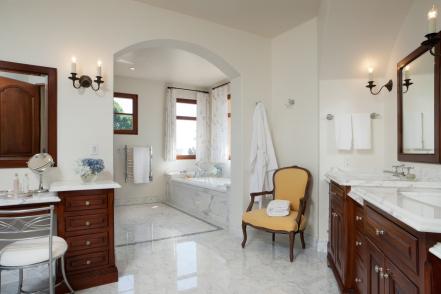 Larny J. Mack
All the Amenities
This expansive main bathroom with all the amenities is a spa-like retreat for the homeowners. The custom-designed double vanity and dressing table are clad in gorgeous marble countertops, while an archway leads to a relaxing soaker bathtub surrounded by the same marble.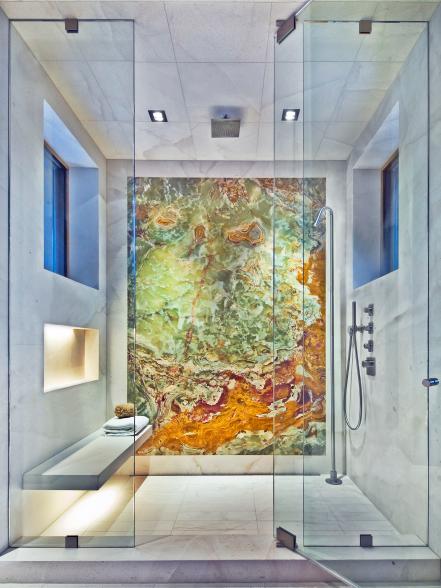 Teri Fotheringham, Teri Fotheringham Photography; deverphoto.com.
Shining Example
A wall of onyx is undeniably the star of the show in this spectacular walk-in shower. The hidden light strips ensure that the gorgeous piece of nature is fully illuminated. Double windows on opposite walls provide plenty of natural light and an option for various views.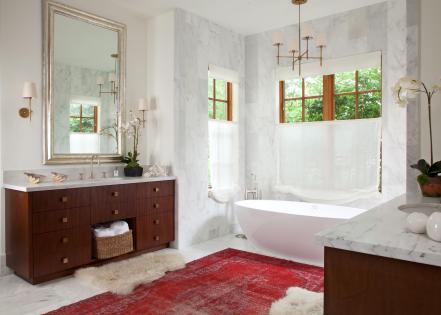 Andrea Schumacher
Mixed Media
This gorgeous bathroom layers in many different materials — marble, wood, sheepskin, metals — for a luxurious, refined effect. The large red rug pulls the space together and beautifully complements the wood accents.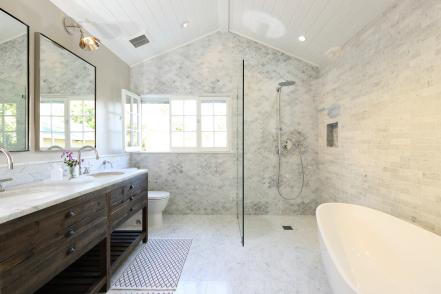 Jill Paider Photography
Marble Clad
This bathroom is covered in Carrara marble set in different patterns. A no-threshold shower, soaking tub and a rustic-wood vanity gives an extravagant spa-like experience.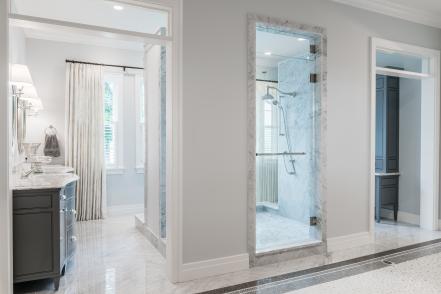 Jason Miller, Pixelate LTD
Centralized Walk-In
This bathroom located in a lakefront vacation home includes a large walk-in shower with glass and marble walls, double vanity and beautiful marble floors.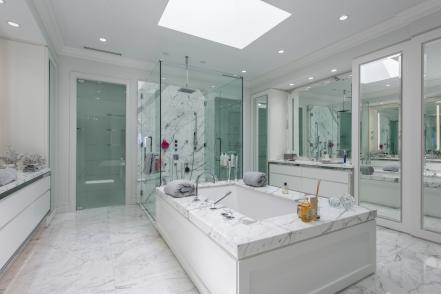 EWM Realty, a member of Luxury Portfolio International
Bathroom With a Skylight
At the center of this dreamy spa bathroom sits a luxurious soaking tub with a white marble surround. A skylight lets natural light delicately filter into the space.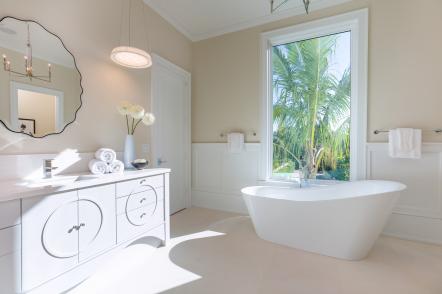 Premier Estate Properties, Inc., a member of Luxury Portfolio International
Sunny Little Spot
Guests will love basking in the natural light and warm water in this sunny little spa bathroom. Two towel racks keep fresh linens at the ready by the tub, while a vanity stores other essentials.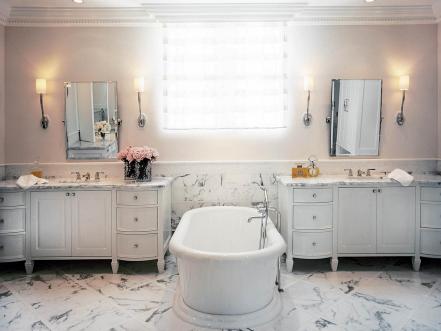 Double Vanity Luxury
Gorgeous marble tile and detailed crown molding show the attention to detail in the luxurious bathroom. Double vanities with matching marble countertops provide plenty of storage and look stunning in the traditional space.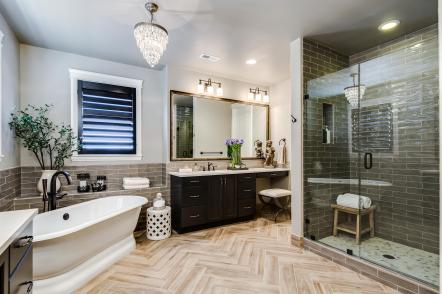 Photographer: Kristopher Lewis
Splash of Elegance
This gorgeous main bathroom offers a freestanding tub, a glass-enclosed shower and two vanities, making the space feel like a spa retreat. Herringbone-patterned floors create movement and interest underfoot, and a chandelier crowns the space with a splash of elegance.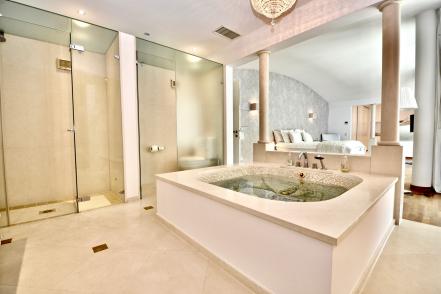 WETAG Consulting, a member of Luxury Portfolio International
Main Ensuite
To make the main suite feel open and airy, the architects eschewed a traditional wall in favor of twin columns. On the other side, a large soaking tub and glass-enclosed shower create a spa-like bathroom.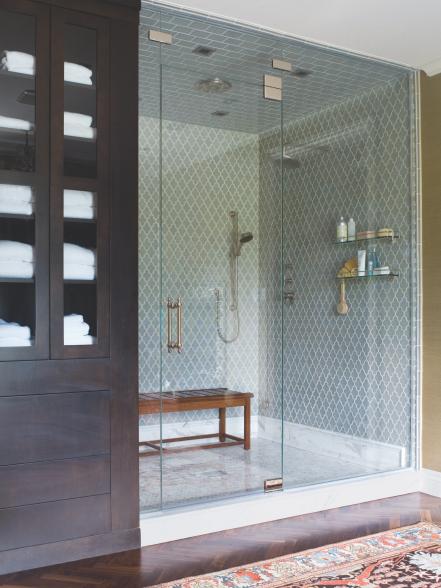 Emily Minton Redfield; emrphotography.com
Bells and Whistles
This main bath includes a huge walk-in shower outfitted with all the bells and whistles — a rain shower head, a hand shower plus steam function — and is fitted with gorgeous blue Moroccan tile. The built-in cabinetry beside the shower not only houses the bath linens, it also has a warming drawer to keep them toasty while you rinse.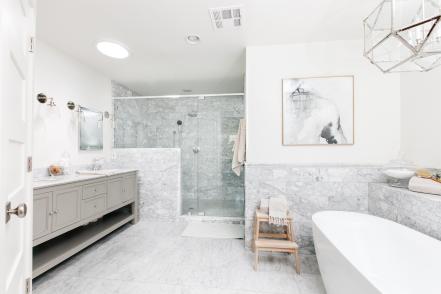 Rennai Hoefer
Expansive Retreat
Gray tile is used throughout this contemporary bathroom, from the floor to the shower walls. A geometric chandelier adds an unexpected touch above the soaker bathtub and a simple gray double vanity is topped with a crisp white countertop.
Design Styles Architecture
Sophisticated + Relaxing
A sleek, contemporary bathtub pairs with a floor-mounted faucet, and a cool Sputnik chandelier adds a modern touch. Simple tiles laid in a herringbone pattern ground the space, while smokey glass doors lead to a large, walk-in shower.
Open Glass Shelving
An open floor plan creates a spa-like experience with vanities that take design inspiration from furniture, well-placed accessories and beautiful, glass open shelving.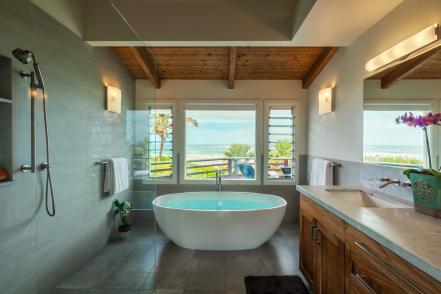 Hawaii Life Real Estate Brokers, a member of Luxury Portfolio International
Freestanding in Nature
This bathroom features white walls paired with light gray floor and wall tiles, as well as a partially exposed beam ceiling. When not indulging in the oval freestanding bathtub, guests can take advantage of the roomy glass enclosed shower. A large window behind the bathtub shows off the waterfront view.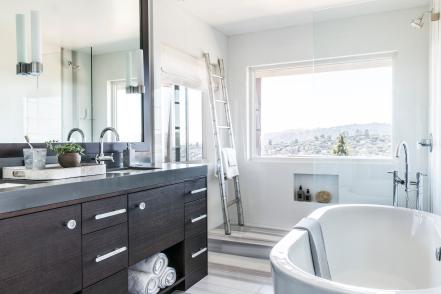 Aubrie Pick
Sleek Spa-Like Retreat
Almost invisible glass shower walls create a seamless view through the picturesque window from the rest of the bathroom and the soaker tub. A sleek double vanity pairs dark wood with charcoal gray countertops, and open cubbies keep towels handy.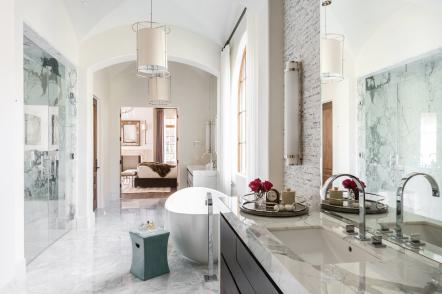 Julie Soefer
Marble Under Arches
A freestanding soaking tub offers a welcome spot for relaxing in this handsome bathroom. The transitional space features a marble floor and walk-in shower with glass doors, double vanities with high-end fixtures and lighting.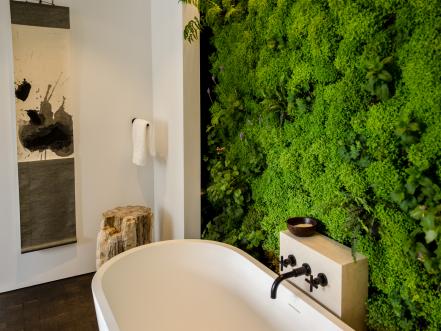 Robert Felker
Lush Living Wall
A verdant living wall makes a striking backdrop in this organically styled bathroom with a white soaking tub. With stark black and white fixtures, this bathroom looks modern, while maintaining a natural feel.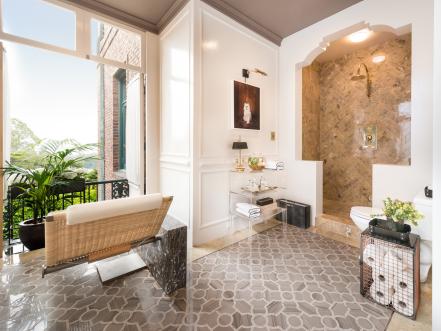 Jason Kisner ©2014, Scripps Networks, LLC. All Rights Reserved
Artistic Archways
This main bath offers an indulgent setting to prepare for the day or relax at night. French doors and a Juliet balcony offer private views, while an archway frames the tiled shower.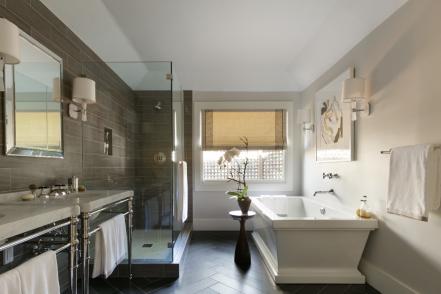 Ann Lowengart
Spacious + Soothing
This main bathroom has it all — a soaking tub, a large shower and soothing decor. A gorgeous neutral color scheme unites the spacious room creating an atmosphere that's relaxing and reviving all-in-one.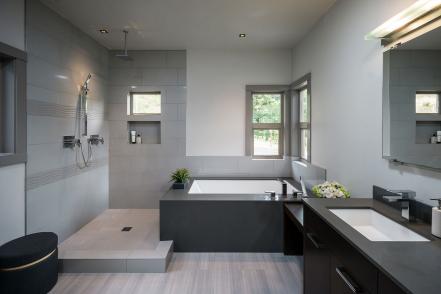 Jordan Iverson
Contemporary Chic
The contemporary gray bathroom features an open shower with accents of wavy gray tile, rainfall showerhead and even a small window for natural light. A large soaker tub sits in the corner with views of the landscape. The neutral color scheme creates a largely spa-like feel throughout.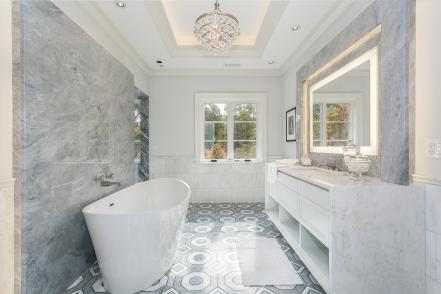 Oliver Bencosme; PlanOmatic
Spa-Worthy Sophistication
This ensuite bathroom features an elegant marble wall next to the tub, which is echoed on the opposite wall. Cove lighting in the high ceiling provides a soft glowing effect, and the intricately patterned floor adds a worldly atmosphere of sophistication and luxury.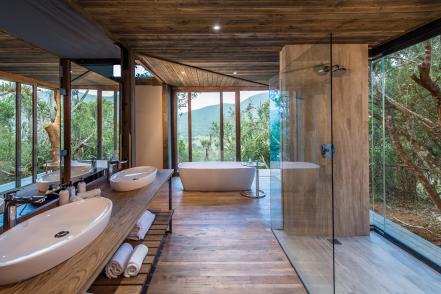 Chas Everitt International Property Group, a member of Luxury Portfolio International
Contemporary Meets Rustic
The warm woods act as the backdrop throughout this spa-like bathroom, which features an open double vanity and glass walk-in shower. Floor-to-ceiling windows surround the soaker bathtub and shower, providing stunning views of the South African game reserve.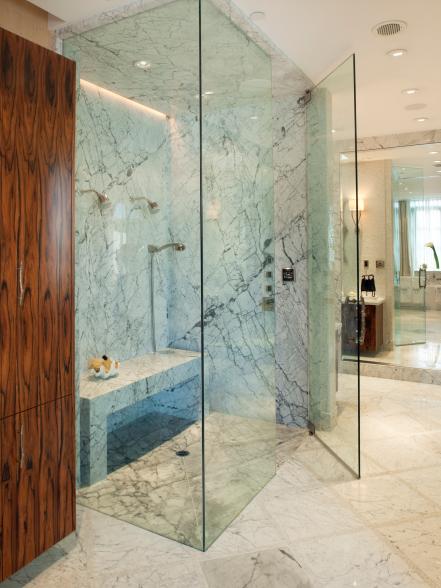 Werner Segarra; wsphoto.net
Personal Retreat
This space is designed it to be a true spa — an oasis set inside of the home. The feature-filled shower boasts steam, two showerheads, a hand-held sprayer, a bench and even a stereo system. Cove lighting in the ceiling is the perfect way to illuminate the space without flooding the room with harsh light.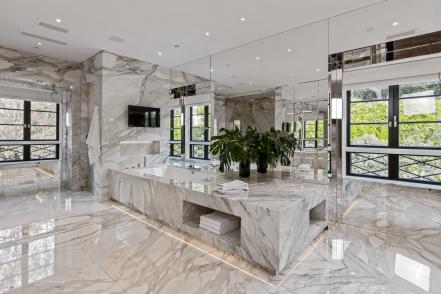 Hilton & Hyland, a member of Luxury Portfolio International
Custom Console
The style of this bathrom mimics the rest of the house with its clean, contemporary and the essence of luxury flowing throughout. A custom console in the center of the space houses the bathtub and keeps towels within easy reach.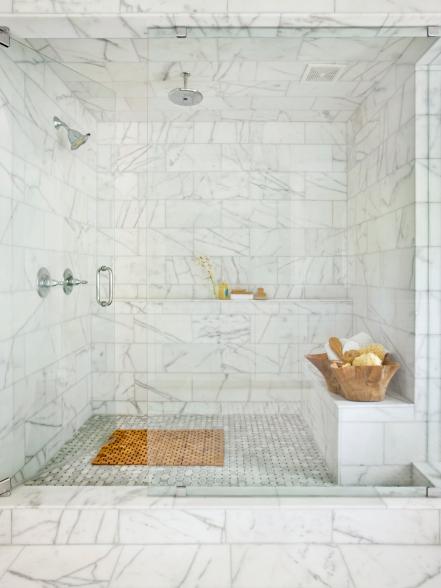 ERICA GEORGE DINES
Beautiful Marble Shower
White marble tile lines the entirety of this spa shower creating a luxurious effect. A built-in bench and ledge provide convenient surfaces to store shower accessories all while looking as posh as the rest of the space. A bamboo mat offers a soft cushion for feet during extra long, indulgent showers.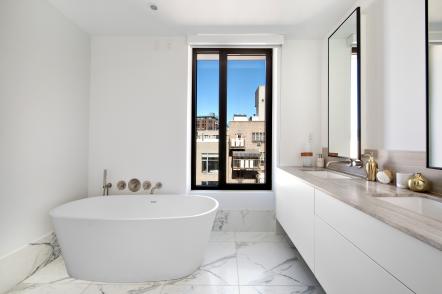 Halstead Real Estate, a member of Luxury Portfolio International
Urban Spa Bathroom
The sophisticated design of this bathroom befits its urban setting: simple, spare but still elegant. The marble flooring picks up the crisp accent of the black window frame and draws the eye to the large lounging tub.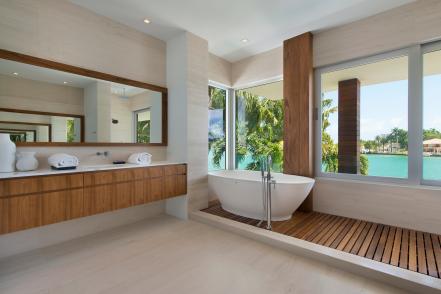 ©2015 BLUE OCEAN PHOTOGRAPHY
Support System
Wood accents — the vanity, the mirror's trim, the slats supporting the tub — warm up this generously sized bathroom that has a killer view. The gorgeous blue water seen outside the windows is the colorful main attraction of the neutral space. This space is pure paradise.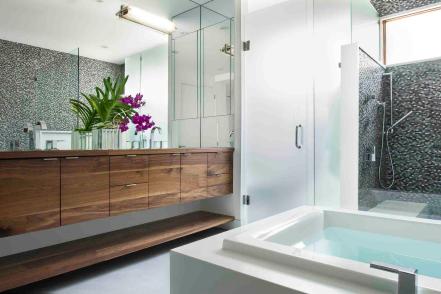 Phil Kean Design Group
Floating Vanity
A large white bathtub paired with a mosaic tile shower gives this bathroom a relaxing, spa-like atmosphere. A floating wood vanity lends itself to the warmth of this crisp space, and a shelf nestled under the vanity provides the perfect spot for towel storage.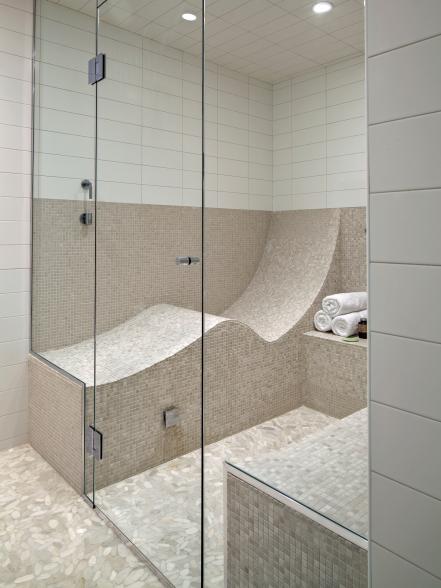 Ed White; edwhitephotography.com
Steamy Dream
In a personal steam room, the designer created a sculpted body recliners to provide a truly relaxing experience. The recliner are tied to the rectilinear forms of the wall and integrate into the mosaic tile seamlessly. There's nothing more needed for the perfect at-home spa experience.
Tessa Neustadt
Traditional + Rustic
A grand soaking tub nests perfectly into the curve of this bathroom's bay window. The room's light, bright feel is enhanced by big windows and the vaulted ceiling. The crisp and neutral color scheme give it a truly spa-like feel.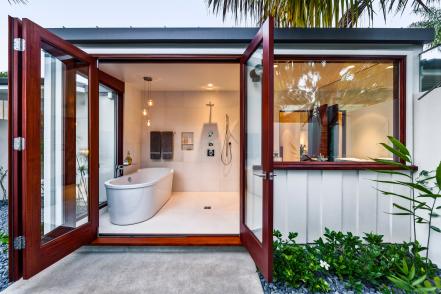 Ciro Coelho
Spacious Spa With Patio Access
This bathroom's minimalistic design relies on the juxtaposition of all-white fixtures and rich mahogany wood accents to create eye-catching contrast. A cluster of pendant lights hangs over the soaking tub, while an open shower is positioned in the corner of the room. Two doors open to a patio, creating an indoor-outdoor living space.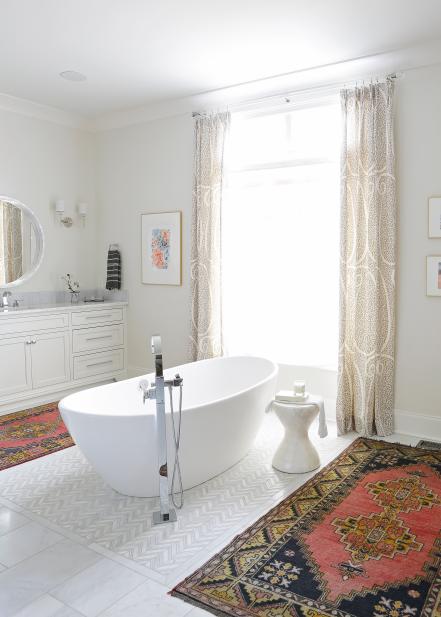 Paige Rumore Photography
Cozy Corner
This gorgeous spa bathroom takes style pointers from the home's living room, incorporating colorful Oriental rugs and floor-length curtains into its design. Chevron-pattern tiles add a unique feature to this beautifully neutral-driven space.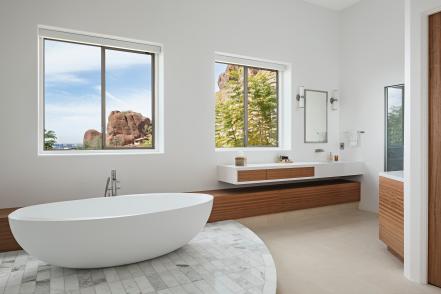 Roehner + Ryan
Modern Asian Spa
The designer of this sleek main bathroom juxtaposed different shapes — the slim floating vanity and benches and an eggshell-like soaking tub — to create an intriguing, yet serene retreat.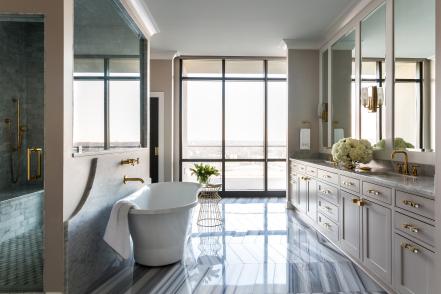 Nancy Nolan
Wall of Windows
A wall of windows makes the most of this bathroom's views and natural lighting potential. Occupants get the luxurious choice of the freestanding tub or large walk-in shower for thier at-home spa experience.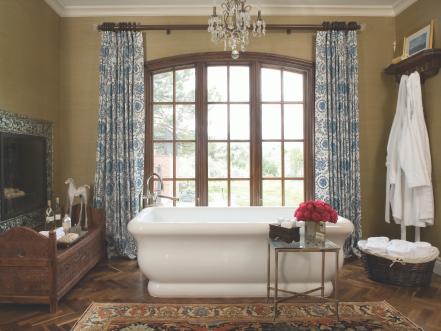 Emily Minton Redfield; emrphotography.com
Old World Elegance
The designer of this space created a rich, classic look by pairing khaki-colored grasscloth wallcoverings with blue-and-white Suzani-style draperies that perfectly frame the piece-de-resistance: The freestanding cast-iron tub. Open shelving provides the perfect place to hang a plush bathrobe while the decor details add the perfect finishing touch to this bathroom.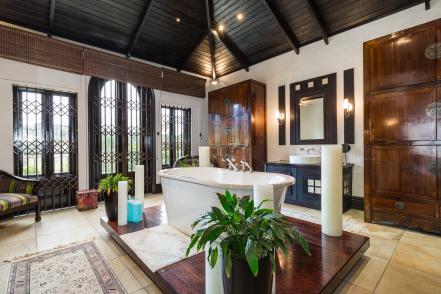 Jawitz Properties Ltd., a member of Luxury Portfolio International
Time to Unwind
With a soaking tub surrounded by candles, this main bathroom easily evokes thoughts of a resort-style spa. After a long day of work, who wouldn't want to come in here to unwind? The mix of natural hues and materials bring just the right amount of nature into the space.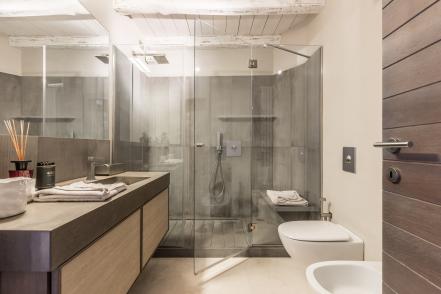 Immobilsarda, a member of Luxury Portfolio International
Glass-Enclosed Shower
After a day of sunbathing and swimming, the guests of this beachhome can retreat to their main bath for a little R&R. A floating vanity keeps extra towels and other essentials on hand, while the glass-enclosed shower and built-in bench create a spa-like atmosphere.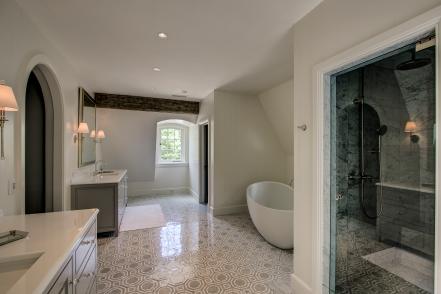 Beacham & Company, a member of Luxury Portfolio International
Neutral Palette With a Perk
A floor with an interesting pattern is a unique way to perk up a room with a white, black or neutrally-driven palette. In this lovely bathroom, tiles with a geometric print do the trick. The tub cove creates an air of privacy that's desired in a spa-like space.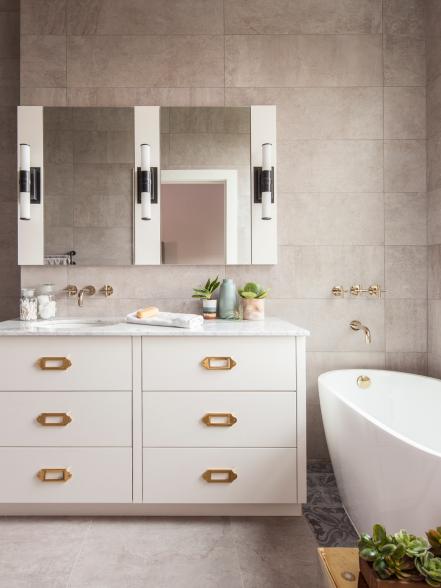 Alison Jennison
Polished Palette
Golden fixtures and drawer pulls are an elegant choice in this spa bathroom, bringing a sophisticated polish to the palette of grays and white. Vertical sconces help emphasize the high ceilings and open floorplan.
Jeffrey Totaro; jeffreytotaro.com
Green and Gorgeous
Not only is this shower overflowing with pampering amenities — multiple showerheads, a built-in bench, integrated storage niches — this walk-in spa shower boasts green cred, to boot: "The luxe-looking limestone wall tile is actually Lithoverde, the only natural stone comprised of 99-percent post-industrial recycled and reclaimed material," says architect Kevin Yoder. A skylight floods the shower with sunshine, a feature the owners cite as one of their favorites.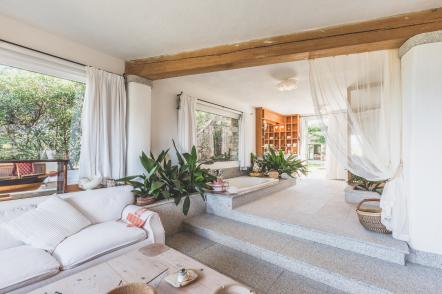 Immobilsarda, a member of Luxury Portfolio International
Gauzy Curtain Goodness
A gauzy curtain adds privacy to the ensuite bathroom in this retreat space. Exposed beams and simple stylings keep the mood friendly, comfortable and maxed out with relaxation potential.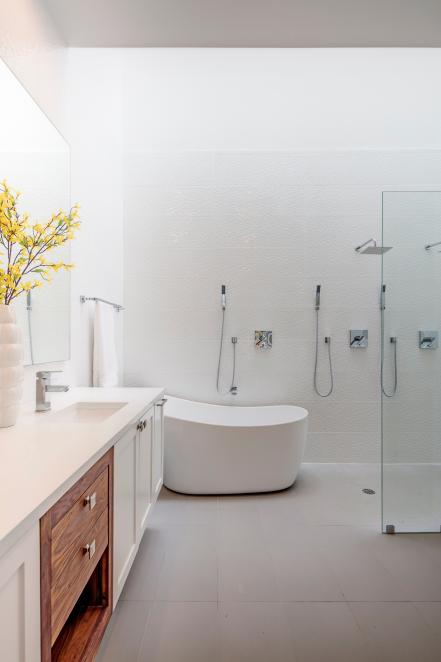 Patrick Wong, Atelier Wong Photography
Deluxe Walk-In Shower
A row of handheld showerheads turns the entire back part of this deluxe bathroom into a walk-in shower. Whether you're a fan of soaking tubs, or prefer a shower, this bathroom is certain to have the perfect relaxation solution for you.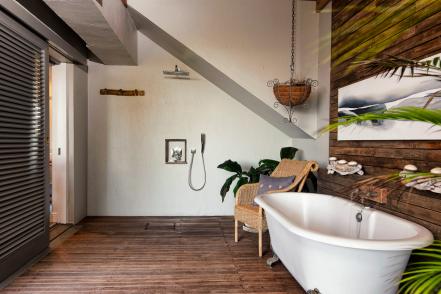 Chas Everitt International Property Group, a member of Luxury Portfolio International
Rustic Paneling
With its rustic paneling, large houseplants, glorious soaking tub and open shower, this bathroom has the magic of a sheltered woodland glen. But don't worry, this bathroom is packed full of the modern amenities needed to relax in style.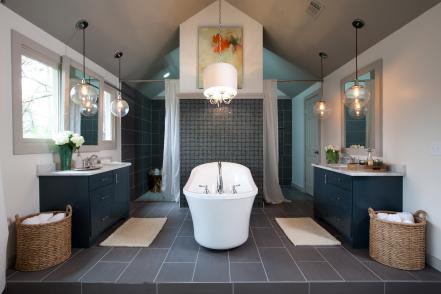 Jessica McGowan
Open-Air Drama
A chandelier hangs over the bathtub for a dramatic, yet elegant look. The separate vanities keep this space feeling spacious and airy.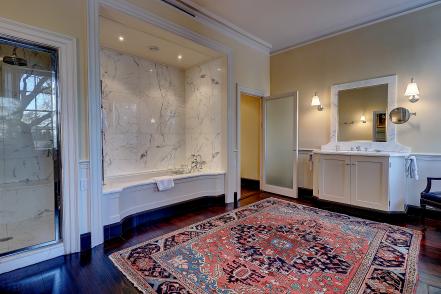 Residential Properties Ltd., a member of Luxury Portfolio International
Splash of Color
An oversized area rug softens the floor and gives the bathroom a cozy splash of color. The marble-covered shower adds movement to the room and creates a space that feels posh, yet relaxing.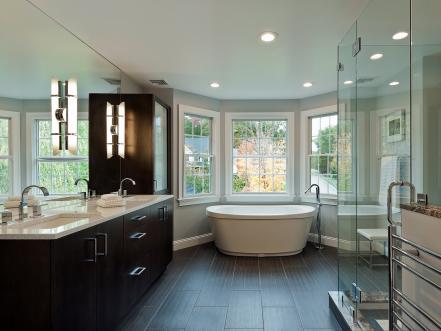 Loretta Berardinelli; lorettaberardinelli.com
Grand Impact
A mix of gleaming glass and warm natural materials gives this enormous main bathroom a look that is airy and grounded. The designer created a focal point in the large space by nesting the freestanding tub in the semi-surround of the bay window. A large walk-in shower features Rainforest Green granite trim and a heated towel rack.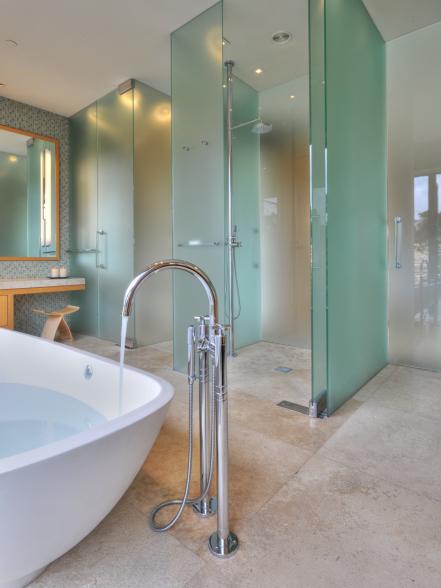 A Light, Modern Main Retreat
Acid-etched glass encloses the wet room in this contemporary main bathroom, providing privacy without disrupting the room's open and airy footprint. A floor-mounted faucet fills the freestanding tub, while custom woodwork keeps the space feeling light, neutral and spa-like.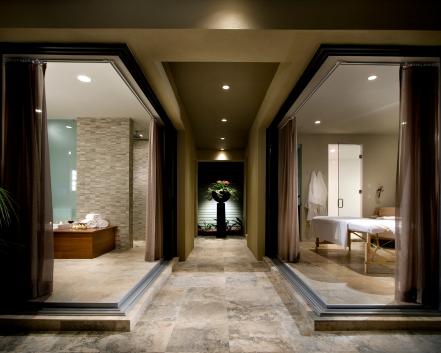 Michael Lowry Photography; Harvey Smith Photography; Joseph Lapeyra Photography
Staycation Station
With amenities rivaling a professional spa, this home is perfect for a relaxing staycation. Curtains separate the massage room from the bathtub room across the hallway.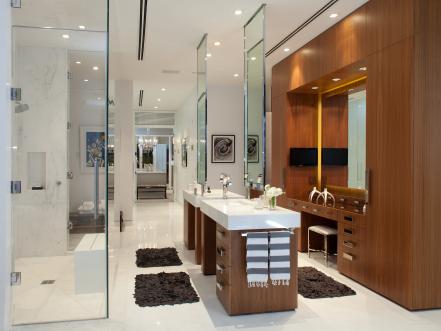 Carlos Domenech
Sleek + Spa-Worthy
Clean white tile grounds this contemporary spa-like bathroom. Sleek double vanities with floating mirrors center the space, which features a walk-in shower, dressing area and some always-needed storage.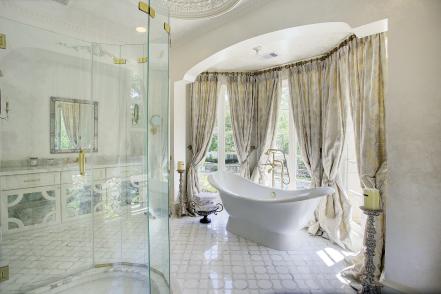 John Daugherty, Realtors, a member of Luxury Portfolio International
Spa Bathroom With Curtains
This deluxe main suite includes double vanities and closets. The floor-to-ceiling glass-enclosed shower is accented with rich-gold hardware while the freestanding soaking tub is surrounded by beautiful draperies that perfectly frame the view of the outdoors.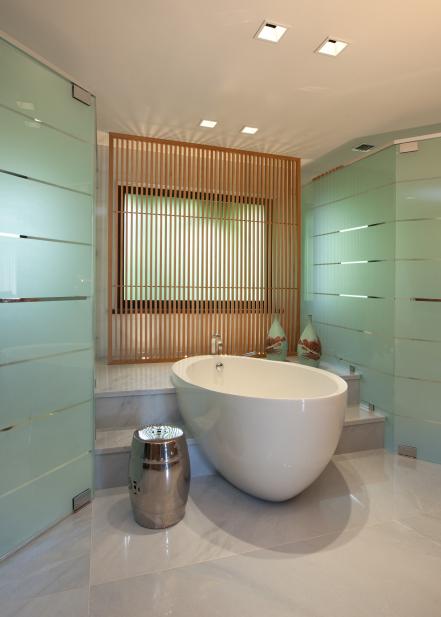 Robin Hill
Asian Inspired
In this bathroom, designers used a modern, Far East feel to give this space a spa-like feel. The window above the large soaking tub gives the space plenty of natural light, while the bamboo wood panel creates some privacy.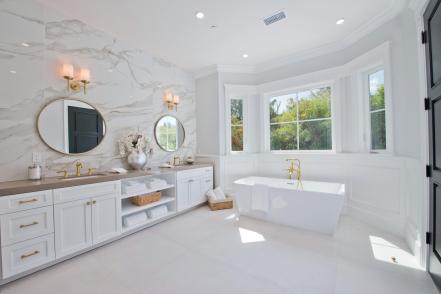 Pinnacle Estate Properties, a member of Luxury Portfolio International
Spa Bathroom With Bay Window
This spa bathroom is the stuff dreams are made of. One wall of windows features a generously-sized soaking tub, while the vanity wall features gorgeous marble detailing that is enhanced by the luxe fixtures that were chosen for the space.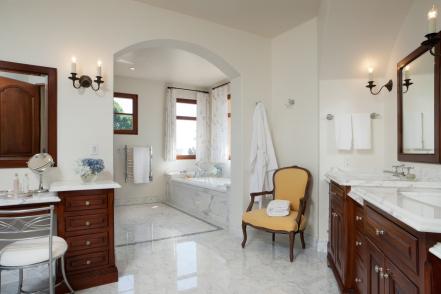 Larny J. Mack
Relaxing, Spa-Like Main Bathroom
This expansive main bathroom is a spa-like retreat for the homeowners. The custom-designed double vanity and dressing table are clad in gorgeous marble countertops, while an archway leads to a relaxing soaker bathtub surrounded by the same style of marble.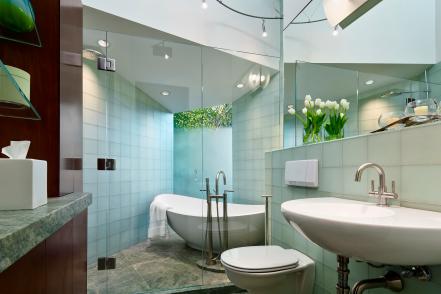 Ciro Coelho
Frosted Glass
In this spa-inspired main bathroom, the shower room can easily become a steam room with an amazing view. Frosted glass provides privacy for this lovely bathroom, while allowing enough natural light to enhance the space and make it feel connected with the nature it overlooks.
Shower + Sauna
Complete with a tiled, open shower and a sauna, this bathroom has an undeniable spa-like feel.