Shop Storage and Organization Products from HGTV Urban Oasis 2021
Time to tidy up! Discover smart storage and organizing ideas from HGTV Urban Oasis 2021.
Keep in mind: Price and stock could change after publish date, and we may make money from these links.
No matter how much effort you put into designing your home, the ultimate outcome will be spoiled if your house is full of clutter. Storage and organization are not only key to functioning but also to making the most of the style you've worked so hard on. Keep scrolling for ideas direct from HGTV Urban Oasis 2021.
A clever closet system will save a world of woes and help you corral the chaos of clothes, shoes, bags and anything else you want to stay out of sight. The Container Store has ready-to-go kits so you don't have to overthink a square inch or you can also completely customize your space with their vast array of options.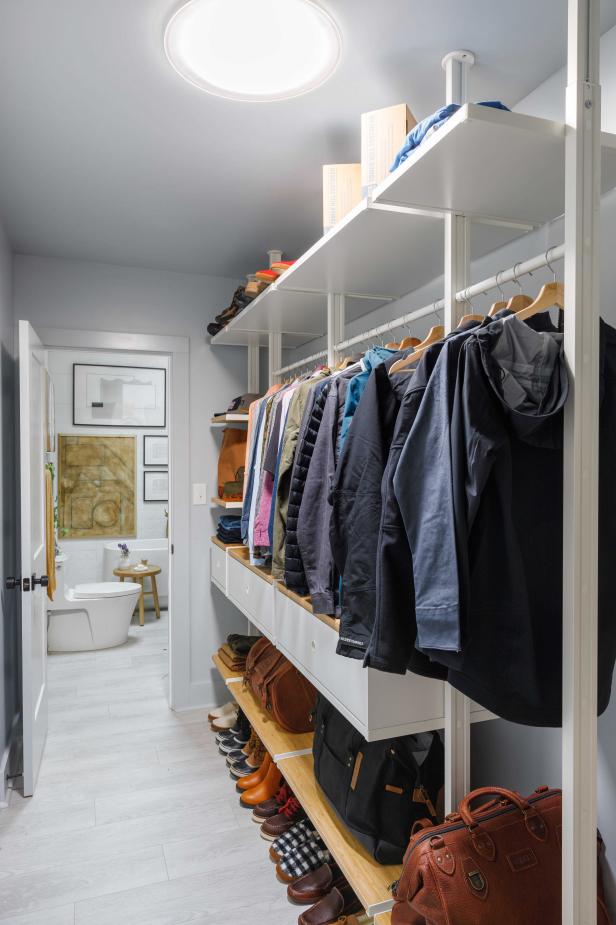 Find Your Stuff
The super organized main closet off the main bath includes storage solutions that make it easy to spot what you to get ready for work, or a big evening out.
In the guest bedroom, a vertical bookcase stores all the reads while making them part of the room decor. Don't forget to take a peek in the closet. A small sliding door cabinet instantly adds extra storage for shoes, jeans or sweaters. Smart pieces like this give your closet a neat and tidy appearance even when you don't have the time to organize.
If you hang a hook somewhere in your home, you will find a way to use it in approximately five seconds. Backpacks, bags, scarves, coats, umbrellas, hats, towels…the list of items that you can take off your floor and store on your wall is practically endless and makes for easy-to-maintain storage. HGTV Urban Oasis 2021 is stocked with clothing and accessories from Duluth Trading Company and the handy wire hook rails in the main closet make organzing a cinch.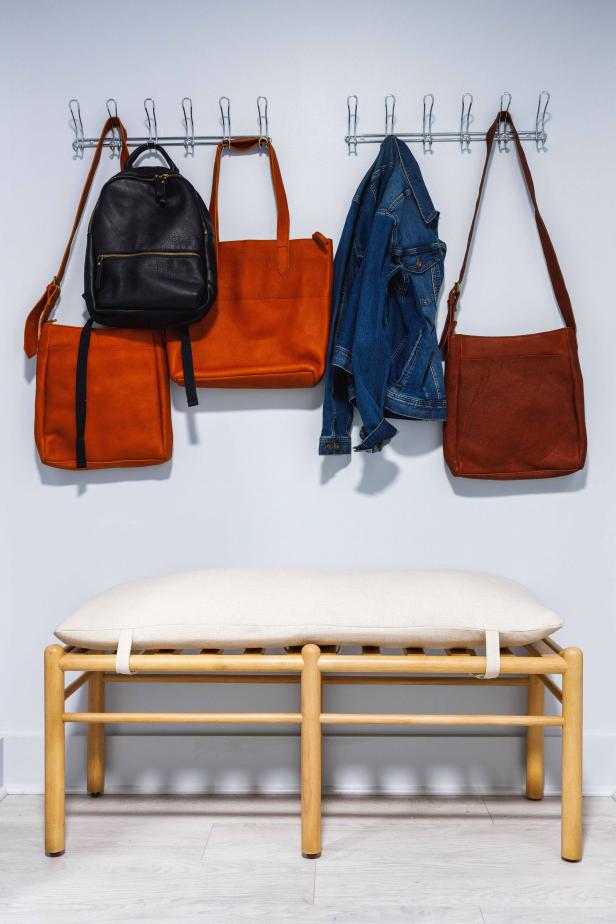 Style Meets Function
A cushioned wood bench offers seating for taking shoes on and off, with two wall racks above for handbags, jackets, and other frequently used accessories.
Opt for a Storage Nightstand
Rather than a simple tabletop for your nightstand, look for one with at least one drawer. Slide your journal, books, reading glasses and other nighttime essentials inside to maintain a mess-free surface.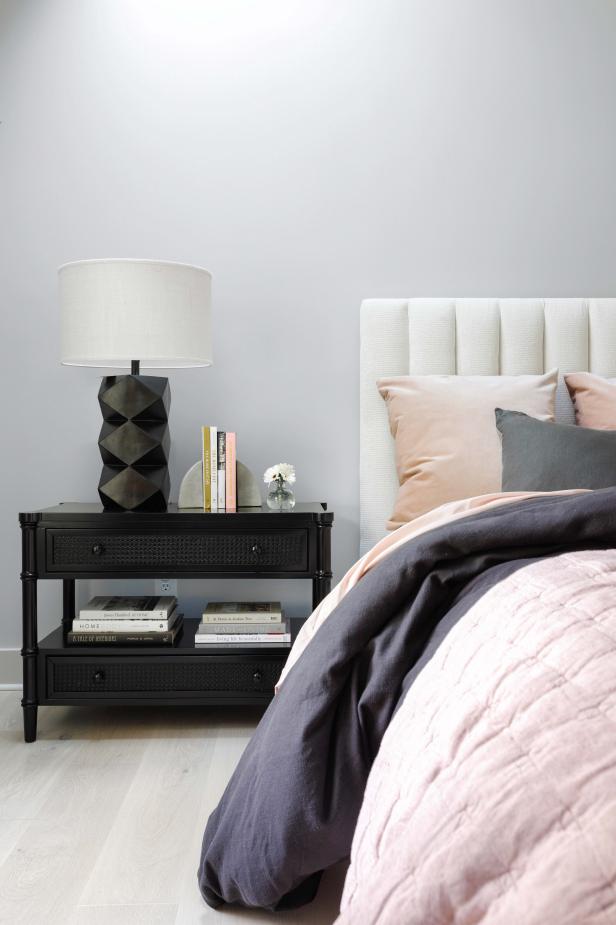 Tons of Texture
Hand-woven natural cane in a fine, airy pattern adds textural richness to the drawer fronts of the handcrafted mahogany two-drawer nightstands on each side of the bed.
Grab Extra Trays and Baskets
We'll never turn down a tray or basket; the perfect accessories for corralling clutter. Random items on a coffee table look like random items. Organized on a tray, they look pulled together and purposeful. Baskets are another no-fail organizer. Whether you're stowing blankets, stuffed animals or the dreaded extra wires, a basket gathers it all in one place instead of strewn around your home.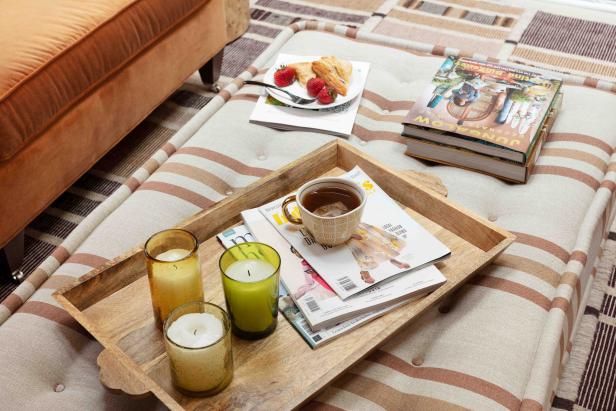 Relax and Entertain
The living room offers the perfect place to enjoy some downtime, or catch up with friends. A carved wood tray with your favorite hot beverage, a few magazines, tasty snack, and a couple candles are all you need for a relaxing day at home.
Robert Peterson; Rustic White Photography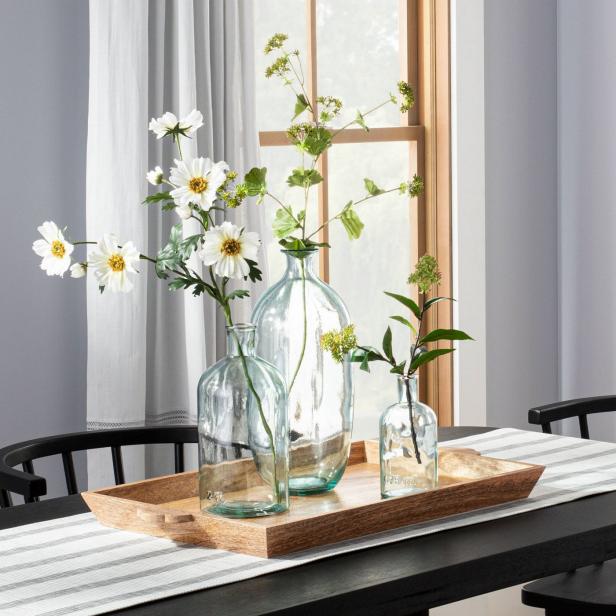 This natural wood tray has carved handles so that it's easy to move around. Available in three sizes, the tray provides a hard surface for setting drinks on an ottoman, makes for an elegant base for a decorative display and is also handy for serving snacks for guests.
Buy It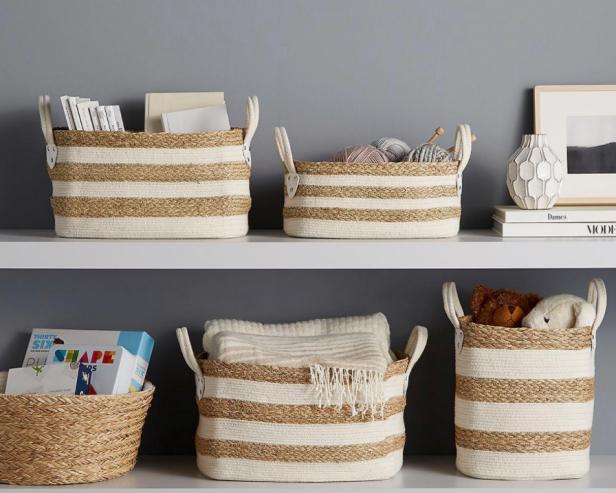 This collection of baskets comes in a variety of sizes and shapes that all coordinate together for a complete organizing system. Handwoven from cotton and natural seagrass, the baskets are soft yet sturdy and have easy-to-carry cotton loop handles.
Buy It