Shop HGTV Urban Oasis 2021: Outdoor Design on a Budget
Head into your backyard and completely refresh your space. Create an outdoors that's an extension of your home without breaking the bank.
Keep in mind: Price and stock could change after publish date, and we may make money from these affiliate links.
HGTV Urban Oasis 2021 has a backyard made for relaxing hangouts, as well as parties. With separate areas for seating, dining and entertaining, the space is spread out to accommodate anyone and everyone.
Bright colors, cushy furniture and layers of textiles all combine for a welcoming outdoor retreat. Shop our list to recreate the look in your own backyard while keeping your wallet happy and full.
Establish a Cozy Seating Area
First things first, you need comfy spots where you can unwind or gather with friends and family. Look for transitional pieces made with durable materials, such as a teak sofa with cushions and composite wood coffee table, and a timeless style that will last for years to come. Once you have your base pieces, build on them with pillows and throw blankets to add texture, and of course, style. Ground your entire seating area with a rug. Natural seagrass or jute options stand up to weather, making them perfect for outdoor spaces.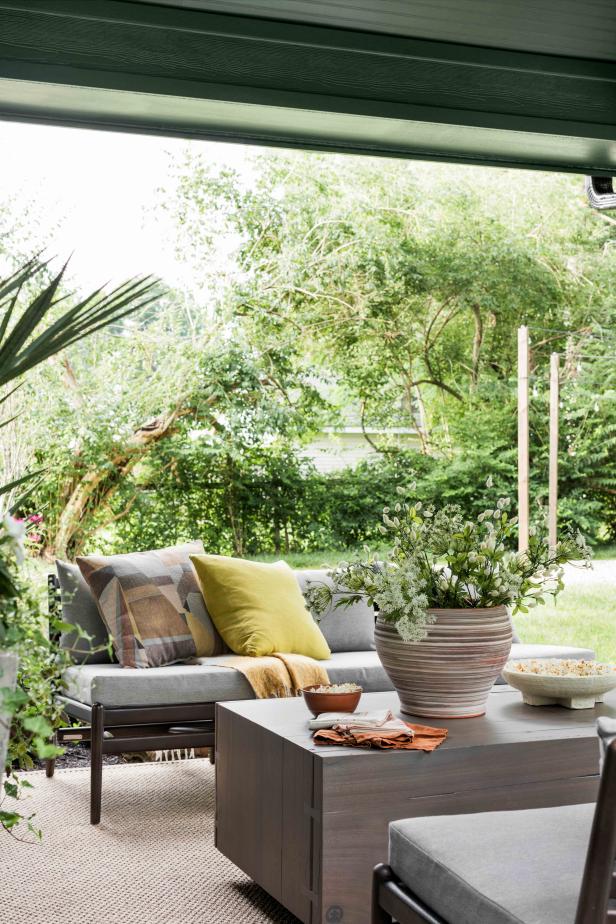 Natural and Inviting
Layers of pillows in tones of blue and yellow soften this outdoor seating area while blankets provide extra warmth on cool evenings. A large potted plant on the wooden coffee table adds a natural element to the outdoor living space.
Robert Peterson,Rustic White
Shop a Comfy Seating Area
Make Way for Dining and Entertaining
Add major color to your backyard design by surrounding your table with chairs in a variety of hues. Stick with a classic wooden dining table to balance out the abundance of shades and opt for an extra-long table, if your space allows, to maximize your guest seating.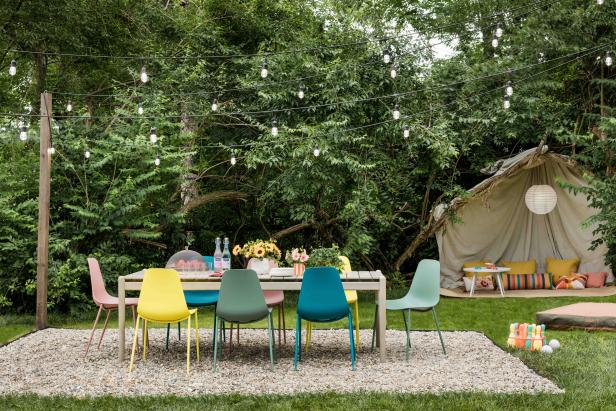 Colorful and Charming Outdoor Dining
The outdoor dining area is anchored by a rectangle of pea gravel surrounded by grass. Colorful chairs provide ample seating and a playful vibe while strung lights above the table add charm and an inviting feel to this outdoor living space.
Robert Peterson,Rustic White
Made from sturdy eucalyptus wood, this outdoor dining table seats up to eight people. The natural wood is a neutral start to your backyard, allowing you to pair it with colorful chairs, pale-hued ones or rustic, distressed seats.
Buy It
The easiest and quickest way to add pattern and color to any space is through pillows. Warm shades of red, orange, pink and yellow make for an energic and lively display. And don't forget string lights to infuse your backyard with an enchanted atmosphere that'll let you party long into the evening.
Shop Outdoor Pillows and String Lights
Pull Out All the Planters
Just like the final accessory touches in your home, planters overflowing with greenery and flowers are essential to completing the look of your outdoor space. When selecting your planters, don't be afraid to mix and match different materials and patterns, and be sure to vary height and shape for a more casual, collected design.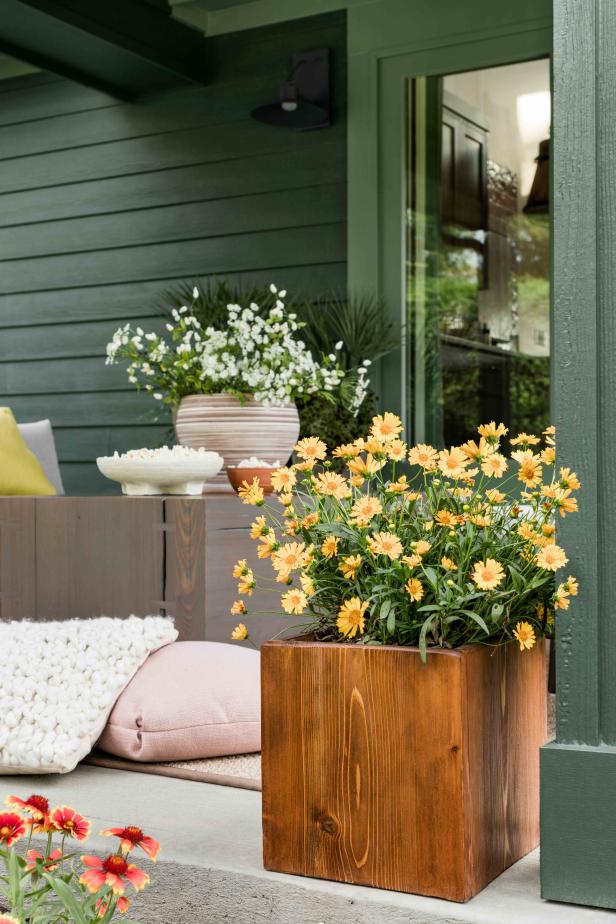 Mix-and-Match Planters
Layering plush outdoor pillows with potted plants adds a lush, relaxed feel to the porch. Bright yellow and orange flowers pop against the home's soothing verdant exterior in a mix of wood and clay planters.
Robert Peterson,Rustic White