Not Your 70s Disco Ball: Inspired Design from HGTV Urban Oasis 2021
Not all long-ago design trends should be left in the past. HGTV Urban Oasis 2021 brings a resurgence of the 1970s and 1980s to the forefront, and we couldn't love it more.
Keep in mind: Price and stock could change after publish date, and we may make money from these affiliate links.
While certain aspects of '70s interior design shall remain there — fake wood paneling, orange shag carpet and avocado green bathtubs — there are several elements that did their trip around the sun, had a little facelift and are right at home in today's spaces. Keep scrolling for ideas to incorporating this retro trend into your home.
Though disco balls made their debut long before the 1970s, they certainly hit their heyday in the Saturday Night Fever decade. Made up of tiny mirrors around a sphere, they bounce light all around a space. In the dining room at HGTV Urban Oasis 2021, a gigantic disco ball hangs over the table, illuminating the room with its natural light reflection. If an actual disco ball isn't your style, check out the globe pendants and flushmounts that give you the same aesthetic with a more sophisticated twist.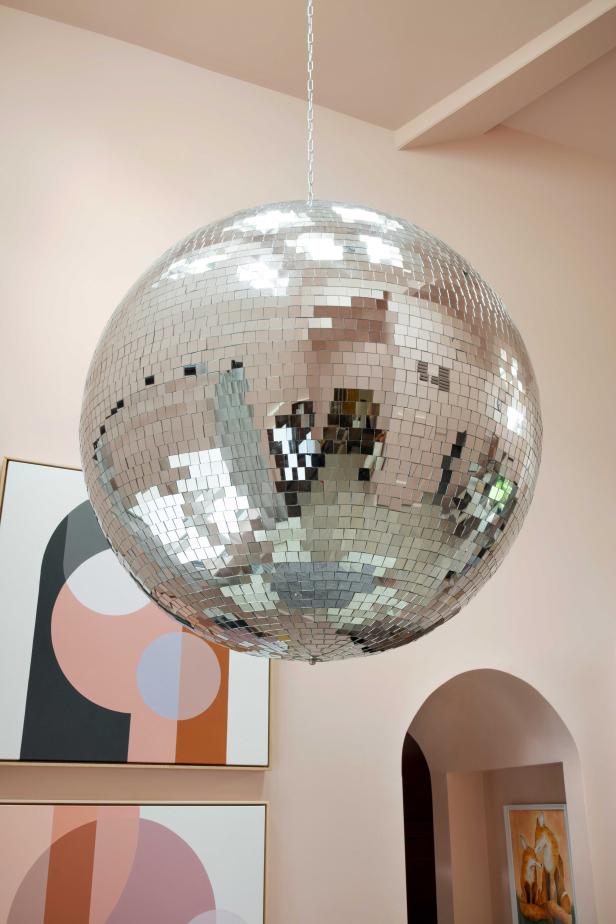 Start the Party
A 40-inch disco ball made from polyfoam with reflective glass mirror tiles makes a big statement above the dining table. The disco ball is extra resistant to cracking, and sure to add a fun party vibe to any get together. "We put it in the corner, so it doesn't cast a ton of reflection all over the house," says designer Brian Patrick Flynn. "It gives the space a memorable identity."
Robert Peterson,Rustic White
Originally designed by architect Eero Saarinen in 1957, the tulip (or pedestal) table has been in vogue ever since. Incredibly versatile, the lightweight yet sturdy design that eliminates bulky table legs makes the most of small and large spaces, allows everyone to sit comfortably around it and is easily paired with a variety of chair styles.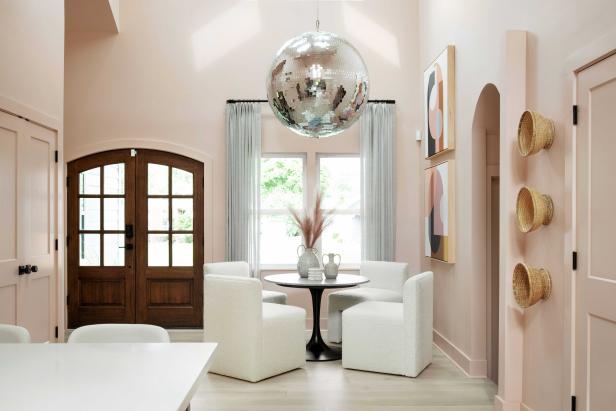 Prominent Location
A large window in the dining room overlooks the upgraded front yard and front porch with lounge area. "We thought why not take advantage of this massive soaring cathedral ceiling in front of the house, and turn it into a really unique dining spot," says designer Brian Patrick Flynn.
Robert Peterson,Rustic White
Minimalist art played a significant role in the 1970s, carrying over from the previous decade. Focused on the essential shape, line and form, the artwork brings fluidity and a rhythm to a space that can be found in muted, neutral hues or bright, vivid colors.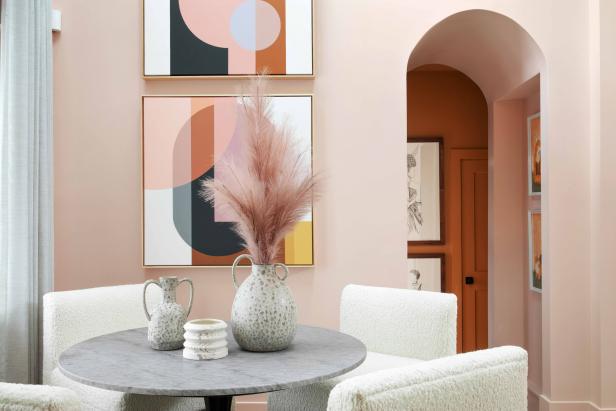 Gather Around
The round dining table encourages conversation and has a minimal visual footprint, making it a great choice for city homes or apartments with limited floor space.
Robert Peterson,Rustic White
At first thought, visions of floral-covered sofas may dance in your head from your grandparents' basement. But here's where unmatched retro silhouettes and bold-hued upholsteries come to play. Instead of classic neutral seating, take a chance with one of these never-going-to-be-a-wallflower sofas for a real showstopping centerpiece.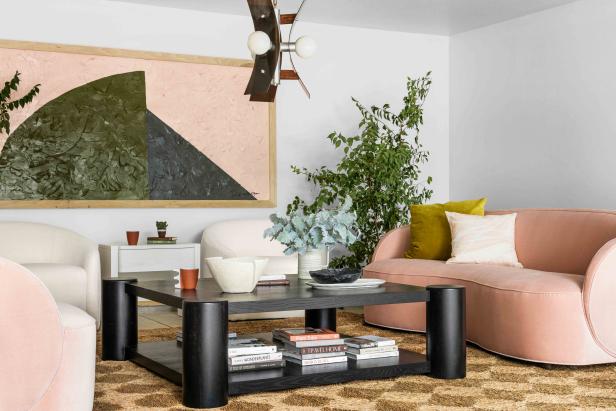 Luxurious Outdoor Lounge
The modern lines of the black coffee table pop against the soft pink and white upholstery of the sofa and chairs for a fresh, contemporary feel.
Robert Peterson; Rustic White Photography
Wicker, rattan and cane furniture was incredibly popular in the 1970s. The woven materials bring natural charm and texture to your room and truly have a timeless quality to them — they've been used in furniture and accessories since ancient Egypt. Today's offerings have modern silhouettes and are sure to infuse your home with a little '70s charm.