Victorian Kitchen Offers Modern Conveniences, Vintage Charm
A beautiful Victorian kitchen fits perfectly with this home's overall style. Detailed wallpaper, antique-look pendant lights and pale-green cabinets are style-appropriate, while modern appliances add convenience.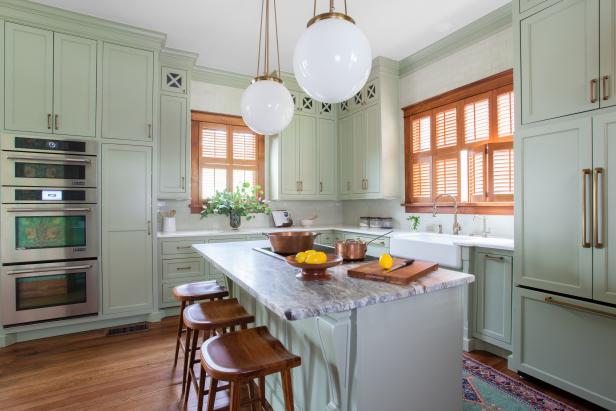 Traditional Cottage-Style Kitchen with Updated Appliances
The family wanted a space that blended vintage charm with the conveniences of modern appliances, so they chose traditional elements, such as the gold accents and wood trim, and added modern-day touches, like the stainless steel oven and a farmhouse sink. The end result is an overall cottage-style feel.
What did your clients want for their kitchen remodel?
They own a steakhouse and are big fans of cooking at home, especially when their many family members come to visit. So the kitchen needed to be optimized for more space. Not only in square footage, but also in storage. The couple also wanted a kitchen they enjoyed cooking in and that aligned more with the architecture of the home. The previous kitchen had honey oak cabinets and laminate flooring and countertops.
How did you decide on cottage style to complement the Victorian house?
Great question. The clients didn't want a historical Victorian kitchen as they aren't very functional for modern-day living. So we decided on a traditional look that complemented the architecture of their Queen Anne home.
What changes did you make to make the kitchen more functional?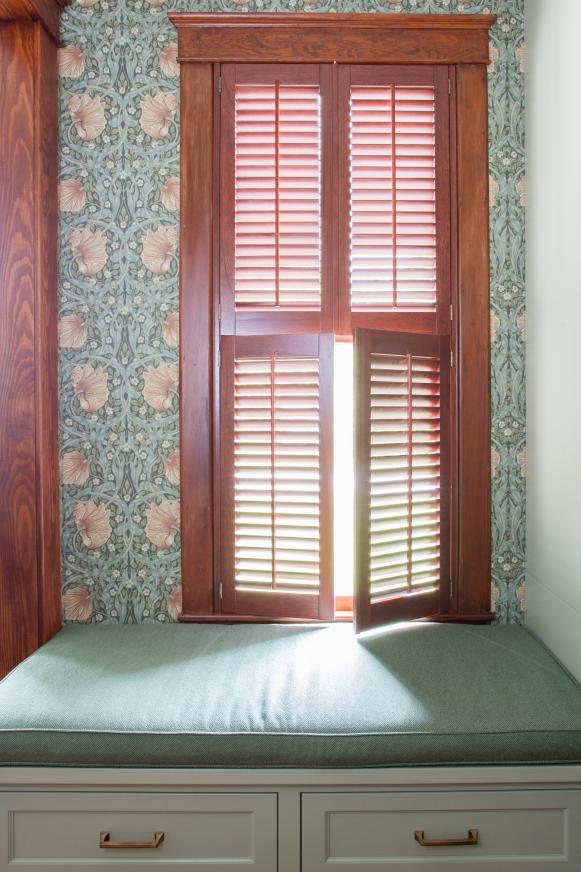 Reading Nook with Storage in Cottage Kitchen
This little reading nook is tucked under a window with wood trim and shutters. These elements and the wallpaper that surrounds the seat bring in a traditional feel, while the reading nook adds seating and storage.
The original kitchen burned down in the '80s and was then remodeled. So you can imagine things were pretty dated. The center island housed a range where two out of four burners didn't work, and a raised bar that blocked views into the dining room. The room also had a large pantry (about 6'x4') that took up a lot of wall space where cabinets could be placed, so we removed it and an adjacent desk area. This allowed us to add the wall ovens and pullout pantry and it really opened up the room. The old pantry had a window inside so we used that to our advantage and added a window seat where the grandchildren could hang out while the adults sit around the island. It added a lot more natural light to the space.
Was there an amenity most important to your client?
Coming from a world of minimal drawers in their lower cabinets, they wanted to maximize storage space. We added a ton of drawers so things wouldn't fall into what I like to call "the cabinet abyss." Drawers are way more functional in both an organizational and storage aspect. The clients also wanted to have more connectedness to family members during meals while cooking, so that's why we removed the pantry and opened the doorway to the adjacent dining room from 3' to 8' wide.
Why did you choose to use green cabinets?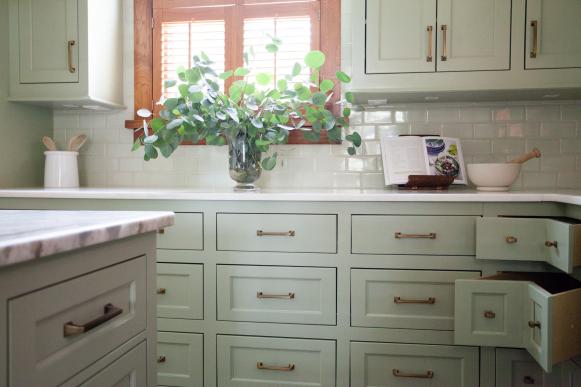 Corner Drawers in Green Cottage Kitchen
Even the cabinets in this space make the homeowners' lives easier. The corner drawers take advantage of wasted space in the kitchen by providing extra storage.
It was a pretty fluid process. We looked at a lot of white kitchens but ended up with a color. We began by selecting the marble, which has a grayish-green hue to it. After that I selected the handmade light green tile. I rendered the kitchen in my 3-D software so she could get a clear idea of how the materials look with one another. I gave her two options: one white kitchen and one green. Luckily she chose green, which is what I was rooting for. She was a fun client and definitely took design risks that paid off.
Was there any talk of using vintage appliances?
Not really. We selected the panel-ready refrigerator to conceal most of the stainless in the kitchen, but they wanted modernized appliances based on the functionality.
What was your biggest obstacle during the project?
The biggest obstacle in this kitchen wasn't for me, it was for my clients. They live in a very small, rural town about an hour and a half outside of Austin, so it was really hard for them to get the trades out to complete their project. They had to search for and hire people that either worked in town or companies in San Antonio or Austin to travel in.
What inspired this design?
The inspiration for the space was my client, her furniture and the house. My clients and their homes are often the inspiration for my designs.
Was there a particular element that tied the design together?
I think it is the wallpaper in combination with the cabinet color.
What are you proudest of?
My favorite part of the kitchen is really the whole thing, from the antique long-leaf pine flooring that was exposed after the laminate was removed to the detail of the inset cabinets and crown molding. I also love the touches of brass throughout.
How did you choose the old world-style pendant lights?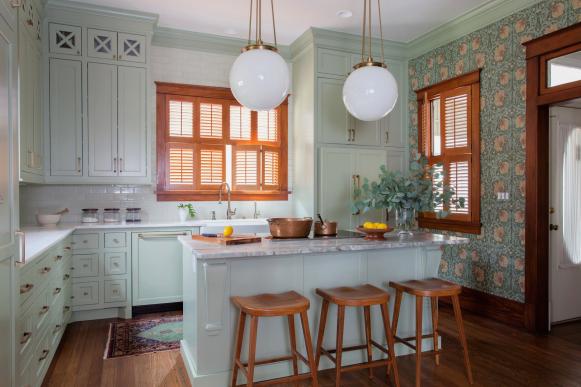 1900 Cottage-Style Kitchen with Wood Trim and Accent Wall
The kitchen of this 1900-era Victorian home was in desperate need of an upgrade. The homeowners wanted to keep the vintage feel of the home, so designers used wood trim and shutters to give the kitchen some of the charm of the rest of the house. To help maintain the classic feel of the home, an accent wall was created using wallpaper. The overall effect is reminiscent of cottage charm.
The lighting selection was pretty challenging. I'm a bit of a lighting perfectionist and, for a time, I couldn't find anything I liked that would work with the space I designed. Luckily I found these through Rejuvenation. They feel like they belong. They nod to an antique feel.
What makes this project uniquely yours?
As I mentioned, I am a bit of a lighting nut. I try to bring in interesting light fixtures in every one of my projects. It took me a very long time to find this fixture. I looked for antique lighting for days and couldn't find anything that was the right scale or style. After having no luck finding an antique fixture, I decided to look at trade fixtures, then retail and finally found these.
What "hidden gems" are in your design?
We hid all of the light switches and electrical outlets under the cabinets so they didn't break up the pretty clay backsplash. We also used corner drawers to maximize dead space in the corner of the lower cabinets.