Family Room Built on LEGO
Jeff Pelletier designed a dream basement that features a bar for the adults and a devoted LEGO play area and storage for the kids, creating a shared family room to be enjoyed by all ages.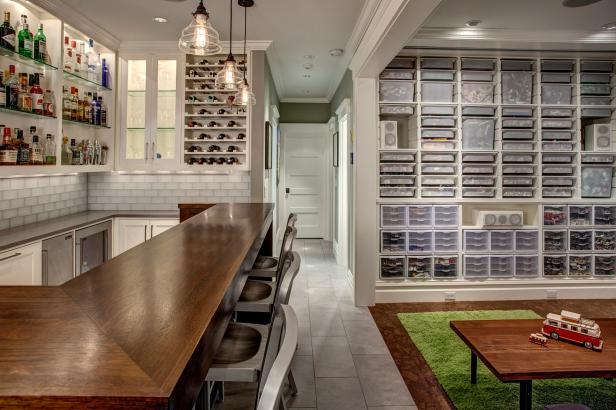 Chic Basement Bar Adjacent to Well-Organized Playroom
Open glass shelving showcases a fully stocked bar on one side of this basement entertainment room. A white tile backsplash runs under the shelving, and stainless steel chairs line the wood bar countertop. A step across the small hallway takes you into the playroom featuring built in-shelving for container storage. A green rug adds a pop of bright color and fun to the playspace.
John G. Wilbanks Photography
What did your clients want?
For this particular project, the client was also the designer. One of our goals for this space was to embrace the unique requirements of having a large collection of LEGO bricks that needed to be organized and stored but also put on display. They were to be celebrated. Additionally, I wanted a bar and a media room all within the same footprint.
What did you set out to accomplish?
I wanted a lot of great storage space as well as a bar that comfortably sat at least six people. It had to be a fun space for adults that also felt whimsical and relaxing to be in. In addition, there needed to be ample work areas that could be tucked away when not in use.
How do you create an organized space?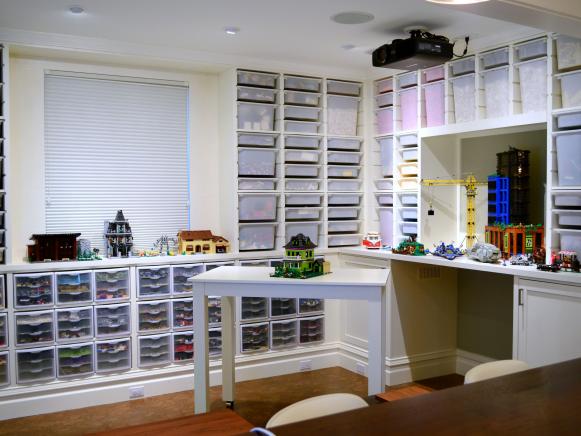 Basement Playroom Wall-to-Wall Lego Storage With Desk
This spacious basement playroom features built-in shelving with pullout containers fit for organizing small pieces. The wall-to-wall storage unit includes a built-in desk, providing the perfect spot for piecing together complicated Lego designs.
John G. Wilbanks Photography
Always think about overlapping the functions of a space. In this project we tucked the drop-down media screen into the ceiling so the screen isn't the focus. It drops cleanly in front of the wall of LEGO storage as the two functions will rarely, if ever, be used together. Additionally, think of how you can create more work area. We built a moving table that tucks under the work surface and then slides out when needed to create more area.
You should also carefully think about what kind of storage system you need and build off of that. We chose an off-the-shelf IKEA tub and then designed the casework around it. By carefully designing the casework around a standard size we were able to elevate a very inexpensive product and give it a much more refined appearance while still meeting our storage needs.
How is this space unique to your client?
The space previously had low ceilings and an odd arrangement of walls. It was not a pleasant space to be in and it was hard to step back and see everything at a glance. We lowered the basement slab to get higher ceilings and designed the space around the exact dimensions of the storage we needed. A room filled with LEGO is obviously a rarity, and that inherent personality makes it a popular space to hang out in, whether watching a movie or sipping a cocktail — not to mention building with some LEGO.
How did you avoid cluttering the space?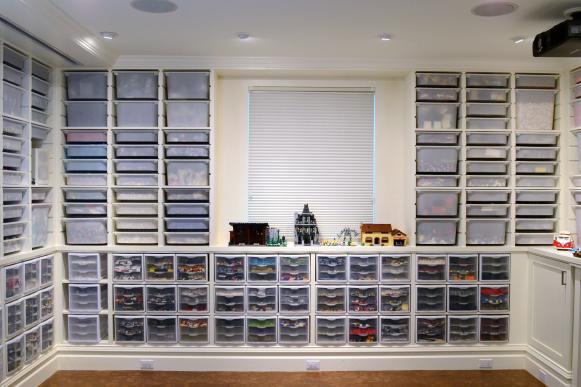 Basement Lego Lounge With Built-In Storage System
This spacious basement playroom features a wall-to-wall storage system fit for a Lego aficionado. Separate drawers were built in to the shelving unit, providing plenty of room for stowing away tiny pieces.
The trick is really to identify the storage system you want to use and then carefully integrating it into the space that you have. Keep the lines of the space orderly and it will retain some classical proportions that will age gracefully and elevate the appearance of your space. Wherever you can, hide away storage as well, but don't be shy about putting what you need or use out in the open so the space functions well.
How did you create a cohesive space for both kids and adults?
The great thing about this space is that it keeps smaller bins for toys down low within reach of children and the larger tubs up high so we can easily organize the space according to functionality. During parties the kids can play on the rug and access the bricks that they want, while the adults can sit at the bar and socialize.
What "hidden gems" are in your design?
One of my favorite details is the way the stairs align with the top of the bar. The depth of the basement was actually determined by the stair height. In addition, I love the rollaway desk that almost disappears as it slips under the visible work surface. We were also able to tuck the appliances and some bar counters under the stairs, maximizing the footprint.