Blank Space Gets Eclectic Modern Design
With a gray, empty home to work with and a green light from the client, JAC Interiors was able to give this basic home the vibrant, modern style the homeowner desired.
Colorful furnishings and vibrant wallpaper give this modern home a funky twist. In this family home, JAC Interiors creates a fun atmosphere which transcends from room to room, all while keeping the client's personality in mind.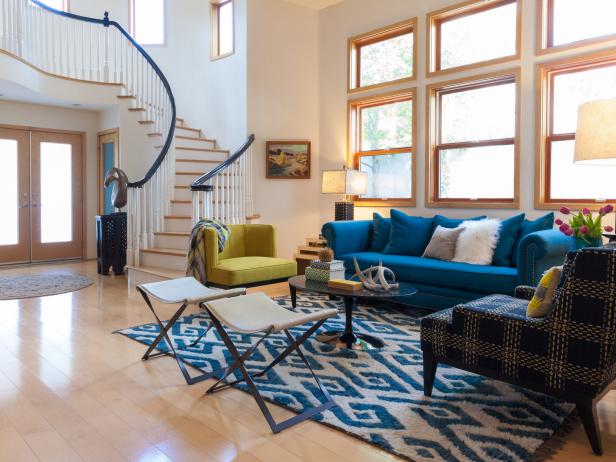 Contemporary Living Room With Blue Sofa
The blue sofa paired with a patterned area rug and apple-green armchair creates a casual, contemporary feel in this bright living room.
JAC Interiors, Defurio Photography
Describe the homeowner's wish list.
Our client was moving from a small apartment to a 3000 square foot house and needed all new furnishings including wall treatments, lighting and floor plans. She wanted it to be child friendly and colorful but also sophisticated to reflect her style.
What was the biggest issue the design addressed?
Our client was looking to tell her family's story through the interior design but on a tight budget. Our main objective was to reflect the family's modern lifestyle but add a narrative to their home that had been nonexistent. We did this by getting to know the client and creating a design that reflected her love of color and comfort for a growing family. The family room and the girls' bedrooms were the most important spaces for the client, as they were areas where they spent the most time as a family and needed to reflect their personalities.
What makes this home unique to your client?

The home was empty and new to the family, so we had an opportunity to create a layout that fit their needs and design elements. This home is unique to our client because the use of wallpaper and color which helps tell the family's story in a way that reflects their daily life and travels.
Describe an obstacle in the space.
The biggest challenge was the tight budget, so we had to be creative with the design elements that we chose. Window treatments are a larger cost item in a house of this size, so we recommended forgoing them in the downstairs areas due to the architectural loft-style windows. One of the memorable moments was when our client agreed to wallpaper one side of her vaulted double height ceiling with a black and white large scale patterned wall treatment.
What was the inspiration for the style of this home?
The inspiration for the modern design was the color palette mixed with textures and bold wallpaper choices. We used blues and chartreuse in the living room and master bedroom and red in the dining room to complement the bold black and white wall treatment. The color was inspired by the proximity to the ocean. For the kids' bedrooms, the color was inspired by the wallpaper which reflected each girl's individual personality.
How did you make transitions from room to room?
Each room has a bold statement of color and pattern, but they are all connected through the predominant wall color (Simply White by Benjamin Moore) throughout the house. Simply White created the modern backdrop for the splashes of color and pattern in each room.
What's your trick for picking the right color palette?
For us as designers, we really get to know our client's color and boldness boundaries, and in this case, our client gave us carte blanche to go full-on bold and colorful. That was a real treat. Having this agility and freedom allowed us to deliver bold color choices that helped make a home that reflected the family's enthusiasm for life.
What was your favorite space to design in this home?
Our favorite rooms were the kids' bedrooms, because we got to have fun with the dramatic and playful wallpaper and colors. We made a custom daybed/trundle for the girl with the red and pink giant paisley wallpaper and used Kelly green paint and a bird chandelier from Stray Dog Designs for the girl with bird and butterfly wallpaper. We love the fact that we were also able to use family heirloom afghan throws for each girl's bedroom, bringing in a sense of history and family. The most difficult room was the living room, because of the unusual shape and the fact that it was a walkway through to other areas of the house in addition to serving as a landing for a circular stairway. It worked because we were able to make a very large room feel intimate and cozy.
What specific pieces bring this design together?
The use of patterned and colorful wallpaper was the integrating factor for the design. It was easier to use many complementary bold colors and patterns throughout the house than it would have been to stick to one hue, and it is definitely more fun for us as designers and for our client.
What is your favorite feature in the space?
We transformed the house from a dull gray envelope to a home that reflects the individuality of the family living there. In many ways, there is not one "best" thing about the house, but (we love) that the house feels like a fluid and interesting narrative for a young, modern family.
What was the key to making the brighter color palettes work?
Kid's rooms are begging for bold and playful color, but it's true that we had to maintain that fine line of not being too overwhelming or distracting. Therefore, we restricted the color palette even though they were both bold and reduced the use of wallpaper treatments to just one wall in each room. The bird and butterfly wallpaper room felt like a tree house, so it needed a bit of green to complete the story.
How did you use integrate your style into this project?
We are both highly influenced by fashion and by nature, and we love to reflect this in our interior designs. Just like we mix pattern and colors in what we wear, we push our clients to combine unusual but unique combinations that reflect them. Our clients tend to choose us because of our modern use of color and wallpaper.

What are the hidden gems that make a big difference?
We feel that the hidden gems start in the beginning when we are trying to curate what our client's already have and build those items into a successful design plan that will be unique every time.