Tranquil Master Suite Offers Space for Whole Family
A client with four young children wanted a serene master suite that could comfortably fit her new family. Designers Kirsten Krason and Erin Morgan introduced multifunctional furniture and colorful accents to create an inviting setting.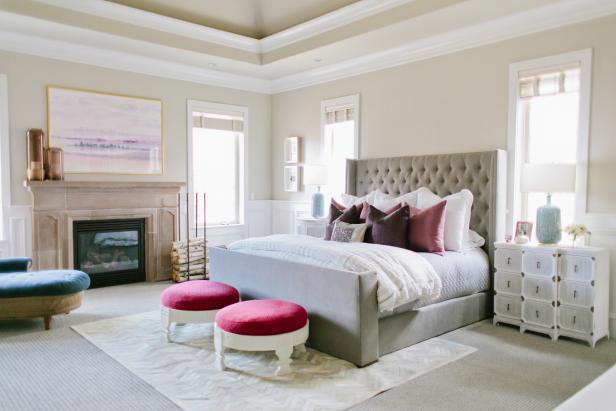 Tranquil Master Bedroom With Tufted Headboard & Pops of Color
Light and refreshing, this master bedroom boasts a soothing neutral palette with pops of pink, purple and blue found in the furnishings and accessories. The upholstered bed features a tufted headboard and a plethora of throw pillows in shades of white, plum and mauve. There's even a place to sit and relax beside the wood burning fireplace.
Looking to transform a Tuscan-style bedroom into an updated, family friendly master suite, a homeowner in Orem, Utah, approached designers Kirsten Krason and Erin Morgan.

"Our client bought a beautiful large home, but there wasn't much in it that was her style," Krason says. "She had a more colorful aesthetic and wanted a home that felt youthful and would be a good fit for her new family."
Krason and Morgan were well-suited for the task. The pair's design firm, House of Jade, is popular for mixing beautiful colors and patterns infused with white spaces and clean lines. As their team set to work, they used this style to craft a dreamy setting trimmed in jewel tones that complemented their client's aesthetic.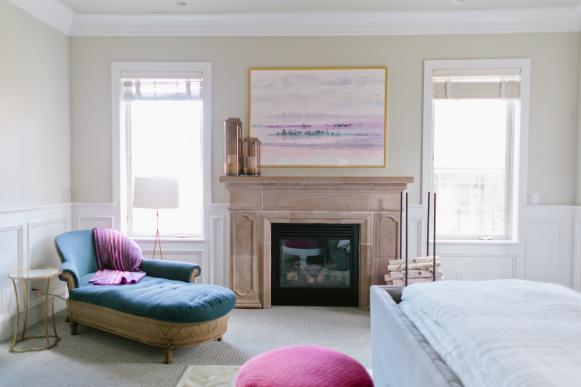 Master Bedroom Features Deep Blue Chaise & Wood Burning Fireplace
In the corner of this master retreat, a plush blue chaise and wood burning fireplace provide a cozy place to relax and read a book (or two). Subtle gold accents and pops of hot pink add fun feminine flair to the space.
With its stone fireplace, luxurious chaise and elegant upholstered bed, the master suite is a vision of tranquility. Where the room previously paired cream-colored walls with dark wooden trim, Krason and Morgan opened the space with crisp white finishes. The pair then replaced the room's carpet and layered in neutral furniture and vivid accent pieces.
The main priority was a beautiful bed and a chaise that could function as a comfy place to sleep when their kids came wandering in during the night.
Kirsten Krason, House of Jade Interiors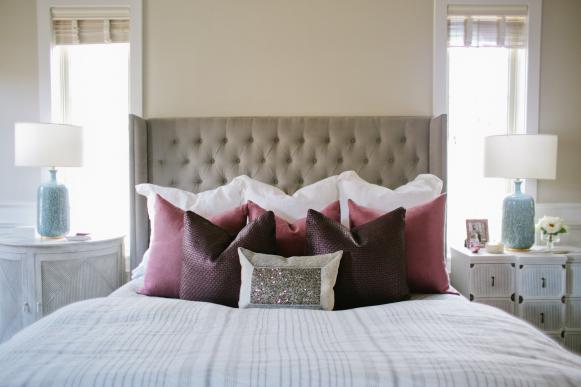 Peaceful Master Bedroom Features Plum & Mauve Pillows and Tufted Headboard
This dreamy master retreat exudes a calm color palette with pops of plum, mauve and light blue in the accessories. A sequined pillow adds a touch of pizzazz to the bed.
As the centerpiece of the room, the bed particularly showcases the designers' dedication to detail. The textured amethyst and mauve throw pillows gently enliven the neutral comforter, while the sequined pillow pairs well with the geode accents on the wall. Matching lamps create symmetry and enhance the room's lighting, thus forming a look that's balanced, bright and sophisticated.
Still, with their client's four children in mind, Krason and Morgan knew that functionality was just as important as aesthetics. They selected an antique navy chaise longue, which doubles as a cozy fireside reading nook and extra bed for little visitors.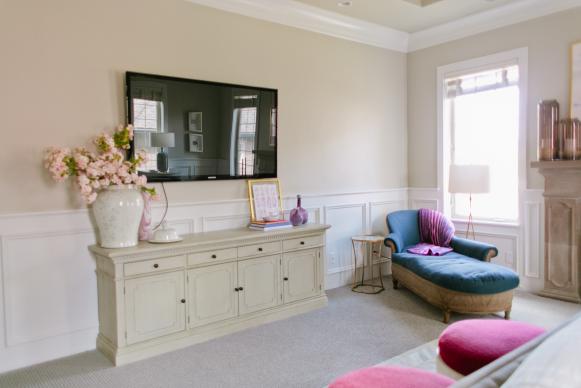 Media Console in Master Suite
Complete with a fireplace, chaise lounge and flatscreen TV, you'll never want to leave this heavenly master suite.
Multipurpose furniture is emphasized throughout the room. Against the far wall, an upholstered bench provides a seat for lounging and putting shoes on in the morning. Hidden storage is tucked into cabinets beneath the TV and the two nightstands without adding any visual clutter.
"For their master bedroom, she and her husband wanted a serene space," Krason says. "They wanted deep and saturated colors."
With coastal artwork by Grace Kreinbrink as the focal point of the room, Krason and Morgan evoked the calming nature of a sunset. Deep purple throws, pink stools and pale blue beside lamps provide complementary accent colors, helping to add the touches of saturated color that the client requested.
These accents also allowed Krason and Morgan to better accomodate the family's active lifestyle. The pillows, throws and stools can easily be replaced should wear and tear occur or should the homeowners tire of the colors or styles.
"Our couple is young so we didn't want the space to feel too stuffy, but they also wanted a space that felt a little more formal than the rest of the home," Krason says. "We picked the right places to bring in color and pattern, which allowed us to create the look they wanted."