Outdoor Kitchen Design Ideas
Outdoor kitchen design is as much about performance as it is about style. Whether you prefer modern contemporary or a classic look, you can achieve the perfect outdoor kitchen to fit your life and style.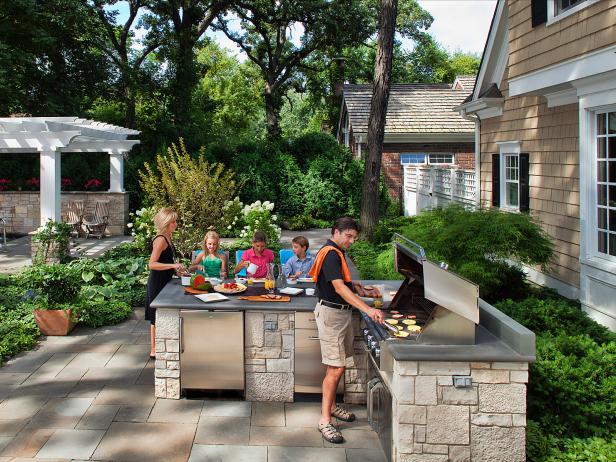 Outdoor Family-Friendly Patio for Entertaining
This family grills on their outside patio on a grill with a bar attached so the whole family can enjoy a meal outside. The patio is adorned with simple landscaping.
Outdoor kitchen design ideas are as much about beauty as they are about functionality. You'll need to consider climate, positioning for utilities, and budget. Fortunately, achieving these elements and getting the look you want is fairly straightforward.
Start your outdoor kitchen design by making a list of must-have items. These could include a grill, sink, an island, gas cooktop, pizza oven, dining space or a bar. If you're worried about being budget-friendly, split your list into necessities and extras and make changes as your design and budget take shape.
There are many ways to stretch your budget without compromising style. The popularity of outdoor kitchens has created a market for prefabricated or modular outdoor kitchen kits in a variety of customizable styles. This allows you to skip the contractor and build your own outdoor kitchen with minimal DIY know-how.
Prefab kits can include compact refrigerators, stainless steel cabinets, custom countertops, dining space and more. Many vendors have a nice selection of these kits, and most can deliver right to your door. Choosing prefab rather than having an outdoor kitchen custom-designed cuts down on time and cost, and you can choose from stacked stone, granite, tile or stucco to create the outdoor kitchen that looks best with your existing space.
Whether you go prefab or completely custom, you may want to consult a contractor for things that include plumbing, electrical or gas lines. The location of things like a grill, appliances and a sink will make a difference in your design and budget. A contractor can help you get the most from your budget by positioning your outdoor kitchen for easy access to utilities.
Also consider your four walls and ceiling (or lack thereof). If your design includes a grill or cooktop, make sure you have proper ventilation above. Lighting is another important element that may require electrical work and fixtures, which will affect their positioning.
More Outdoor Kitchen Designs
Other Outdoor Kitchen Inspiration