Maximum Home Value Outdoor Living Projects: Lighting
Learn how landscape lighting can brighten up your outdoor living space.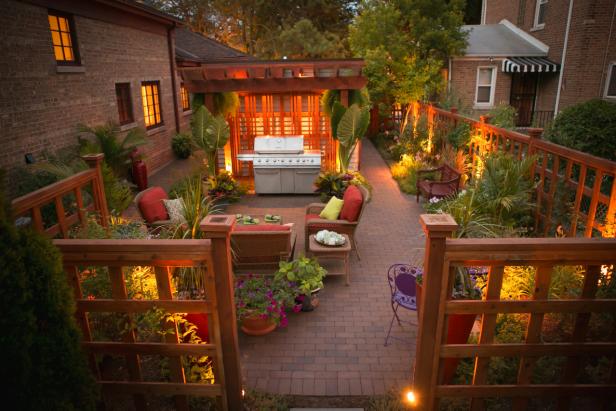 K&D Landscape Design: An Urban Garden at Dusk
This comely garden setting in this small home's backyard shows how careful planning can produce an outstanding design. K&D Landscape Management used unusual wood fencing material for the pergola and to line the perimeter of the yard and added colorful small and large scale plants for balance and interest. A well-conceived lighting plan, as seen here, produces a dramatic effect.
K&D Landscape Management John Algozzini
By highlighting your home's different angles, transforming your gardens and pathways into beautiful landscaped creations or creatively accenting a deck or patio for entertaining, outdoor lighting boosts curb appeal and home value while also being the most cost effective outdoor living project for homeowners.

Energy efficiency. Renewable energy for the home has become a hot trend in the last decade and outdoor lighting is no exception. Solar and LED powered lighting can offer energy efficient illumination while also being easy to install and easy on your wallet.
Quality finishes. Outdoor lighting fixtures now offer finishes that add pizazz to any outdoor space. Whether it's a faux finish or higher-end metal like copper or brass, that little extra touch can go a long way to maximize style and visual interest.
When it comes to outdoor lighting, "have fun, use your imagination and use common sense," says appraisal expert Leslie Sellers, president of the Appraisal Institute. By investing big bucks in high-tech lighting and labor costs, the end result becomes functionally obsolete, says Sellers, because in today's technologically-progressive market something bigger and better always comes along.
Your best bet is to invest in a quality product built for function while still maintaining a sense of style. This way, a replacement can be made after a number of years at a lower cost instead of making a large investment that loses its appeal of being the "next big thing" after only a few short years.
On a Budget: For the homeowner looking for a low cost option that still gives a dramatic lighting effect, pre-packaged outdoor lighting kits can be a great choice. With many kits priced at less than $50 and easy to install, a homeowner can knock out this project in a couple of hours. Although these kits are made of lower-grade materials and don't last as long, they still offer the look and feel of higher-end lighting.
Mid-Range: If you are looking for higher end materials such as a real metal finish and longer-lasting quality, then consider investing in lighting that ranges from around $300 to $400. Spending more on the lighting itself but saving money by installing it on your own can keep cost down while still maintaining the quality and longevity you desire.
High-End: For those who are willing to spend more for a detailed and extravagant lighting project, hire a professional who can custom-create a lighting plan built around your home's unique features and landscaping design. Implementing a pro's plan can be heavier on the pocketbook then do-it-yourself lighting, but the quality and style will not go unnoticed.