If You Hate McMansions, You'll Love This Blog
"McMansion Hell" is on a mission to talk about the fundamentals of design... while politely roasting over-the-top real estate.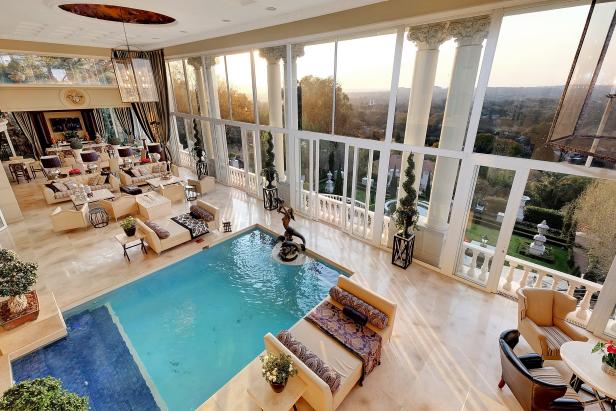 Indoor Pool With High Ceiling and Multiple Sitting Areas
This spacious indoor pool room features a high ceiling, stone floor, multiple sitting areas, and a huge expanse of windows for an outstanding view outside.
Chas Everitt International Property Group, a member of Luxury Portfolio International
Kate Wagner loves architecture: the good and even the downright tacky. In July 2016 she started the blog "McMansion Hell;" it was a place to commiserate with fellow McMansion haters, point out design flaws and mock totally unnecessary opulence. By August, it was viral.
To date, the blog has featured more than 200 McMansions which Wagner dissects in funny graphics and explains design that's not integrated. She also pokes fun at incredibly ridiculous features such as a bedroom dresser that's been "Strawberry Short-caked" or a kitchen where Wagner points out "real wealth is having a pot filler and two tea kettles and choosing to use a Keurig anyway."
Macdonald Real Estate Group Inc., a member of Luxury Portfolio International
The first question people ask Wagner is why she hates McMansions so much. But she doesn't. "If I really hated McMansions, I would have burnt out on this a long time ago," she said. "I think they're really interesting. I think they tell us a lot about the culture."
"McMansion Hell" isn't about bashing the 1% and there's no hate on big real estate. Wagner just wants to get the conversation going on design. She started the blog to teach people how to be their own critic. "As they're reading, I hope people feel that they have their own agency to be their own architecture critic," she said. "I love to give people the vocabulary and agency so people can feel like they can talk about houses. I want to encourage people to take the reins and talk about the world around them."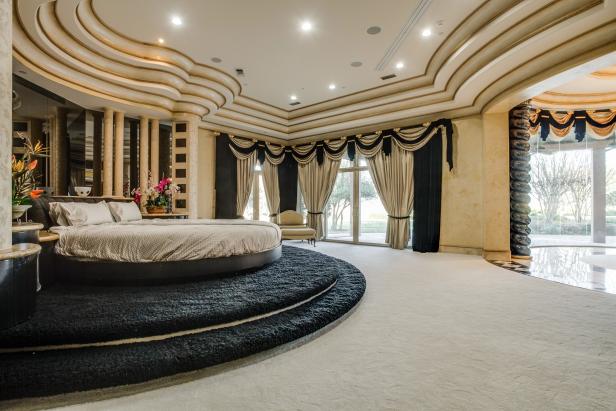 Black and White Bedroom With Round Bed
A round bed presides in the center of this princely bedroom with its tuxedo palette of black and white. Swagged curtains and a tray ceiling with multiple bandings trim the exterior of the space like layers of frosting on a cake.
Ebby Halliday Realtors, a member of Luxury Portfolio International
Not sure you know the difference between a mansion and a McMansion? Wagner does a really good job of breaking down design and discussing the 101 fundamentals. She said a telltale sign of a McMansion is that "the house looks like a collage of different materials." Sometimes it's conflicting design styles. And sometimes it's architecture that just looks wonky like the windows don't match or molding just abruptly ends. But of all the atrocities of McMansions, her biggest pet peeve is rooflines. "The roof lines really get me," she said. "Multiple pitches and ridges and gables. I call it roofline soup on the blog."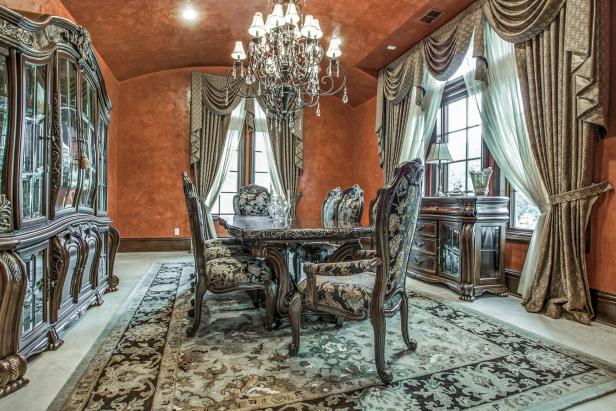 Traditional Dining Room is Sophisticated, Welcoming
The sophisticated dining room has terracotta-colored Venetian plaster walls and a traditional table surrounded by floral-printed dining chairs. Dramatic curtains and swags dress the large windows, while the room is grounded by an Oriental area rug. A beautiful chandelier is a sparkling centerpiece in the room.
Ebby Halliday Realtors, a member of Luxury Portfolio International
With so much time spent looking at McMansions, we asked Wagner what her favorite style is and what would be her ideal home. And, unlike McMansions, she wants a home with history and roots. Wagner would love to be in a historic neighborhood, ideally in a first-generation suburb built for streetcar access. "I would live outside of Chicago in Oak Park," she said. "And I would live in a Craftsman house with a main gable and then a little gable tucked in the portico."
Clean design. No roofline soup.