Get info and ideas for metal tile backsplashes, and prepare to install a durable and visually striking backsplash in your home.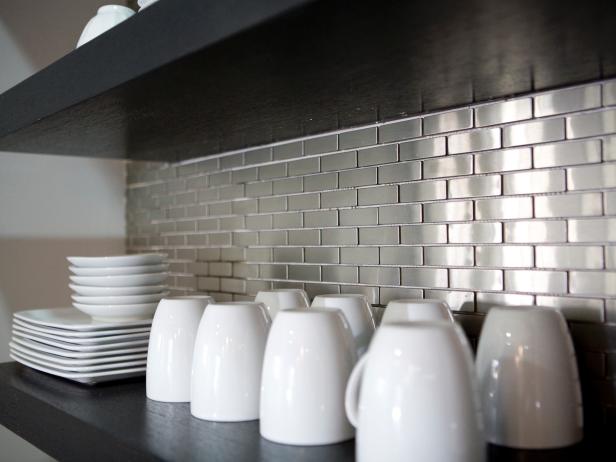 Modern Kitchen Shelves with Metal Backsplash
All-white dinnerware and mugs contribute to a clean look in this modern kitchen with floating shelves. You can also find a metal backsplash on HGTV.com.
When it's time to think about a new backsplash for your kitchen, you should consider all available material options, but metal tile kitchen backsplashes may offer the best combination of durability, longevity and attractiveness.
Available in a wide range of materials, styles, colors and budget ranges, metal tile backsplashes can add tremendous visual interest to any kitchen design while also offering a highly durable and low-maintenance backsplash surface.
At the outset of your metal tile backsplash project, you'll want to determine the scope of the project. To estimate the amount of metal tile material you'll need, measure the square footage of the area in your kitchen you want to cover with the backsplash. Figuring out how much tile you'll need will give you a good indication of the overall budget, so it's an essential first step. Before calculating the square footage, you'll need to decide if you want a backsplash that covers the entirety of the wall space between your counters and cabinets or counters and ceiling, or just a portion thereof. The style that's right for you may be a more understated backsplash that only covers enough of the walls to prevent cooking and cleaning spatter, or it may be a grand affair that dramatically stretches from countertops to ceiling. Once you've decided on the amount of coverage, mark the area off and measure the square footage.
Now that the amount of material you'll need has been determined, it's time to consider the type. There are several popular types of metal backsplash tile, and one of the most commonly used these days is stainless steel. A common feature of modern appliances, stainless steel offers a bright and easy-to-maintain surface as well as great durability—and it's even available in a wide range of colors and textures, including shiny or matte finishes.
Tin is another common metal backsplash tile choice. Punched or hammered—or boasting ornate designs—it can add tremendous appeal and visual interest to a kitchen design. Similarly, copper and brass can liven up any kitchen with their unique hues and the added benefit of an "evolving" design; as these metals age, their surfaces will often take on distinct patterns, striations and natural designs that add great style.
When you've decided on the tile material you're going to use for your backsplash, as well as the style, it's time to source the material from your local home improvement or tile specialty store (or their respective online components), and then think about installation. You can choose to install the backsplash yourself if you're particularly handy, but note that metal backsplashes will require more expertise than other, more easily cut and configured materials. Alternatively, you can hire a professional contractor to install the backsplash for you.
Other Tile Backsplash Ideas
Kitchen Backsplash Inspiration