Bathroom Decorating Tips and Ideas
Explore a range of bathroom decorating ideas, and get ready to add serious style to your home's bathrooms.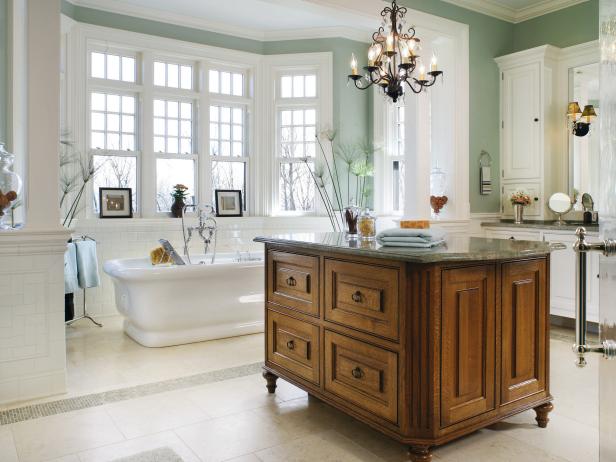 Large Green and White Transitional Bathroom With Island
A bathroom with sage green walls, white wainscoting, and window frames includes a freestanding white porcelain tub, freestanding vanity with a marble countertop, attached vanity with sink, and an iron chandelier.
When it's time to remodel a bathroom in your home or install a brand new one, you'll first want to explore a range of bathroom decorating tips and ideas. Deciding on a decorating theme can help define the overall style of your bathroom and help create a space that's as attractive as it is efficient.
Your options for bathroom decorating themes and ideas will be wide-ranging, so one of the best ways to start your search is to first define what bathroom design style you'll feature. Contemporary and modern styles tend to feature up-to-date materials and designs that feature a mix of angular lines and flowing curves. Traditional styles tend to refer to specific historical eras or design movements, like Victorian, colonial or arts-and-crafts. Bathroom decorations and themes can in many cases work across these styles, but knowing which you'll feature may help guide your decorating choices.
Once you've decided on a design style for your bathroom remodel or install, one of your first decorating considerations will likely be color. You'll have a whole rainbow to choose from for wall colors and thematic, decorative elements like curtains, linens and wallpaper. Because bathrooms are often small spaces, many homeowners choose to feature light colors in their bathroom decor, as these tend to expand a space, whereas darker colors can make a space feel cozier. Whites, light beiges, yellows and blues can all be great choices for a light and bright bathroom decor.
Another decorative touch that's common across all types of bathrooms is wallpaper. For traditional styles, homeowners may feature simple floral patterns or, for a more historical, pastoral feel, toile designs featuring bucolic scenes from days gone by. In more contemporary and modern designs, geometric patterns, grass cloth and other up-to-date styles are popular.
Many homeowners feature artwork in their bathroom designs. Photography, drawings or paintings featuring nature scenes, or taxonomical drawings of flora and fauna in simple frames can add visual interest to any bathroom design. In old-world or Victorian designs, large, gilded mirrors and frames for artwork are often featured, adding a luxurious decorative touch to the design.
Bringing the outside into your bathroom design can be a great decorative option as well. Live or artificial plants can be featured on windowsills or shelving, and collections of rocks or driftwood can add to a natural decor theme. In rustic or country-style bathrooms in particular, featuring linens in playful patterns like plaid, gingham and toile can add great contrast and visual interest to the space.
More Bathroom Decorating Ideas
More Bathroom Styles for Your Home