6 Secrets to Reselling Furniture Flips
There's a trick to selling furniture flips, and we've got the secrets.
Before and After Graphic Print Chair
Try this DIY from HGTV Magazine's Flea Market Flip Blowout!
Making money off buying, flipping, and reselling furniture can get tricky, but there are key strategies that can help. HGTV Magazine tested the waters in this unpredicatable business and found a few secrets to selling success.
All sites require a seller ID — give yours a catchy name and logo to draw more attention. Then create a logo that conjures up the stylish, DIY look you're after.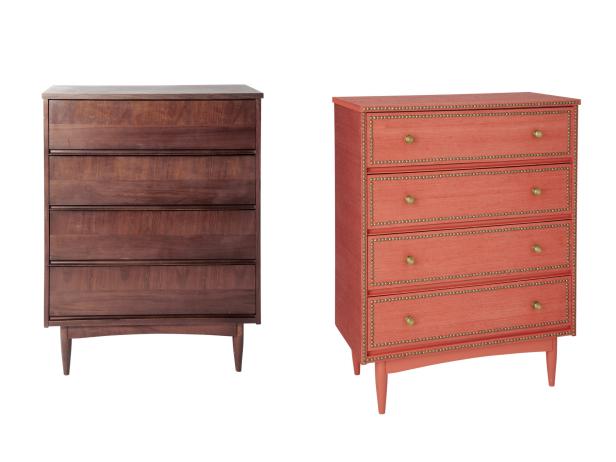 Grass Cloth and Nailhead Dresser
Grass cloth wallpaper: Yangtze Landing grass cloth wallpaper in YAN110, $47.50 per single roll, americanblinds.com; Trim: French Natural nailhead trim, $20 for a 10-yard roll, diyupholsterysupply.com; Knobs: Martha Stewart Living Classic Hardware 1 1/4" beehive knobs in Bedford satin brass, $4 each, homedepot.com; Paint: Claret Rose by Benjamin Moore
Before: Philip Friedman; After: Alison Gootee
Sell on more than one site.
Expand your reach by setting up shop in multiple places, such as online marketplaces ebay.com, etsy.com and furnishly.com (a Craigslist-style site for furniture). Or go offline and try local flea markets.
Look up what sellers with products similar to yours are charging. Listing your items too high could get you passed over.
When providing info about your products, offer plenty of details, including dimensions, finishes, and materials. If you don't tell potential buyers up front, they'll ask later or just move on.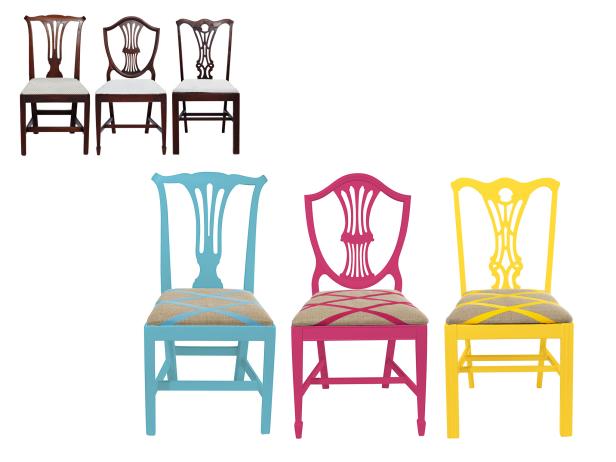 Before and After Chair Makeovers
These brightly colorful chairs were made over by HGTV Magazine
Marko Metzinger, Crafting by Thomas Eberharter and Madeline Jacobos, Styling by Karin Olsen
Post at least five photos.
And make them good! That means clear, well-lit photos with plain backdrops and different angles, including close-ups.
It can take months to make your first sale. Use that time to tweak your listings to attract more buyers, and eventually you'll sell everything you rescued and rehabbed.