Moody Hues: Decorating With Not-Quite-Black Paint Colors
Like dark, moody rooms but having a hard time committing to black paint? Try these deep shades of colors that mimic the effects of black while adding a hint of color.
We've talked about adding black in small doses to your home for a little extra drama, but what if you like lots of drama without caring for black as a wall color? The answer you're looking for are the deeper shades of the color wheel — dark blues, greens, grays and even browns that almost read as black but give just enough hint of color to take the edge off the look. See how some of our favorite designers are using these dark shades: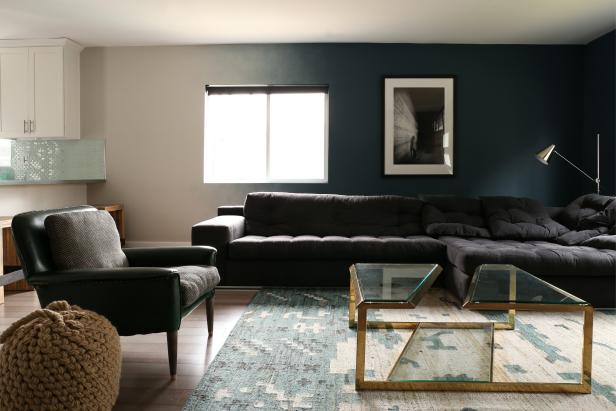 Black and Blue Contemporary Craftsman Living Room
In this dramatic living room, dark blue paint shifts ever lighter on the wall and then shifts into crisp white. The Southwestern-style rug mimics the effect.
Caitlin McCarthy, the 2014 winner of our Fresh Faces of Design contest, continues to push the envelope with not only her color choices but the way she presents color. In this home, she uses a gradient around the window to transition from a bright, white kitchen to a deep teal living room for a sort of day-and-night effect.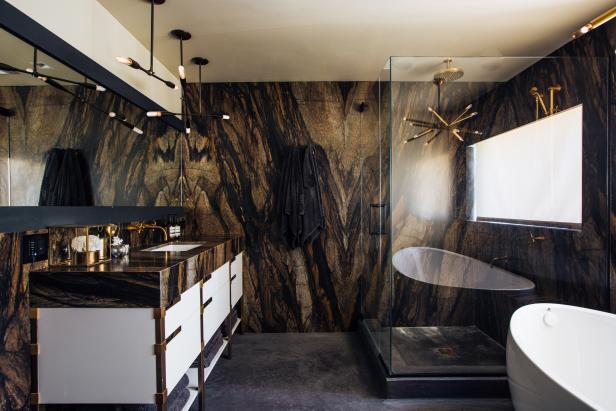 Eye-Catching Master Bathroom Is Earthy Yet Glam
Earthy meets glam in this striking master bathroom. A dark stone wall treatment encases the space with a natural, earthy feel, while brass and bronze fixtures bring a decidedly glamorous element to the room.
Sometimes the key to dark colors is to use stone finishes or wallpapers that encorporate black into the design. FLO Design Studio went bold in this master bathroom with sandalus stone, which blends black and brown grains in a rich, almost wood-like grain.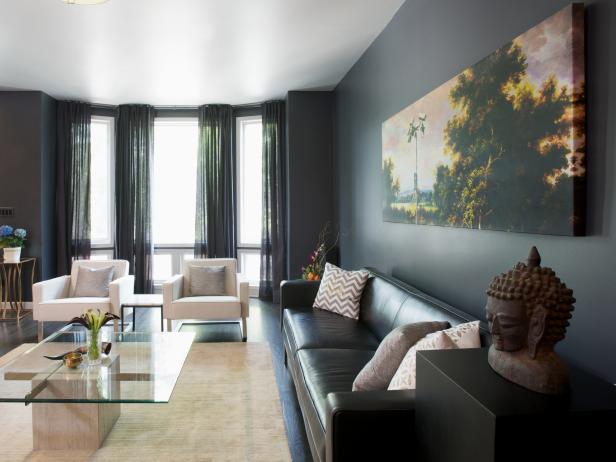 Modern Gray Living Room with Bay Windows and Colorful Art
This modern, charcoal-gray living room could be the lobby of an expensive hotel. The glass coffee table adds impact without the sense of being large and overpowering. White chairs and the leather sofa are clean-lined and sleek, and the large piece of art brings color to the space.
Charcoal is a classic, moody color that's long been a popular option. What I love about this room by Brianne Bishop is how the black sofa offers just enough contrast to the charcoal walls to bring out their gray undertones.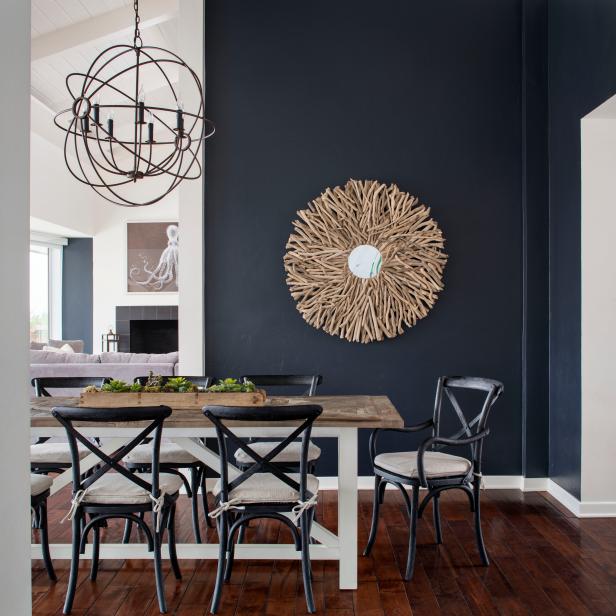 Dark, Navy Blue Walls in Contemporary Dining Room With Country Table, Spherical Chandelier and Driftwood Mirror Frame
Dark navy blue walls give a beautiful depth to this dining room design. Natural light, an open feel and white molding keep the space feeling light. A coastal, driftwood framed mirror pairs beautifully with the natural wood tabletop over white table legs. A metal sphere chandelier and black chairs finish the polished look.
I think dark, moody colors are often associated with more modern style spaces, but they work well with traditional styles, too. Blue is a common color in coastal style, and a dark shade of navy works as the perfect color in this coastal dining room by Corine Maggio. Crisp white trim rounds out the nautical feel.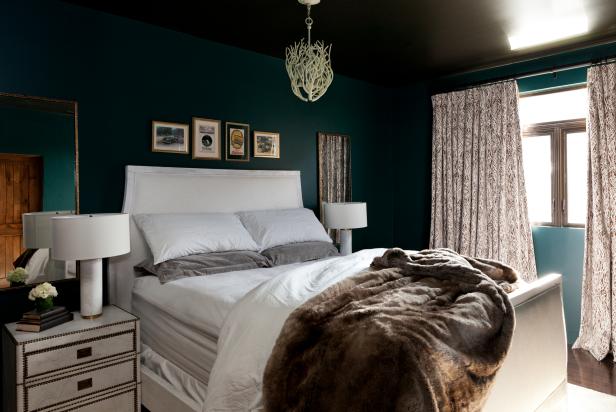 Contemporary Hunter-Green Bedroom
White furniture shines against the dark green wall coloring in this contemporary bedroom. A large white bed frame is upholstered with velvet at the head and foot of the bed for a softened feel. Nightstands with nail-head trim support matching table lamps to finish the room.
While all of the previous designs use whites, creams and other neutrals on the ceiling and trim to balance out the effects of the dark shades, Kelly Sutton uses a "more is more" look to a luxurious effect. Kelly opted for the same malachite-inspired shade on the walls and ceiling, enveloping the cozy bed.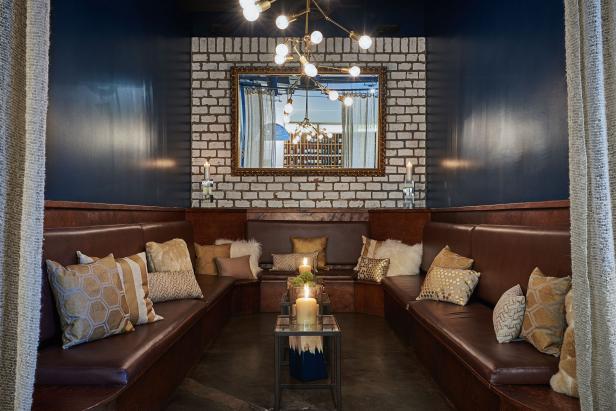 Lounge Area in Houston's Beckrew Wine House
Set back in a nook at Houston's Beckrew Wine House is an intimate conversation spot. A U-shaped bench with brown leather cushions is highlighted with an array of gold and neutral throw pillows. Dark navy walls are paired with rustic white brick and a gilded mirror that reflects the contemporary brass chandelier.
Another thing I love about dark shades is that they usually work well with both black and brown accents. Gindesignsgroup paired a midnight blue wall color with leather seating for a total look that is rich and sophisticated.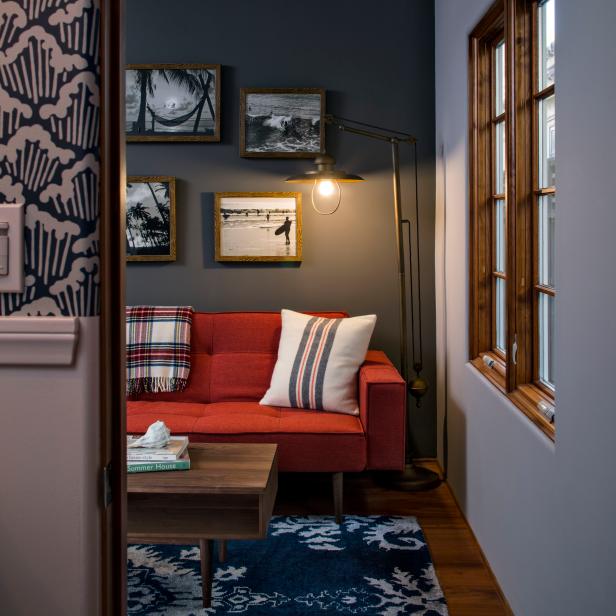 Gray Midcentury Living Room With Red Sofa
Peek into the study and get another example of how the designers of this cottage skillfully layered textures and patterns. Here, wallpaper, rugs and a red sofa set the chic scene paired with beachy black and white photos in dark wood frames.
Chipper Hatter Photography
Corine Magio provides another excellent example of charcoal, but I love how this one is paired with warm wood tones, a red sofa and a plaid throw for a rustic preppy look.