Use Your Vertical Space: 12 Ways to Decorate With Floating Shelves
Use wall shelves for storage, decor and more.
Floating shelves are one of the magical unicorns of design; they just seem to work everywhere. They're often the perfect choice if you need a bit more storage or if you want to add some visual interest to a space. And since they come in all different styles and sizes, they're incredibly versatile.
Here are 12 of my favorite examples of floating shelves done right. And luckily I managed to find examples in almost every room of the home. So no matter where you want to put your shelves, I've got you're covered.
Add some floating shelves above your TV to draw the eyes up. In this example, the TV fades into the background. Adding color-coded books to your shelves is another fun trick to attract the eye away from the TV.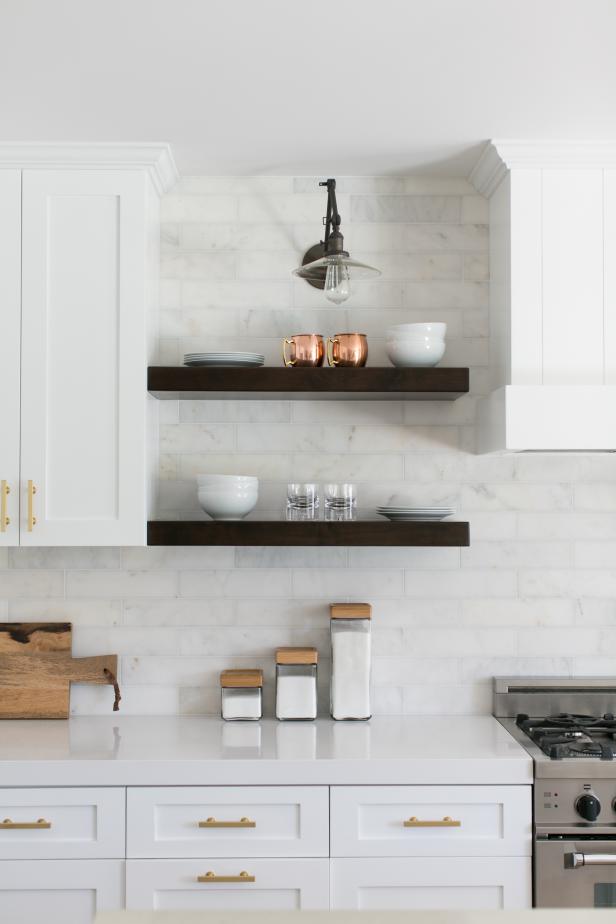 Floating Display Shelves
Floating shelves mounted on the Calcutta marble tile provide a stylish spot to display copper and glass ware in this kitchen.
Consider adding a few shelves between your existing kitchen cabinets. You can display your prettiest dishes and glasses, and simply switch it up depending on the time of year or season.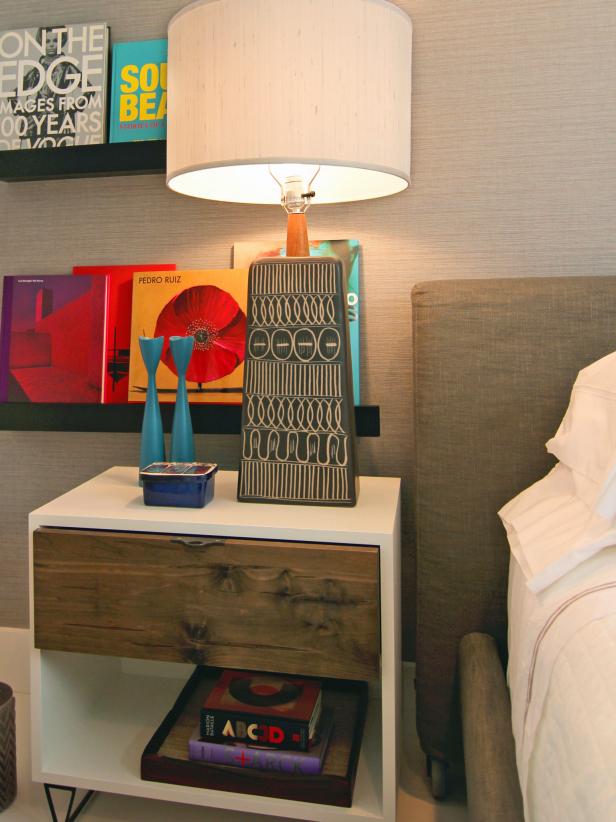 Neutral Contemporary Bedroom With Floating Shelves
Black floating shelves add extra storage space in this streamlined contemporary bedroom by designer Diego A. Rincon. The colorful books become eye-catching wall art!
These narrow shelves are used to display books like a magazine rack. This would work well if you have a lot of coffee table books to showcase. It could also be a great solution for displaying framed artwork or family photos.
Shelves prominently displayed on the wall can actually take the place of artwork. Here, the rustic, reclaimed wood shelves are used to showcase decor, houseplants and accessories. When cleverly arranged, they manage to stand in for a large piece of art.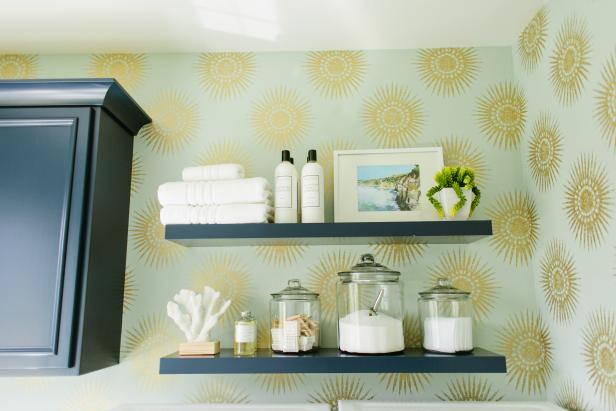 Floating Shelves in Transitional Laundry Room
Floating shelves provide handy open storage in this transitional laundry room. Glass jars house detergent, clothes pins and other essentials, while sunburst wallpaper adds a glam touch to the space.
The laundry room is another great spot to add shelves if you have the space. You can increase your storage space with a couple of extra floating shelves and quickly upgrade the functionality of your laundry room. If you don't need the extra storage room, you can add some artwork or some plants to warm up your space.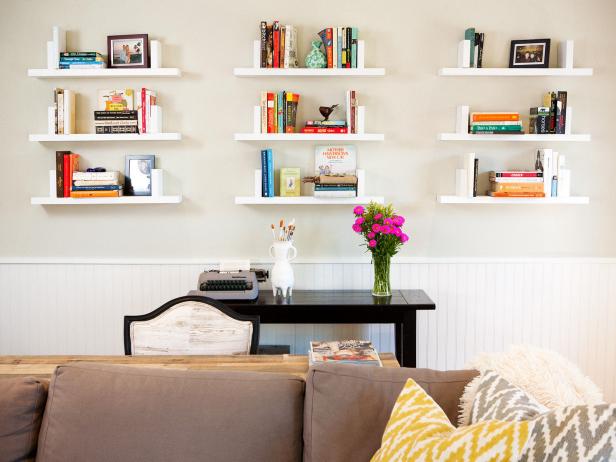 Living Room with Nine White Floating Shelves
White floating shelves display books and photos in this transitional living room. Hung above white beadboard and a small black desk, the shelves create a functional gallery wall of personal items.
Caitlin & Caitlin, Scripps Networks
Hung all in a row, you can actually use floating shelves in place of a bookcase. If all of your books are similarly sized, you can hang the shelves equidistant from one another. However, floating shelves would also allow you to customize the space between each shelf to account for books of all different sizes.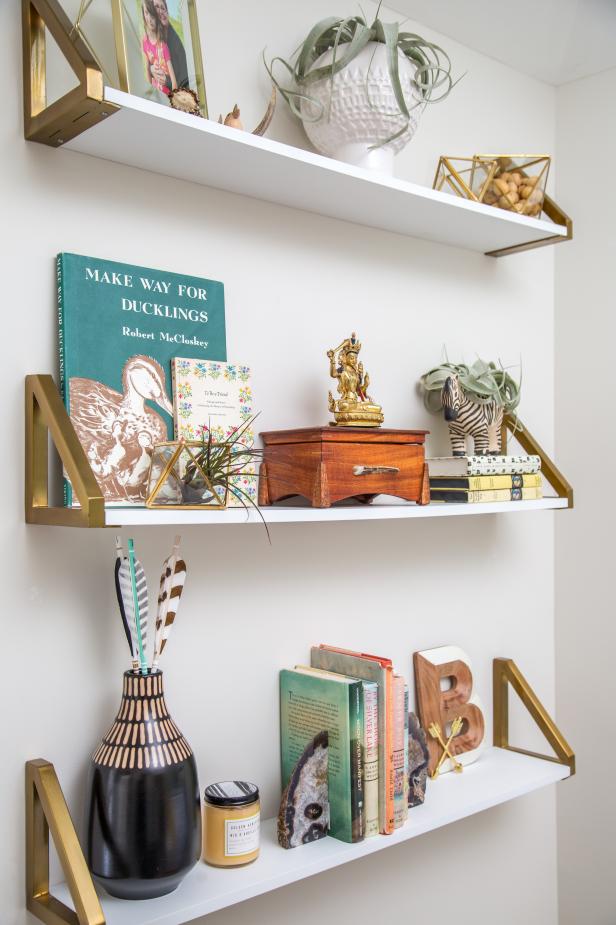 Eclectic Mix of Accessories on Floating Shelves
For this tween bedroom, floating white shelves accented by brass hardware are the perfect spot to display her favorite accessories.
These white and gold shelves would make a great addition to a modern kid's room. They can do double-duty as both a spot to store books, as well as a place to display fun decor. Hang the shelves higher if you want to make sure your kid can't reach the shelves or down low for easy access.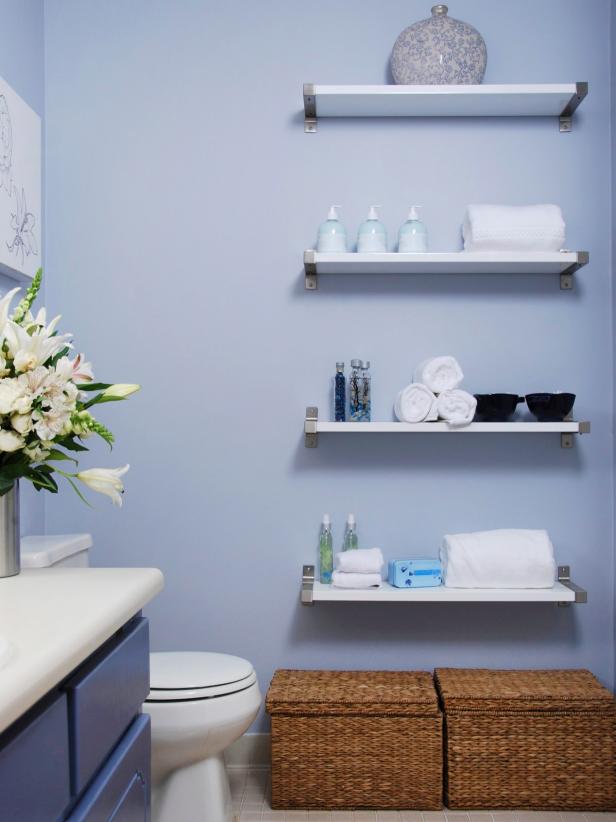 Contemporary Floating Shelves Line Blue Bathroom Wall
Storage in a small bathroom can be beautified by adding wall shelves. As seen on Design On a Dime, these white floating shelves make the space appear much larger and offer an attractive way to display bathroom accessories.
Floating shelves can be miracle workers for anyone who happens to have a small bathroom. If you lack storage in your sink vanity, or just need more space, add shelves to your bathroom walls to manage the overflow of toiletries.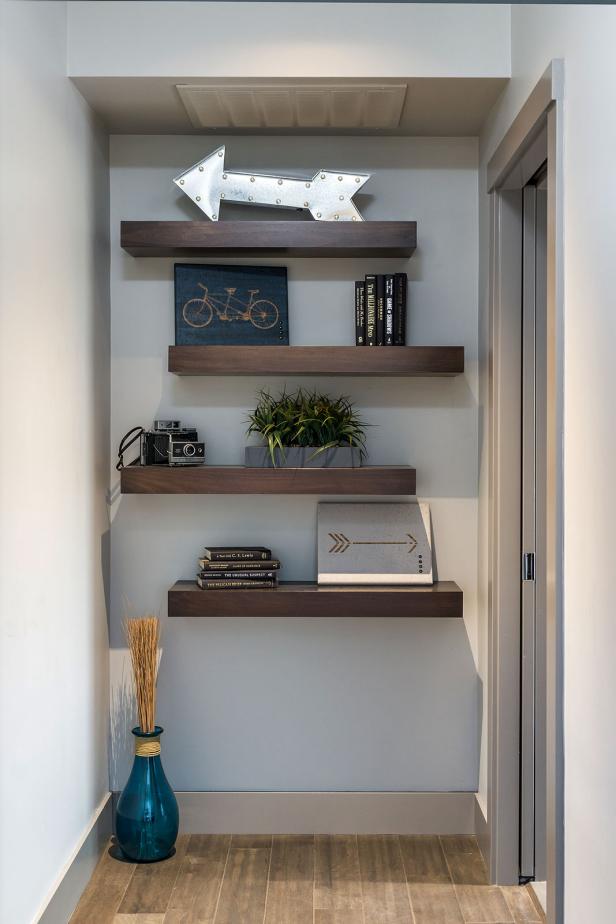 Decorative Floating Shelves in Contemporary Hallway
Making the most of a little nook in the hallway, floating shelves are hung to display favorite books and art. A planter of grass adds a life to the space, while a blue vase on the floor brings in a touch of color.
If you happen to have some dead space at the end of your hallway, consider adding some floating shelves. These chunky, wooden shelves are solely decorative, but they manage to liven up an area of the home which would have otherwise been empty.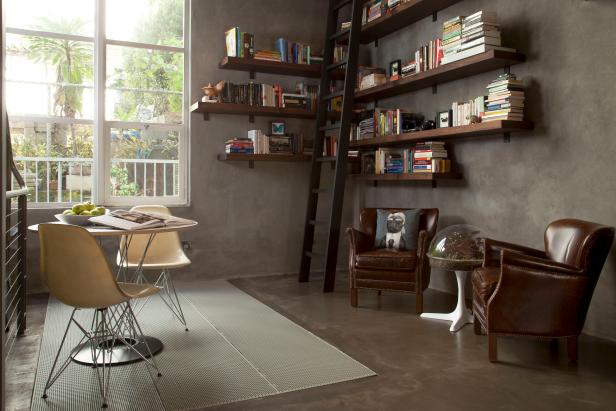 Custom Library With Floating Shelves and Seating Area
Custom shelves were built to create a library space in this urban loft. Two leather armchairs create a reading nook alongside the library.
Floating shelves can also be a great solution to use in the corner of a room. Again, because you're using shelves rather than a bookcase, you have flexibility to arrange them exactly as you like to work with your specific space. This homeowner even used a ladder in front of their shelves to make the space feel like a traditional library.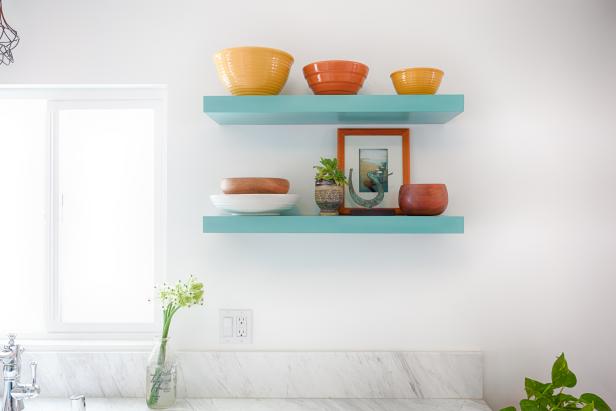 Blue Floating Kitchen Shelves With Bowls
Open shelves, especially in a fun color like this blue, are a great way to show off pretty bowls and platters. Add a photo or framed artwork for a personalized touch.
You can even use wall shelves to add a splash of color to a room. Here, robin's egg blue shelves are used in a white kitchen to add some visual interest on the wall.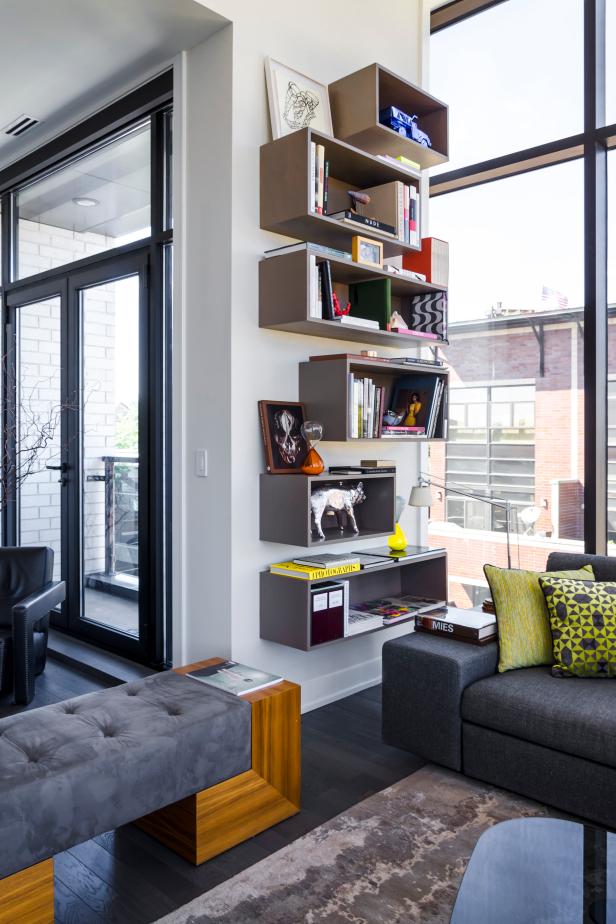 Modern Living Room With Oversized Windows And Floating Shelves
Floating shelves stacked in a precise manner operate almost the same way a bookshelf might but with a lighter and fresher appeal.
This is a perfect example of how to use shelves on an awkward space in their home. Using shelves in this spot brings order to the living room but also keeps things tucked away. The flexibility of the shelves also allows the homeowner to go higher than a standard bookshelf.