Don't Forget the Fifth Wall! Ceiling Design Ideas to Inspire
Every room has one, so why not dress it up?
Do me a favor and look up at your ceiling. Thanks. Now let me politely ask, "Why the hell did you just leave your drywall ceiling blank but paint your drywalled walls a color?" No, I'm not yelling; I just don't really understand. White drywall ceilings are fantastic under very specific circumstances: A: They're part of an all-white-aesthetic. B: The ceilings are coffered or clad with beadboard or tongue-and-groove wood painted white. C: You're broke and can't afford another gallon of $26 paint.
Sure, this is totally subjective. However, as someone who gets paid to improve people's homes, I can attest firsthand that it's an easy way to give a room new identity, play up its assets or tone down its shortcomings. Here are a few ceiling design ideas for different DIY skill sets. Hey, you spend hours picking paint colors, taping off trim, then rolling eggshell enamel on your walls; it's only fair you pay some attention to their upstairs neighbor. Right?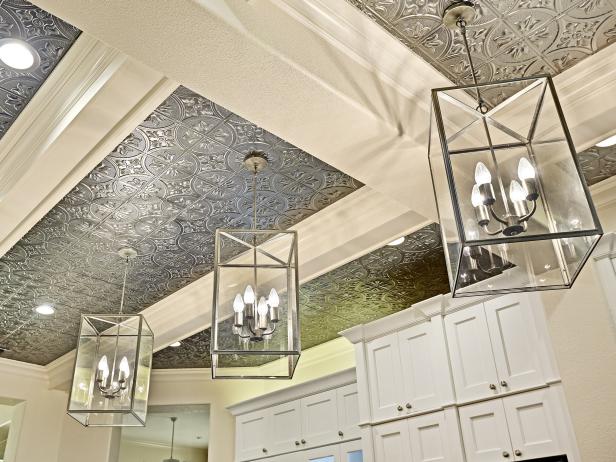 Lantern Pendants Light Hanging From Tin-Tiled Ceiling
Thick white architectural beams are accented with silver, patterned tin tiles in this white kitchen. Over the kitchen island, large glass lantern pendants form the perfect balance between traditional and transitional.
Nar Fine Carpentry, Inc., PhotographerLink
Armstrong Residential Ceilings offers a huge assortment of ceiling tiles for spaces with unfortunate but necessary drop-ceilings. In basements, or as I like to call them, "terrace levels," drop-ceilings allow instant access to leaky pipes or damaged wiring. Sure, the grids can be torn out, and drywall can go up; however, that's a major headache. And if you can't do it yourself, it's also a major cost. Simply swap out unsightly foam tiles for raised panel tiles which can be left in their matte white finish to help bounce light around, or they can be customized with paint. This is a great project for people with beginner DIY skills. Often, the only tool needed is a utility knife to cut the end pieces to size. Once installed, simply spray the ceiling and walls in the same shade for a major improvement.
Tongue and Groove Beadboard Ceiling Adds Cottage Style
02:10
A beadboard ceiling can be used to level out an uneven ceiling by adding shims. Although beadboard is typically thought of as a wall material, it's great for ceilings as well, and it's relatively inexpensive. By using tongue and groove beadboard, you can hide the nails for cottage feel with a seamless look.
Beadboard is an affordable way to go directly over unsightly popcorn or stippled ceilings. You can add a layer of architectural interest to boring, new construction, drywall ceilings with Armstrong Residential Ceilings "WoodHaven Beadboard." What's so great about using this product is that it's engineered specifically for ceilings, and it comes in thin planks which are much easier to install than basic beadboard, which comes in 8X4 sheets. Since this involves cuts with a chopsaw, I'd recommend this ceiling style for homeowners with medium DIY skills.
Woodhaven plank systems are my go-to products for complete ceiling overhauls. You'll need advanced DIY skills to complete them yourself: be able to make cuts with a chop saw, measure meticulously for proper line-up, and attach furring strips to the studs with a nail gun. Once installed, they give the look of a custom, stained wood ceiling.
Here's a painted ceiling project for medium-skilled DIYers with steady hands. Add graphic impact to boring, white drywall with a taped-off, painted pattern. In this neutral boy's room, I revved up the energy with a few bursts of pea green and brown. To create perfect stripes, I simply measured, taped off 14-inch alternating stripes, and then painted them using a roller. This cost less than $100 and took a weekend. Small price to pay to escape the hell of a neglected drywall ceiling, don't you think?