10 Pieces of Decor Every Bathroom Needs
Ensure your bathroom makes a good first impression.
No matter what size or style bathroom you have, there are a few decor essentials that every bathroom needs to make a good first impression. Here are our 10 bathroom styling go-tos.
If you don't currently have any art in your bathroom, this is usually an easy one to start with. You can really bring some personality and color into your space by adding a pretty piece of artwork or two. Depending on how much wall space you have, you can even try bringing in a bunch of pieces and doing a gallery wall. Just make sure any artwork you hang in your bathroom is properly framed under glass so that the steam from your shower won't mess it up.
A plant is another easy must-have decor piece for your bathroom. If you happen to have a windowsill in your shower, that's always a great spot for a plant. And even if you don't have enough counter space to add a plant, consider putting a small succulent on a shelf or on top of your toilet. (You could even add a hanging plant in an open corner.)
A candle is a great way to keep things smelling fresh and clean in your bathroom. They're also a lovely touch to add around a bathtub. When you find one you love that's in a pretty glass container, you know you have a great candidate for your bathroom decor. I always like to keep three or four of my favorite candles on hand so I know I'll never run out. And don't forget to make sure you have some matches nearby for guests!
Jane Beiles
Kelly and Co. Design
Sometimes hand soap comes in not-so-pretty bottles. Purchase a nice dispenser and transfer your liquid hand soap inside. Make sure that whatever you have sitting on your sink looks snazzy enough that you'll be proud to show it off to your guests.
5: Basket for TP + Extra Towels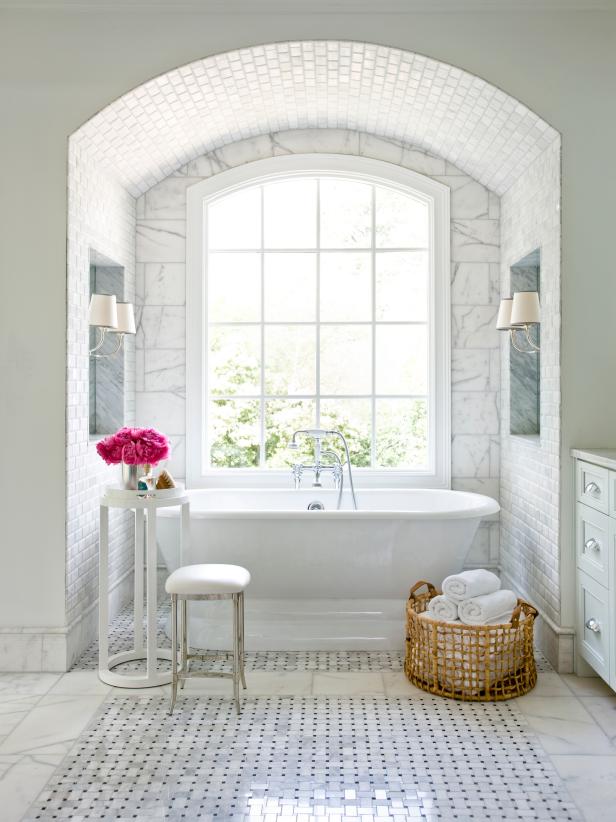 Slipper Tub Surrounded by Marble in an Elegant, Traditional Bathroom
This gorgeous traditional bathroom turns a dormer window into a striking architectural detail by covering the barrel walls in Calacatta marble tile. A slipper tub nestled in the nook is a sunny spot to enjoy a long soak.
There's nothing worse than being in a guest bathroom and not knowing where the extra towels or toilet paper are. I always like to make sure that extras of everything are easily available in a pretty basket or container. But don't be afraid to get creative with these! I use a big glass vase to store extra rolls of toilet paper and a large planter bust with an open head to store extra towels. (Isn't she pretty?)
Another way to add a bit of design style to your bathroom is by taking some of your essentials and putting them into pretty storage containers. Cotton balls and cotton swabs look great in glass containers, makeup can be stored in acrylic boxes and hand soaps can be stored in jars. You could even use unusual items like cake stands to hold everything.
This is another super easy way to amp up the style game in your bathroom: add some colorful hand towels. If you're not a big fan of color, choose some fun, patterned towels. Try to add something to your space with a bit of texture and interest. And don't forget to get three or four extras when you find something you love.
codyulrich.com
Paige Morse
Speaking of laundry, it's a good idea to have an attractive solution in your bathroom to deal with the inevitable piles of laundry. Beautiful baskets are always a great option, and they work with so many different design styles. I like baskets with covers so you're always able to keep your "dirty laundry" under wraps.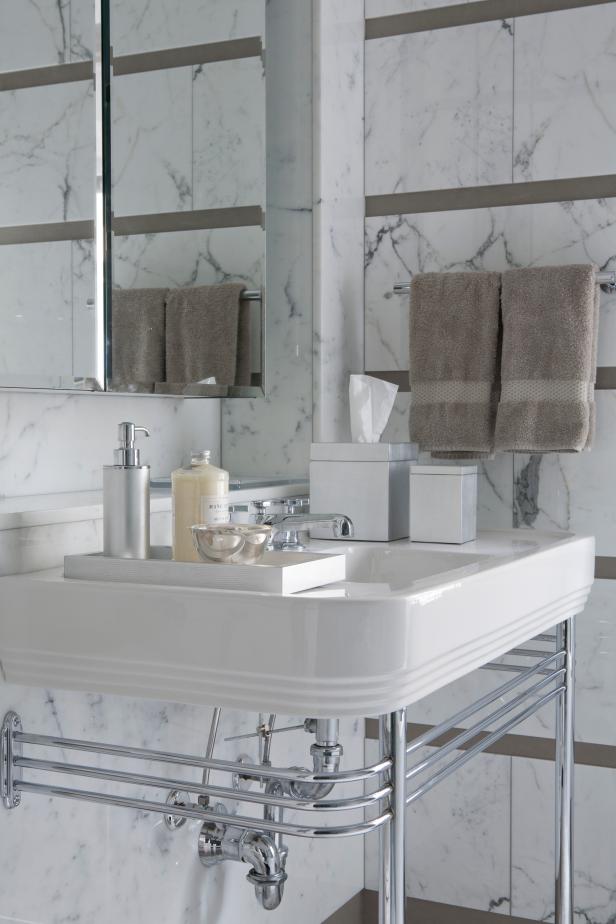 Sleek Bathroom With Smart Storage
This sleek sink still offers a spot for toiletries and tissue, while a mirrored medicine cabinet stores all other bathroom necessities.
A tray is a great piece to add to your bathroom to help things feel a bit more pulled together. They come in various sizes, styles and shapes, so you can really make them work no matter how big or small your space is. You can collect things such as candles, toothbrushes, soap or other necessities inside. A small arrangement of flowers is another nice addition for a chic tray.
Modern Master Bathroom with Floral Floor Pattern
This master bathroom has a high window allowing light and privacy and a contrast of modern cabinetry with classic subway and decorative concrete tile. A floral floor pattern brings life into the all white modern design.
Hugh Jefferson Randolph Architects
I always like to add one or two small quirky items to mix things up. This small "men's" room sign is a fun accessory that doesn't take away from the overall design of the space. Other ideas include an old postcard, vintage magazines or an old bathroom key (like the ones we had in elementary school).