5 Organization Solutions That Work in Even the Smallest Spaces
Being short on space doesn't mean you can't have an impeccably organized home.
There was a time when giant houses were the be-all end-all of real estate goals. But now that tiny houses and studio apartments are surging in popularity, those McMansions feel like relics of the past. And while we're all for downsizing, smaller spaces do pose their own challenges, and getting organized without the help of walk-in closets or designated storage spaces can feel incredibly daunting.
But implementing a few key organization solutions, like the five ideas below, can make even the smallest spaces feel and look impeccable.
1: Put your doors to work.
It's easy to underestimate the storage potential that doors offer up. Sure, you could throw a few hooks on the back of a door to hang up coats and bags, but adding a few shelves is a much better way to go. The solution not only saves space, but lets you store essential items in an orderly manner.
2: Remember closets can do double-duty.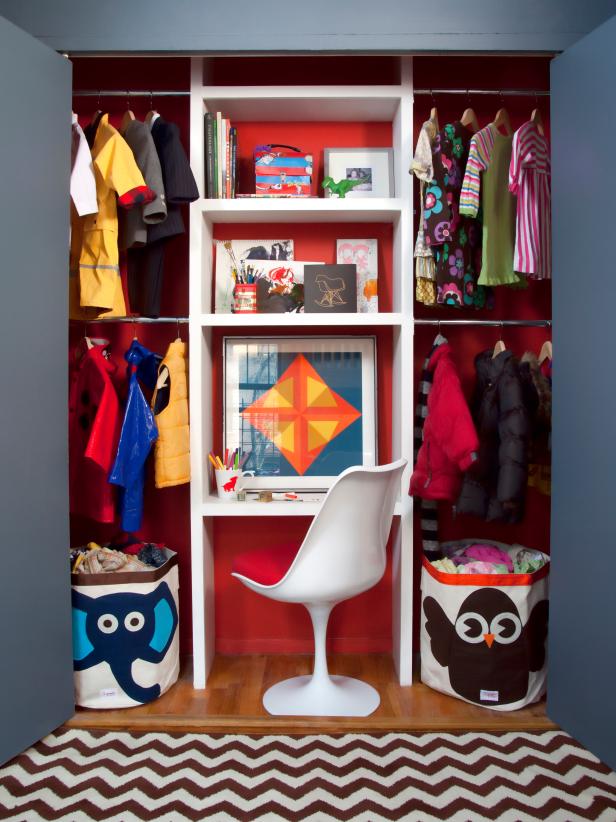 Children's Closet with Workstation
To free up square footage in Evander and Frankie's bedroom, their closet was outfitted both as a clothes-hanging space and as a concealed workstation for crafts and homework. The central column was made from MDF (medium density fiberboard) that provides open storage as well as a child-height desktop. To add a burst of high-energy flair to the closet and break up the dark charcoal color throughout the rest of the room, the closet's walls were painted red-orange.
Photographer: Christina Wedge
If you're tight on space but still need a desk area, consider building a mini desk inside a closet. Done correctly, you'll gain a work space and a few extra shelves — just make sure to keep the desk on the small size — without completely sacrificing clothing and shoe storage.
3: Always look under the bed.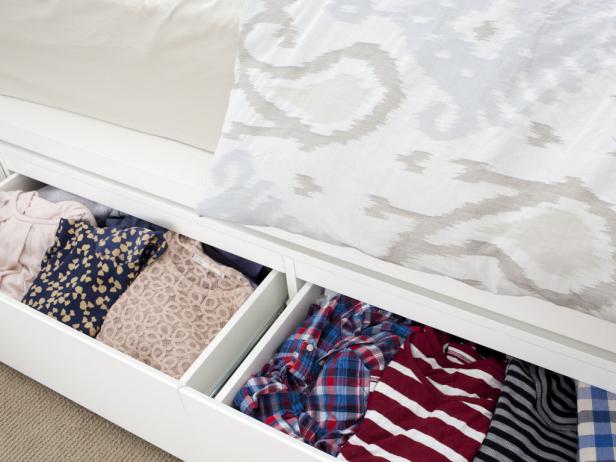 Under-Bed Clothing Drawers
Under-bed storage, like these built-in drawers, is a great space-saver and a fantastic way to maximize the use of every square foot of your bedroom. If exposed under-bed storage boxes or bins are creating visual clutter, add a bedskirt to streamline the look.
Chances are you already keep a few things stowed under your bed frame, but taking the time to plan how you can use the space most effectively is essential. Instead of just throwing excess items beyond your bed skirt to disappear in the dust, invest in a bed frame with drawers, or a few storage boxes that you can dedicate to key purposes. The space is ideal for keeping extra linens or off-season clothes neat and tidy.
4: Don't neglect nooks and crannies.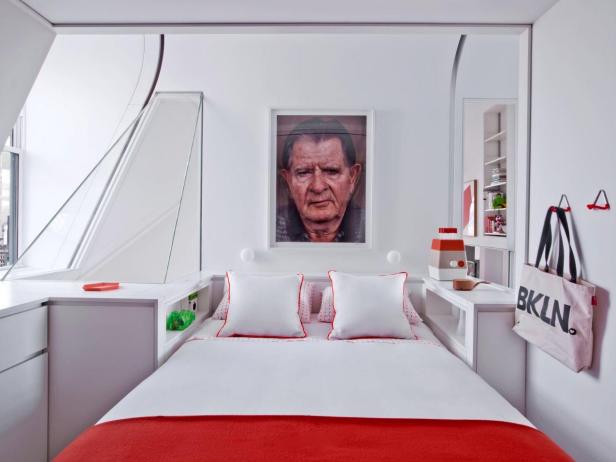 Small Modern Bedroom With Smart Storage
This sleek modern bedroom makes the most of a small space by framing the bed with shelving and drawers for clutter-free storage.
Ghislaine Viñas Interior Design
Oddly shaped corners or windowsills that jut out away from the rest of the room are easy to overlook, but seeing their potential can help open up a world of storage possibilities. Bookshelves, small sets of drawers, and even furniture can be tucked into these forgotten areas to help open up space elsewhere, and keep everything organizationally optimized.
5: Baskets are your best friends.
codyulrich.com
Design by Paige Morse
While most people opt for clear plastic shelves when they need a little extra storage, baskets are really where it's at. You can find covered baskets in an endless array of designs and materials, which means you can keep clutter contained while still making a style statement. They're also a breeze to move around and can be tucked under tables or in closets if need be.