How to Make Glittered Pumpkins
Shake up your Halloween decor with these colorful glittered pumpkins. A great project for kids, creating these sparkling pumpkins is quick, easy and fun. Plus, since the pumpkins remain whole, they'll last much longer than carved ones.
pumpkins
colored glitter
spoon
spray adhesive
small paintbrush
brown craft paint
roll of craft paper
newspaper
Put down a layer of newspaper topped with a sheet of craft paper to protect the work surface. Then select pumpkins of various sizes and colors, and decide which ones will receive which color glitter.
Apply Adhesive and Glitter
Spray the top and middle portion of a pumpkin with spray adhesive. While the glue is still wet, use a spoon to sprinkle glitter over the sticky surface of the pumpkin. Allow to dry.
Tip: Unless you want to glitter the stem, try not to spray it with adhesive. Cover it with painter's tape if necessary.
Pick up the pumpkin and shake off any glitter that didn't fully adhere. Set the pumpkin aside and fold the craft paper to funnel the excess glitter back into its original container.
Glitter Bottom of Pumpkin
Place the pumpkin back on the craft paper, tipping it to the side so you can apply spray adhesive to the bottom. Spoon on glitter until the entire surface of the pumpkin is covered. Allow adhesive to dry, then shake off remaining excess glitter.
Optional: Skip this step and only cover the top of the pumpkin, if you'd prefer.
Use a small paintbrush to apply brown craft paint to the stem of the pumpkin to help it really stand out.
The Latest From Our Blogs
Catch up on the latest HGTV show and design news right here.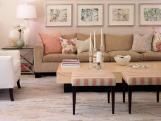 Found a living space you love in HGTV's Photo Library? Get the look in your own home with products from Wayfair.