How to Make Foam Halloween Tombstones
These hand carved and painted tombstones are an inexpensive and easy way to create a personalized and creative outdoor Halloween display.
one 2" x 12" x 36" dry floral Styrofoam sheet
serrated bread knife
paring knife
permanent marker
black spray paint
dark gray and white acrylic paint
2 1/2" sash brush
Use permanent marker to sketch an outline for two tombstones. Keep shapes simple so it's easier to cut out. Tip: A five gallon bucket lid or splatter screen makes a great template for a round top tombstone.
Cut foam along sketched outline with a serrated bread knife. Since this step is messy, it's best to do it outside. Keep blade perpendicular to foam and use caution while cutting.
Sketch out tombstone design. This can be a funny saying, a cross, RIP or anything you'd like. Keep designs simple and easy to carve. Tip: The tombstones will be painted, so sketching mistakes will not be visible.
Carve sketched design with a serrated paring knife. Scratch knife point into surface at an angle, and carve at depth of about a 1/2 inch.
Paint all tombstone surfaces with a can of black spray paint. Work in a well-ventilated area and apply paint in long even strokes. Spray tombstones from multiple angles to ensure good coverage. Allow ample dry time.
Dry-Brush With Acrylic Paint
Apply a thin coat of dark gray acrylic paint with a 2 1/2-inch sash brush. Drag brush along tombstone surface, preventing paint from getting inside carved design (this method is called dry-brushing, as very little paint is used). Allow this coat to dry.
Apply second coat in the same manner, but in a mix of dark gray and white acrylic paint. Allow second coat to dry.
Apply third coat in white acrylic paint in same manner as the others. Adding multiple layers of paint will give foam the appearance of granite. Allow final coat to dry. Tip: To place outside, insert bamboo skewers into tombstone and stick into ground.
The Latest From Our Blogs
Catch up on the latest HGTV show and design news right here.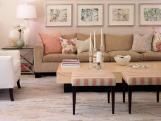 Found a living space you love in HGTV's Photo Library? Get the look in your own home with products from Wayfair.