How to Make a Family Terrarium
Terrariums are one of the easiest ways to keep plants alive in your home. Make one with a tiny family inside using miniature train display figures.
a clear glass vessel
potting soil
small pebbles and rocks
activated charcoal (in fish section of a pet store)
small bowl
moss
waterproof glue
spoon
tweezers
miniature figures (n scale railroad figures)
squirt bottle
Start with a 1-2-inch layer of any color decorative rock to ensure proper drainage (image 1). Next, add a 1/2-inch layer of charcoal to keep mold from growing (image 2). Add as many inches of soil as your vessel allows. The soil should not reach higher than 3 inches from the top edge of the vessel. Create mountains and valleys with the soil using a spoon (image 3).
Soak the moss in a water filled bowl (image 1), and give the soil a few squirts of water to moisten (image 2). Squeeze out the extra water (image 3).
Add the moss to the terrarium, and use a spoon to create hills and valleys.
Pick out a flat rock for your figures to stand on — look for small rocks in your yard. Dip the feet of your first figure in waterproof glue (image 1), and attach to the flat rock (image 2). Dip the second figure into the glue, and attach to the rock. Let dry.
Place the rock with the figures into the terrarium (image 1). Place more rocks into the top of the terrarium to create paths and walking trails (image 2). Display the terrarium in a shady spot in your home, and keep moist by spraying with water once a week (images 3 and 4).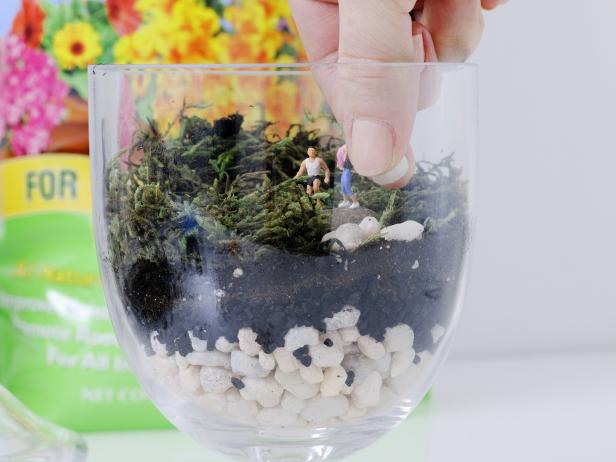 Jessika Creedon, Jessika Creedon 2013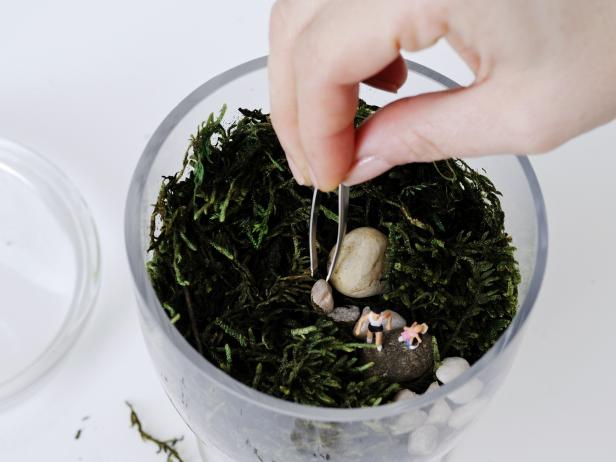 Jessika Creedon, Jessika Creedon 2013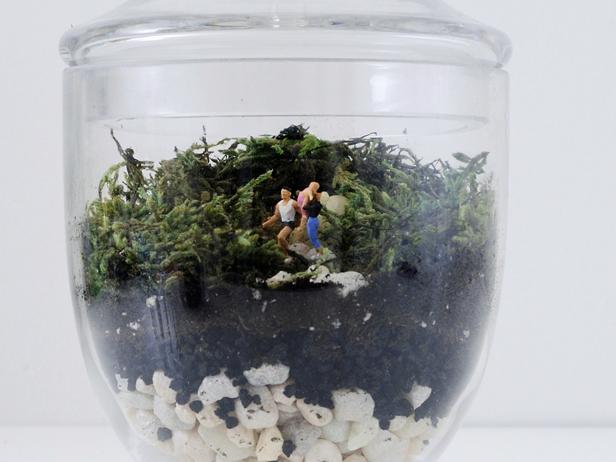 Jessika Creedon, Jessika Creedon 2013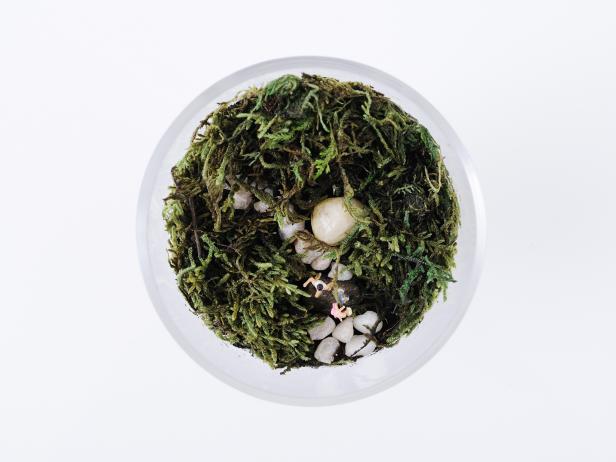 Jessika Creedon, Jessika Creedon 2013