Get crafty and add a touch of whimsy to your July 4th celebration with these festive garden windsocks.
Since I was a little girl, I have loved seeing colorful windsocks outside my window. Even in college I kept one on the small balcony that I shared with my roommates. Windsocks are a great way to add motion and whimsy to your yard, garden or outdoor living spaces. Just like garden flags, there are many different styles and color schemes to choose from.

Historically, windsocks were first seen in Japanese culture. Often they took on the image of a fish and were made from painted paper or silk. These windsocks or koinobori, when flown, signified a life event, such as the birth of a child. Nowadays they have become a tradition to fly on the Japanese holiday Children's Day. Over time, many cultures adapted windsocks for their functionality in determining wind direction.

Windsocks are easy to make on your own. They are a fun craft that you can change up with the seasons. Kids also love to get involved in creating this craft. Minimal sewing skills are needed for this craft, or you can try using a good quality fabric glue if sewing is not your forte. This year these windsocks are going to make their debut at our 4th of July barbecue. Here's what you will need to get started:

Supply List:

Nylon material
Polyester cord #2
Scissors
Tape measure
Sewing machine

Assorted ribbons
Felt stars
Fabric glue
Now take a peek at the photo gallery below and the accompanying captions for the step-by-step directions:

The Latest From Our Blogs
Catch up on the latest HGTV show and design news right here.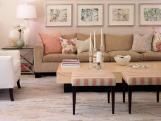 Found a living space you love in HGTV's Photo Library? Get the look in your own home with products from Wayfair.