Now Viewing
30 Top Kitchen Design Trends
Kitchens are undeniably the heart of today's homes so, understandably, you want your kitchen to look its best. From gold accents to statement backsplashes, get inspiration for adding the latest design trends to your cooking space.
Keep in mind: Price and stock could change after publish date, and we may make money from these links.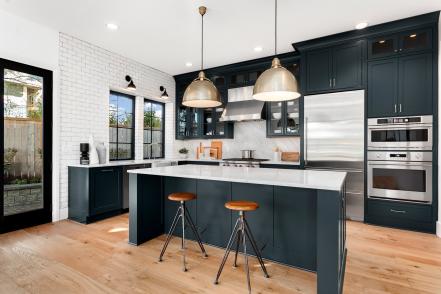 Windermere Real Estate, a member of Luxury Portfolio International
Two-Toned: Dressed to Impress
The gourmet kitchen is dressed to impress with charcoal gray cabinets, honey-colored wood floors, clean white countertops and a subway tile backsplash. The contrast of the dark and light brings stylish drama to this trend-setting space.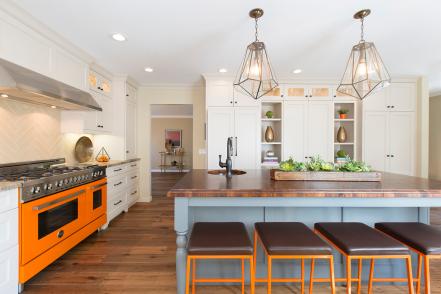 Abran Rubiner
Two-Toned: Modern Warmth
The various hues in this kitchen blend together perfectly, giving the space a slightly industrial, but ethereal feel. The orange Bertazzoni range is certainly the focal point, balanced by the warmth of the walnut end grain island and the honed marble countertops.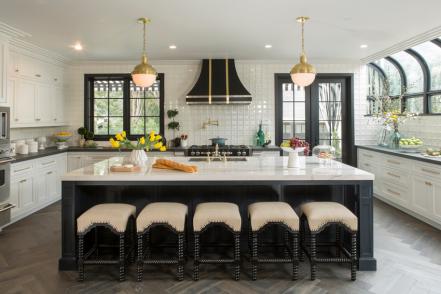 Gilles Mingasson/Verbatim Photo Agency
Two-Toned: Complimenting Hues
Featuring predominately black and white finishes, this kitchen looks clean and elegant. Simple gold details delicately accent the space, creating a pretty yet practical kitchen.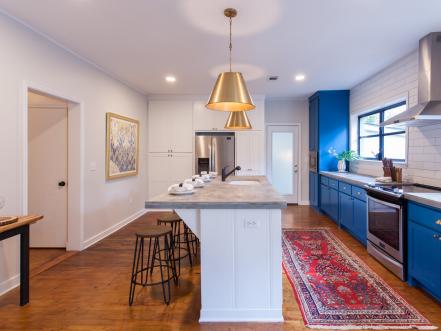 Todd Douglas/ Getty Images
Two-Toned: Bright + Bold
This kitchen takes things to a bold new level. With bright white walls, a matching island and a distinct blue wall, this space is bright and inviting, while maintaining a highly stylistic appeal.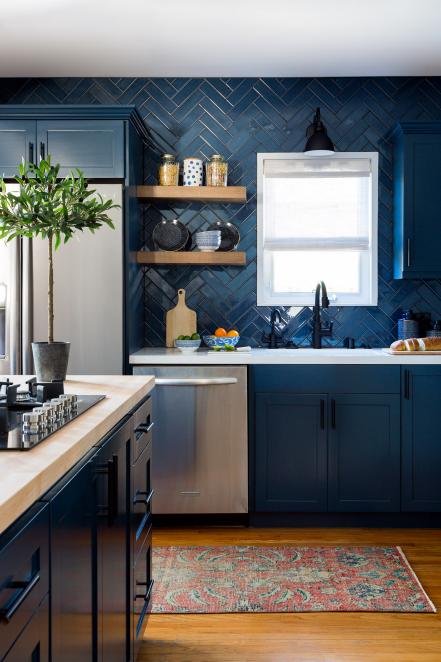 Jenn Feldman Designs
Herringbone: Tile With a Twist
A blue, herringbone tile backsplash adds a much-welcomed trendy touch to this kitchen. Rustic elements like open wood shelving makes the space feel casual and friendly, while the dark blue cabinets are a pretty way to add depth and richness.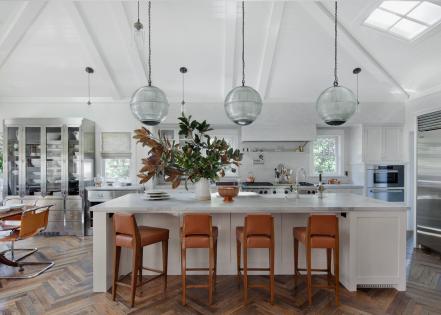 Tim Street-Porter
Herringbone: Fancy Flooring
Herringbone hardwood floors bring an element of warmth to this kitchen's bright look. A plank board vaulted ceiling accentuates the open and spacious design. A large island topped with marble is lined with red-brown leather bar chairs, while a stainless steel cabinet brings a unique element to the room.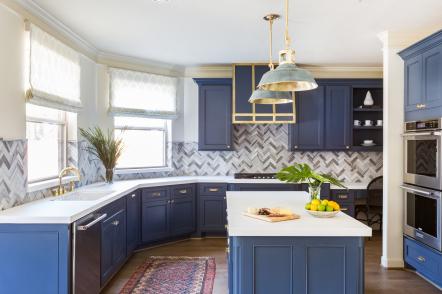 Julie Soefer Photography
Herringbone: Gray Hues
The gray, herringbone tile backsplash is the star of this kitchen. Blue cabinetry, delicate pendants and roman shades with a subtle graphic print compliment the backsplash perfectly.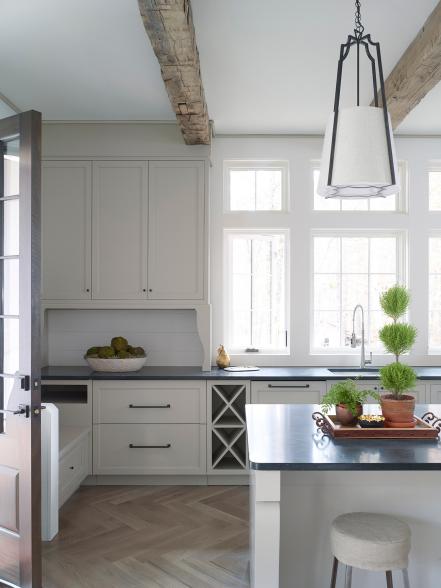 Chris Luker; Luker Photography
Herringbone: Understated
This kitchen features gorgeous herringbone wood flooring. Modern pendant lighting, exposed beams and soapstone countertops create an understated cottage feeling.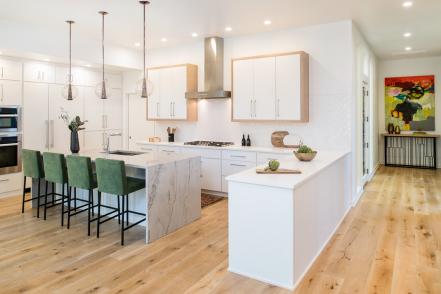 Merrick Ales Photography
Statement Stools: Take a Seat
This neutral-hued space is brought to life with the green, velvet stools. To create an open feeling, a peninsula was added on the third "wall" of the kitchen, separating it from the hallway without making either space feel too closed off.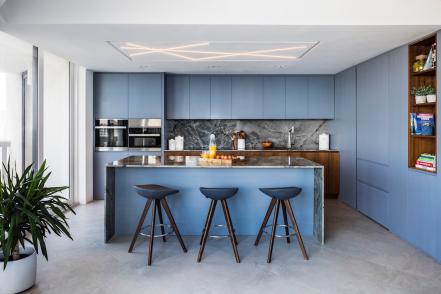 Kris Tamburello
Statement Stools: Simple + Modern
This modern blue condominium kitchen has all the contemporary elements one could want — sleek cabinets, custom lighting and a stunning waterfall-edge work island. Simple, modern barstools complete the look.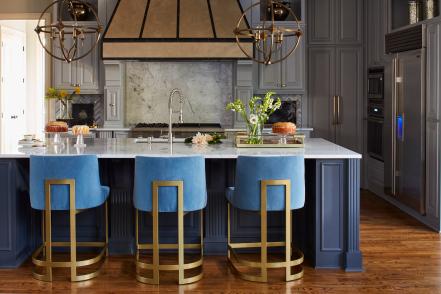 Mali Azima
Statement Stools: Pack a Punch
Blue upholstered barstools are the focal point of this luxe kitchen. Gold accents add to the elegance, while the modern lines keep the seats from looking dated.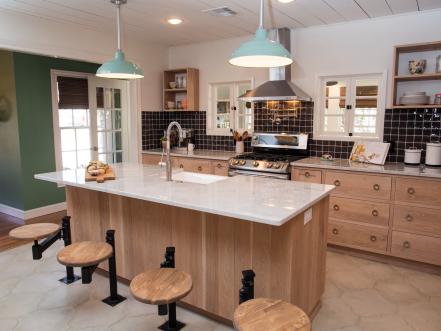 Rachel Whyte
Statement Stools: Swivel Seating
Wood swivel barstools give this kitchen a laid-back, farmhouse feel. Custom cabintery and an ink backsplash make the space feel casual, yet incredibly stylish.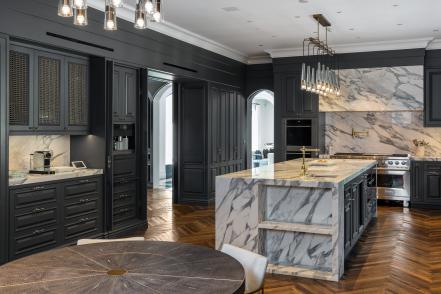 Hilton & Hyland, a member of Luxury Portfolio International
Bold Backsplash: Marble Everything
The star of the kitchen: the marble backsplash and island. Dark walls and luxe touches add a dramatic flair to this space, making it one that would stand out in a crowd. Meanwhile, the delicate pendant lights overhead keep the space bright and well-lit.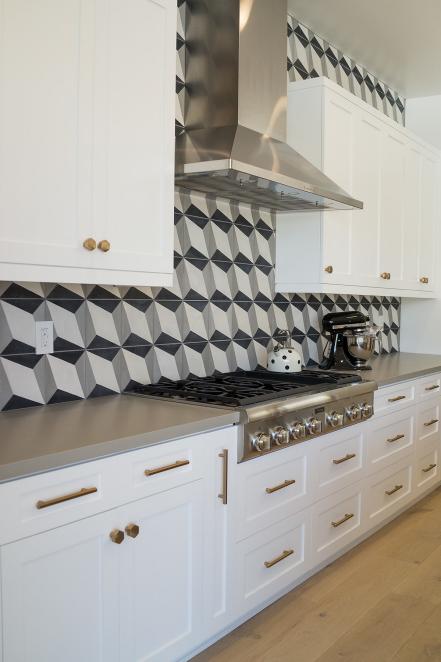 Lane Dittoe Photography
Bold Backsplash: Black + White
The eye-catching backsplash adds loads of texture to this simple farmhouse kitchen. A stainless steel range and oven blend smoothly into the clean, white cabinetry that's accented with gold hardware.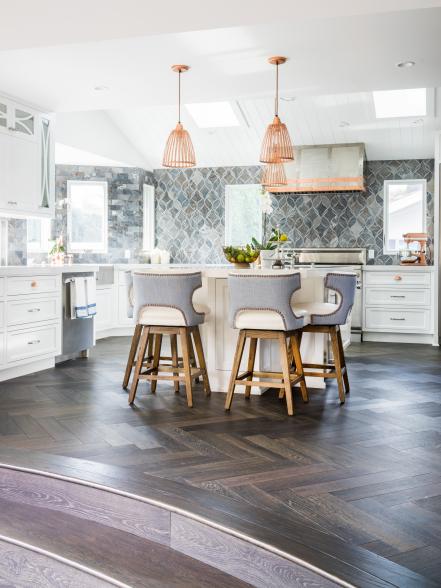 Anna-Marie Claassen; Builder: MCM Construction
Bold Backsplash: Silvery + Timeless
White works beautifully with gray, as evidenced by the silvery backsplash encased in this all-white kitchen.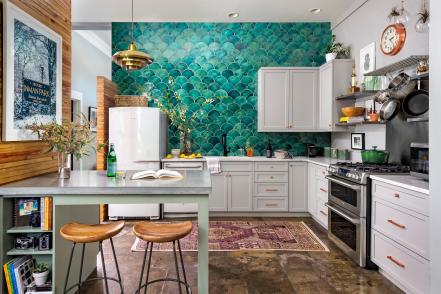 Cati Teague Photography
Bold Backsplash: Noteworthy Tile
There's no question what the showstopping feature is of this kitchen: the green scalloped-tile backsplash absolutely steals the show. White cabinets and simple flooring enhance the look without distracting from the gorgeous statement wall.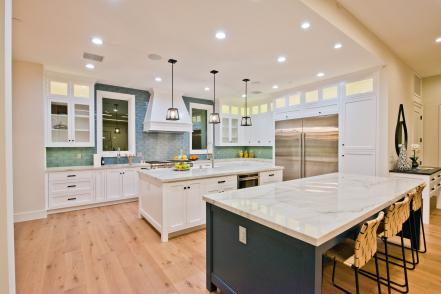 Pinnacle Estate Properties, a member of Luxury Portfolio International
Bold Backsplash: Focal Point
White cabinetry and white walls are interrupted by a bold tile backsplash that extends to the ceiling, creating a focal point in a neutral space. The color is echoed on the base of the second island, emphasizing the room's spacious footprint.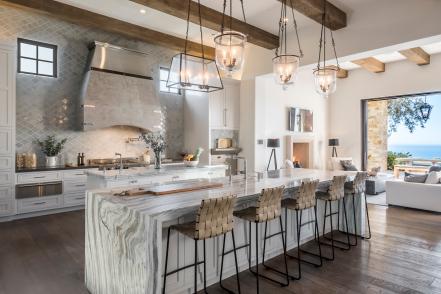 First Team Estates, a member of Luxury Portfolio International
Eye-Catching Pendants: Mix + Match
Various pendants hang from the kitchen's beautiful, beam-clad ceilings, ensuring the space is well-lit and on-trend.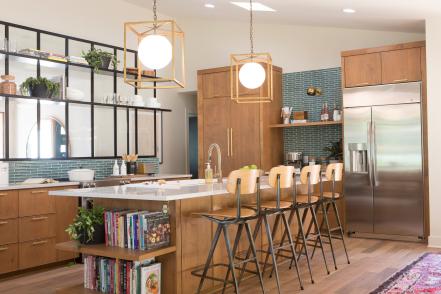 Eye-Catching Pendants: Wide Open Spaces
Geometric gold pendants make this midcentury modern kitchen feel bright and airy. The open-concept kichen sports a spacious island, hardwood floors and open shelving on a stunning glass feature wall.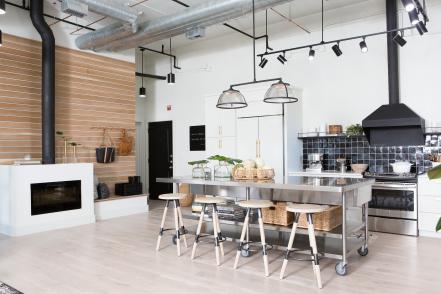 Jennifer Boomer/Verbatim Photo Agency
Eye-Catching Pendants: Ample Lighting
Low-profile light fixtures, skyscraping ceilings and a wall of windows ensure that no matter how small this apartment may be, it will never feel that way.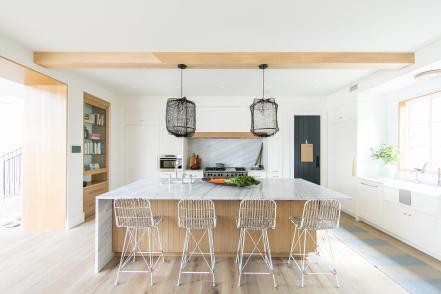 Ryan Garvin
Eye-Catching Pendants: Simple, Yet Stylish
Two black, woven pendant lights ground this bright, airy kitchen. Because the kitchen is so open, designer Brooke Wagner used light wood accents to tie the space together.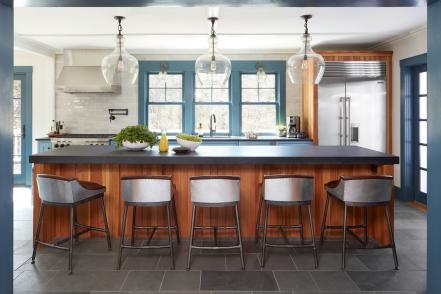 Jared Kuzia Photography
Eye-Catching Pendants: Laid-Back Cottage
A trio of oversized pendant lights make a statement without taking up any visual space in this cottage-inspired kitchen. The expansive island is designed for the whole family to gather around with industrial-style barstools. Blue trimwork and cabinets reflect the surrounding lake views.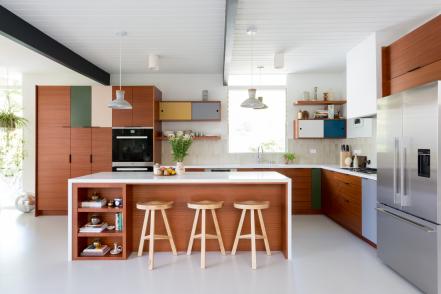 Amy Bartlam
Nod to the Past: Modern Hues
The vintage color pallette enhances this midcentury modern kitchen. The epoxy floors weren't easy to get right, but their glossy brightness adds hugely to the overall fresh-faced, cheerful mood.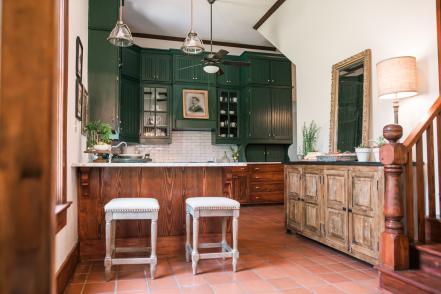 Nod to the Past: Old World Elegance
Rustic lower cabinets provide Old World charm while lush, green upper cabinets make this kitchen feel fresh and on-trend.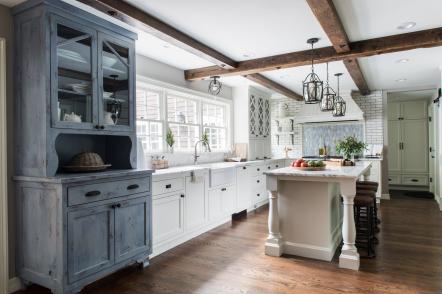 Taryn Emerson
Nod to the Past: Charming Details
This charming kitchen seems to go on forever and is filled with antique details, like the weathered gray china cabinet and an island with carved wood legs. Exposed wood beams criss-cross the ceiling drawing the eye to the expansive space.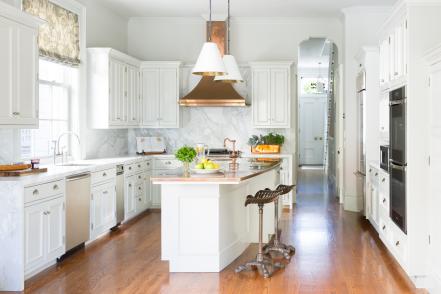 Jonathan Rachman
Metallic Accents: Statement Hood
The copper vent hood in this kitchen is just the stylish touch this bright space needed. A marble backsplash, modern island countertop and contemporary fixtures set this kitchen apart from the typical all-white kitchen.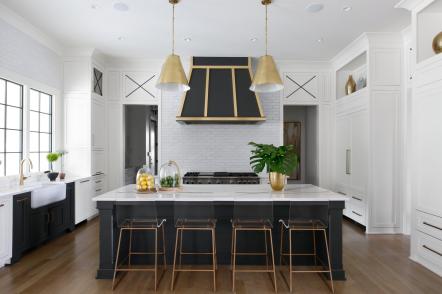 Paige Rumore Photography
Metallic Accents: Golden Magic
Throughout the room, golden accents bring some welcomed warmth and glow to the otherwise two-toned space. A single bank of black cabinets is a striking visual detail, tying in with the same-colored island and range hood.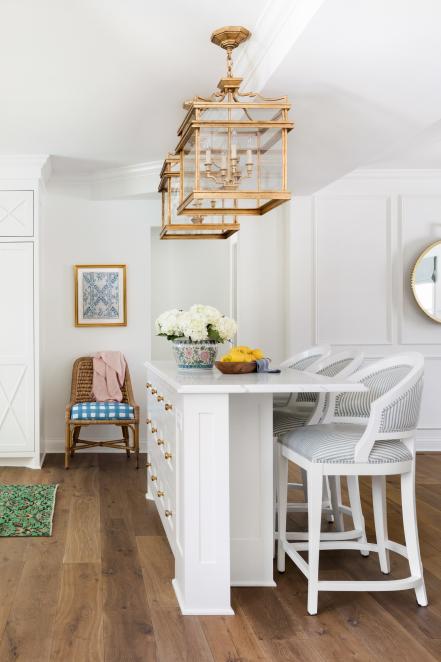 Spacecrafting Photography
Metallic Accents: Shining Light
It's all in the gold details. A print in a gold frame completes the far corner while complimenting the pretty pendants situated over the island.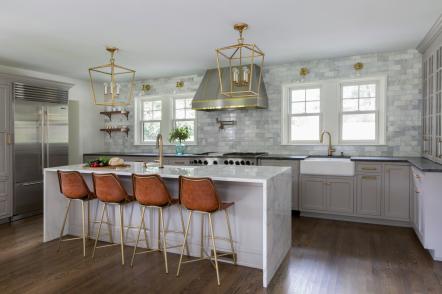 Courtney Apple
Metallic Accents: Lantern Lighting
Gray marble tile creates a full-wall backsplash over the black marble countertops while a white marble island counters the black and keeps the kitchen light. Midcentury modern barstools sit beneath a pair of metallic lantern pendant lights — the perfect complement to this space.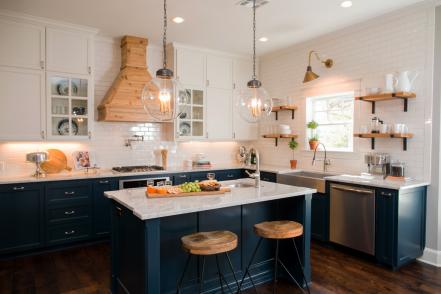 Rachel Whyte
Metallic Accents: All in the Details
Tiny gold details sprinkled throughout the newly renovated kitchen give it a polished look.