HGTV Obsessed Episode 30: Annie Sloan
This episode is all about paint. Annie Sloan, the creator of Chalk Paint® shares her success story. Then Kristin Luna, of Do More Art talks about how outdoor art can transform and uplift communities. Finally, Betsy Helmuth, host of the Affordable Interior Design podcast, shares valuable tips for choosing paint colors.
This week Marianne talks with the iconic Annie Sloan. Annie transformed the DIY decor world over 30 years ago with her invention Chalk Paint®. The two discuss how and why she developed her paint line, how it became a mainstay in home decor and where she gets her inspiration for every color. Annie reveals that her recipe for Chalk Paint has not changed in over 30 years, but what has changed is her competition ­— she has lots of it. She goes on to talk about how she only uses the highest quality pigments in her paint and how the colors are mixed with complementary colors and not just black and white.
Watch as Annie explains to Marianne the basics of chalk paint and its many applications!
Annie gets her inspiration for creating new colors while traveling. Many of her paint colors are historical hues she has found all over the world and she often names the paint colors after the places that inspired them, like Amsterdam Green or Giverny Blue. Annie especially loves to go to India to get inspiration because it is so full of vibrant colors. When not traveling, Annie is at her 1860s Victorian home in Oxfordshire, England, with her husband. They have been restoring the home and are often documenting the progress on Annie's Instagram account.
Annie also shares the biggest mistakes you can make using Chalk Paint, and they're all about making it too complicated. Don't over brush, there's no need to prime or sand beforehand, and don't wait to apply the wax — do it immediately. When asked about picking colors, Annie's most important piece of advice: "Don't overthink it, it's just paint, no one will die." Find more ways to use Chalk Paint.
Marianne then talks to Kristin Luna, she is the founder of Do More Art (aka — DMA Events), a non-profit that focuses on enriching communities through public art. Kristin talks about how she and her husband started the organization. "We noticed a lot of communities were experiencing the boarded-up-window syndrome where they had great bones in their towns, but no resources or know-how to fix them up," explains Kristin. "We started a mural trail as a way to fix up buildings and give people a reason to come to these towns." The first few buildings they had to fund themselves, but then the domino effect happened, and others followed along. After that, they developed the organization into a non-profit, so they are now able to get grants and community funding. In DMA's short three-year existence, they have done over 30 murals in Tennessee.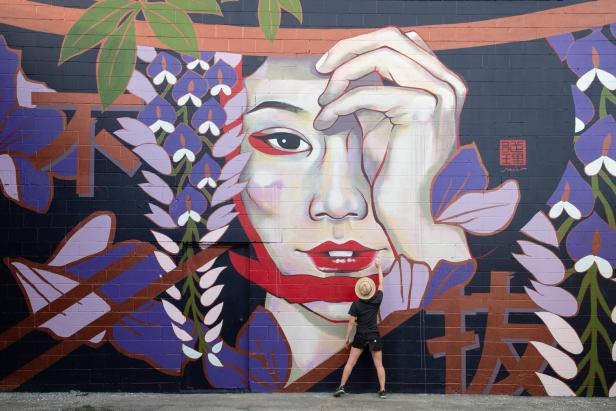 JUURI
"Wisteria Maiden" by JUURI in Tullahoma, Tennessee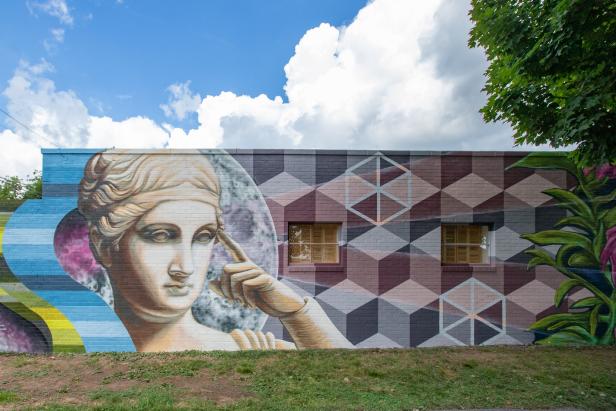 Jenny Ustick
"Hebe" by Jenny Ustick in McMinnville, Tennessee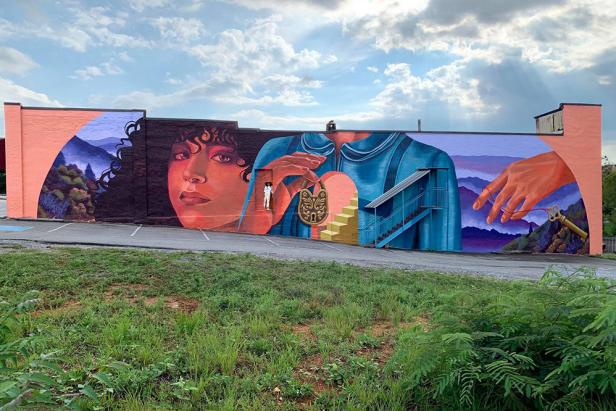 Nicole Salgar
"Senderos" by Nicole Salgar in Maryville, Tennessee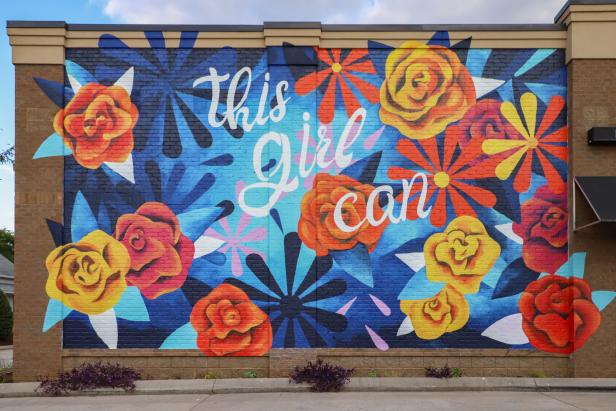 Kim Radford
"This Girl Can" by Kim Radford in Nashville, Tennessee
Betsy Helmuth, host of the Affordable Interior Design podcast, joins the podcast to talk about her favorite, budget-friendly ways to use paint to update a space. Betsy explains the best ways to test paint colors in your home:
Don't buy paint samples online; computer monitors can distort the color.
Paint the sample directly on the wall; don't use a sticker or swatch because you won't see how the color works with the wall texture.
Paint the area around your sample white so you'll get a true reflection of the color.
Look at the color at various times of day to see how it looks in different light.
Betsy also shares her top three neutral "chameleon" paint colors that she has in her home, but you'll have to tune in to find out what they are.