Dream Big in 2021 With HGTV's New Year's Day Lineup
From millionaires to epic home renos, you won't want to miss a minute.
HGTV will ring in 2021 with a star-studded lineup filled with your favorite fantasy lifestyle shows and inspirational home renovations.
From 6 a.m.-12 p.m. ET, relax with design and real estate duo Hilary and David during a marathon of Love It or List It.
From noon to 8 p.m. ET, HGTV will air a marathon of My Lottery Dream Home where host David Bromstad takes lucky lottery winners on tours of stunning properties to find their perfect home.
Don't miss an all-new episode at 9 p.m. ET where David will help a $1 million dollar scratch off winner find her dream home in Midway, Florida. She loves her current neighborhood and wants to stay close by, so David will make sure she finds a new place that checks off all the boxes on her wish list and is perfect for hosting her large family.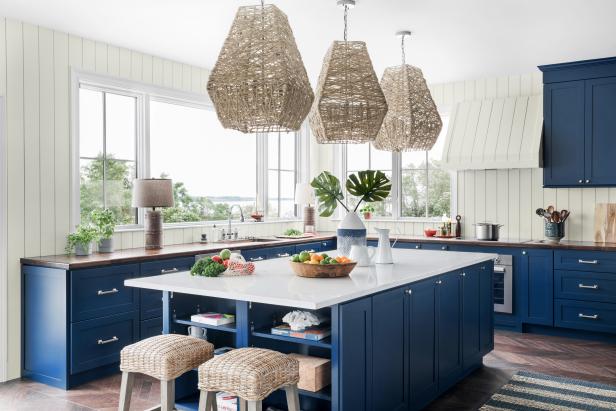 Coastal Island Style
A large, central island creates an inviting gathering place at the heart of this open and spacious navy and white kitchen.
Robert Peterson, Rustic White
At 8 p.m. ET/PT, don't miss the HGTV Dream Home Special 2021 with designer Tiffany Brooks as she gives fans the first tour of the newest HGTV Dream Home, a classic waterfront escape located in Newport, Rhode Island.
Get an exclusive window into the design minds of hosts Brian Patrick Flynn and Tiffany Brooks as they infuse the three-story, Cape Cod-style home with classic coastal flair. Located in Portsmouth, Rhode Island, just 10 miles from downtown Newport, the design of this waterfront haven draws upon the region's rich maritime history and culture to create a look that Flynn has dubbed "Americana with a twist." This incredible home and all its furnishings, a 2021 motorhome from Camping World, and $250,000 from Rocket Mortgage® are part of the HGTV Dream Home 2021 grand prize package worth over $2.8 million dollars—and it will all be given away to one lucky winner.
The epic lineup continues with a first look at HGTV's newest house-hunting series Self-Made Mansions at 9:30 p.m ET. starring lifestyle expert Clinton Kelly. He helps entrepreneurs who struck it rich with one brilliant idea make the ultimate upgrade to a high-end home.
In this first look, Clinton helps Shark Tank success story and The Cut Buddy™ inventors Joshua and Jamie Esnard find their dream home in Pittsboro, North Carolina. After generating $5 million dollars in sales from their hair cutting device, the Esnards are looking to upgrade to a five-bedroom family farm. Clinton also heads to Portland, Oregon, to help The Cookie Department® founders Akiva and Elannah Resnikoff buy their very first home after selling over 300 million cookies! The eight-episode series premieres Friday, Jan. 8, at 8 p.m. ET/PT.
At 10:30 and 11 p.m., My Lottery Dream Home International will introduce U.S. fans to popular British interior designer Laurence Llewelyn-Bowen as he helps lottery-winning clients across the pond find a new high-end home.
Laurence will help lottery winners find and buy their perfect home in the United Kingdom and Europe. At 10:30 p.m., Laurence will help his clients in Newcastle, England, upgrade to a new home that satisfies their opposing design preferences. At 11 p.m., Laurence will land on the shores of Plymouth, England, to help a man who moved back home after a terrifying motorbike accident find the home of his dreams after winning the lottery.